The USA box lacrosse tryout process continued this past weekend at LaxCon, and the team hosted two practices (early on Saturday and Sunday mornings, in true box style) and a Blue-White scrimmage on Saturday night. The scrimmage was open to the public, and the LaxCon crowd responded with vigor, filling up the entire arena to capacity.
[fvplayer src="https://www.youtube.com/watch?v=PdEpLpPOAbE" sticky="true" playlist="https://www.youtube.com/watch?v=AgP25c3S0jQ,https://i.ytimg.com/vi/AgP25c3S0jQ/hqdefault.jpg" splash="https://i.ytimg.com/vi/PdEpLpPOAbE/hqdefault.jpg" caption="Team USA Indoor | Blue vs White Highlights;US Box Lacrosse Team Hype Reel"]
I'll run through my big takeaways from the scrimmage below. First I'll share some thoughts on the state of US box lacrosse, and then get to the potential Team USA selections.
Huge Crowd – Good For USA Box
Du Burns Arena in Canton, Maryland isn't a huge space by any means, but packing just about any arena for a USA box tryout scrimmage (when you're still a year and a half away from the next world championships!) means that people care A LOT more than they used to. What people? ALL THE PEOPLE. Bloggers, fans, friends, OfficialLaxGirls, Megamen, TLNers, LAS fam… pretty much everyone I knew went to this game. The arena isn't in downtown Baltimore, so it takes some effort to get there, and yet lots of people passed up free happy hours and drinks with friends to go watch box in Canton, Maryland.
And the general interest in box extended way beyond just the scrimmage game.
There were box goals all over the LaxCon vendor floor – many more than ever before. There was also a mini box set up for demonstrations, and I saw Mitch Belisle out there teaching with a good-sized audience of coaches paying rapt attention, amongst some other big names who also gave presentations. Team USA was around during the day, in their team sweatsuits, talking up both that night's game and the general USA box process. We saw plenty of box helmets, more padding from companies, and heard some interesting scuttlebutt about additional companies going even further into the box game.
I have never seen anything comparable from any USA box presence in my life. It was very clear to me that the old ways were now officially over, and it truly validated my reporting after the 2015 WILC that USLacrosse had decided to make box a much larger priority. The general interest level in USA box was awesome to see, you could feel it building during the day on Saturday, and that was definitely part of the reason why Mark Donahue and I arrived 20 minutes early. The other reason we got there early was because we wanted to see this game in its entirety, and even catch some of the warm ups. It was smart decision, as about 100 people who didn't get in stood outside the arena and watched the game through the windows (in January).
USA Box Blue-White Scrimmage Notes
Many of the current Team USA field guys were playing in the box scrimmage, but there were also plenty of guys who were either more box heavy, or had been cut from Team USA field. It didn't really seem to matter. They were all there, ready to go, and pumped to get after it.
Du Burns Arena is a tight space. When these guys play FIL games, the boxes will be bigger, and this definitely impacted how the game was played. Defensive guys could stay at home a little more, and protect the middle, so it was going to be harder for guys to get to the inside and score. Still, players drove the middle, paid the price at times, and we saw plenty of dive attempts and underneath moves to get away from the intense pressure players encountered trying to go topside in settled play. Add in HUGE players, and this space looked very congested at times!
We didn't see much O-door transition in this game, and before anyone points this out as a potential problem area, it's important to note that the O and D doors in Du Burns are basically 8 feet apart from each other, and the arena is smaller than a regulation box. We weren't going to see much of that no matter what.
Paul Rabil was at the game, but did not play, and I'm not sure why, but it was cool that he came to watch either way. Tom Schreiber was there as well and did not play but that is because he is currently playing for Toronto in the NLL. It was great to see him there as well. When it comes to building a 2019 USA Box Team, Schreiber has to be a lock to make it, so it's nice to see a guy like that make the trip down for this set of tryout practices and the scrimmage. It shows interest in general, and it means guys are invested in the process at every level, and supporting each other. I love it.

Photo Credit: Ryan Conwell
USA Box Players – The Beauties
The athleticism, conditioning, and size/speed on display was absolutely incredible. Joe Fletcher, Ryan Walsh, Bill O'Brien, John Yozzo-Scaperrotta, Anthony Kelly, Myles Jones, Marty Bowes, Dominique Alexander, Kyle Hartzell, and Connor Buczek each stood out to me athletically. The combination of size, strength, and speed on display was jaw-dropping at times. Bill O'Brien blew someone up, and then got blasted himself by Ryan Walsh, and that kind of summed up the game. It was fire-y hot with physicality, athleticism, and straight up competition.
When it comes to box IQ, and who really looked comfortable out there, we have some repeat names from above like O'Brien, Fletcher, Alexander, Hartzell, Bowes, and Kelly, but some other guys really impressed with their smart box play – Mitch Belisle, Marcus Holman, Dylan Donahue, Drew Snider, and Roy Colsey all showed off their box chops nicely, but for me, the biggest "box guy" out there was Blaze Riorden. With guys like Belisle and Colsey (long NLL careers), or  Holman and Snider (2015 USA box team), this isn't much of a shocker, but I must say I was impressed with Donahue's play, and really like his immediate and long-term potential in the box.
Ok, let's talk about Blaze Riorden a little more as I I kind of glazed over him above, but he played REALLY well. Riorden scored a bunch of goals, used some beautiful down picks by Marty Bowes to generate great looks (that was a nice lefty combo), and looked as comfortable out there as anyone. Even when an experienced defender like O'Brien was giving him the business, Blaze kept focused on the task at hand, and created space for himself and his lefty-side teammates. Riorden is also looking like he's in the best shape of his life, and when the NLL expands next year I would be absolutely shocked if he didn't make a roster. Blazer can ball, pick up loosies, forecheck, and on top of that he's a beauty of a person off the field. He won the Sportsmanship Award at the last LASNAI and while he competes as hard as anyone, he's also a consummate team player and makes players around him better.
Because the space was small and the change doors tight, we didn't see a lot of O door transition, as I said above. But there were two other aspects of the game we got to see a lot of, and those were 1) one on one transition chances, and 2) settled five on five.
When it comes to breakaways, Kyle Hartzell deserves all the cookies. The man used his speed and cunning to get away and create chances, and he stuck a bunch of them. Hartzell is another guy who could easily find a place on a NLL roster next year, and he still has another gear that a lot of other players simply don't possess. He's a beast and he knows box like few others. He was very impressive.
When it comes to five on five, I loved Marcus Holman out there. He was confident with the ball, poised under pressure, and very patient, allowing plays to evolve around him a little before making a final move or decision. The ball never died in his stick, but he did a great job of keeping the defense guessing, and then pressing with effort. If you don't allow the play to develop in box, you can go "too fast", but Holman showed amazing patience throughout the game, and this allowed him to really stand out as a settled offensive player. He also showed great toughness, cutting the middle, going airborn, and taking some big hits. Bill O'Brien popped him hard on one collision, and while Holman was shaken (I would have just been dead), he got right back into it.
Defensively, Dominique Alexander played incredible lacrosse. Whether he was doing "big things" like blowing people up on pick and rolls, scooping up loosies, and dispossessing O guys with nice checks, or whether it was "little things" like clearing the ball up the floor away from the benches, Alexander looked awesome. He has size, athleticism, a great stick for a D/T guy, and his box IQ was evident throughout the night. He was a stabilizing force for his team and is another guy who simply has to find a place on an NLL roster as a full-time player next year.
Marty Bowes is another guy who had a great showing on Saturday, and while he has played on club teams in the past where he pretty much puts a team on his back, he played great team lacrosse in the Blue-White game. On power players he was more often than not the guy who set a good seal. He worked really well with Blaze Riorden, and his hustle, athleticism, and hunger for loose balls made him a valuable asset out there. He did the dirty work, played team lacrosse, and is another American that has to find a spot in the NLL next year.

Photo Credit: Ryan Conwell
Untapped Potential
While a lot of the experienced guys looked smooth, some of the guys out there did not look all that comfortable, and that's certainly OK. Some of them are just starting to play more box in general, and others are still finding their way. Anyone could harp on this, but instead, I'd rather look at what some of these guys COULD be doing in 18 months based on what they're doing now… when this team is finally shaped up for the worlds!
If I went into depth on someone above, I'm not going into their game here. This is for the guys where the potential upside hasn't all been unlocked, but where there is plenty of it!
Ryan Walsh – On a field of monstrous players, my eyes consistently went to Ryan Walsh because my brain simply could not comprehend how big he was. Maybe I was tired and seeing things, but Walsh was a monster amongst monsters, and he showed absolutely no fear in throwing his body around, or taking on an experienced tough guy in Bill O'Brien. Walsh looks really raw, and he made some mistakes, but what I really liked about him was that he made those mistakes full speed. He was flying around out there, and as he gets more comfortable, I could see transitioning into a lethal box lacrosse player. Right now I think he could add a ton of strength as a D or Transition guy, but if he really works on getting comfortable in a high level box lacrosse offense, then the sky is the limit for this young man. As they say when rating dogs on Insta, 12/10 could be the next great USA box player if he focuses on it heavily.

Photo Credit: Ryan Conwell

Myles Jones – When you talk about a physical presence, Jones was another visual standout, but I do have some thoughts on where he should be playing right now, and it's not on offense. This is NOT a knock on Jones as an O guy or his potential at that end of the floor down the road, but I do sincerely think there are other guys on the righty side who will make the team over him for 2019. Resetarits, Schreiber, Holman, Rabil, and some other guys are likely to snag those spots. So for me, I really want to see Jones out there on the D end of the floor or playing in transition. His length, strength, ability to physically contest loose balls, and transition potential make a strong case for this move. Making the leap to box offensive player is NOT easy, and while Jones can certainly do it down the road, for now I'd love to see him learn the game more on the defensive end and use his size to dominate. His immediate potential there, or as a transition player, seems pretty evident, and a lot of guys start in the D end, and work their way out as they learn the game. We have to remember this was his first go at box, but the upside potential is crazy.
Nick Mariano – The lefty O side looks loaded for the US for 2019 with guys like Kevin Buchanan, Kieran McArdle, Joe Walters, Blaze Riorden, and Marty Bowes (amongst some others!) but Mariano should not be counted out. He can throw a flurry of fakes to finish inside, and has the potential light it up from outside. Maybe he finds a spot as T/O player, or makes the left side, but I saw flashes of brilliance, quickness, slickness, and a hunger to compete from Mariano in the scrimmage.
Rob Pannell – Pannell looked comfortable out there handling the ball, and was a calming presence when in possession. He looked a lot more settled than he did against Canada in the Heritage Cup and let the game come to him, showing greater patience in a very tight space. This was Pannell's second time playing box, and he's showing that his dominant field game has a place inside the confines of a rink. I can see him making a Ryan Boyle-esque transition to the box game, and even the NLL, and it will only make him an even better field player. Scary.
Celebrating a LEGEND!
Roy Colsey – You have to give the "old man" credit! He was smiling, playing hard, and put up a goal and an assist as the only player to graduate college in the 90s playing in the game. He's older than some of the coaches, but Colsey couldn't have been happier to be out there, and you could see it in his play and his ear to ear smile after the game. He's still got it, and it was, quite simply, a joy to see him out there again tearing it up. If you didn't know #24 on white graduated from college in 1995 you would have thought he was just another young buck getting after it and balling out. I loved every minute of it! To have a guy like Roy Colsey around this training team, providing insight, and helping to build a bridge from the greats of the past to the future was a great sign, and it further validates how this coaching staff and USL are approaching things the right way. Class act all around.
USA Box Goalies
Goaltending is going to be one of the most interesting aspects of the next USA Box Team, and right now, I have no idea who is going to make it. Dave "Big Cat" Mather played really well for Blue, giving up only 3 goals in his time. One was a midcourt low to low softy Mather clearly wants back, but for the rest of the go, Mather looked really comfortable out there. Brandon Miller and Stefan Schroeder each made a good number of solid saves as well, and showed a lot of promise in net moving forward.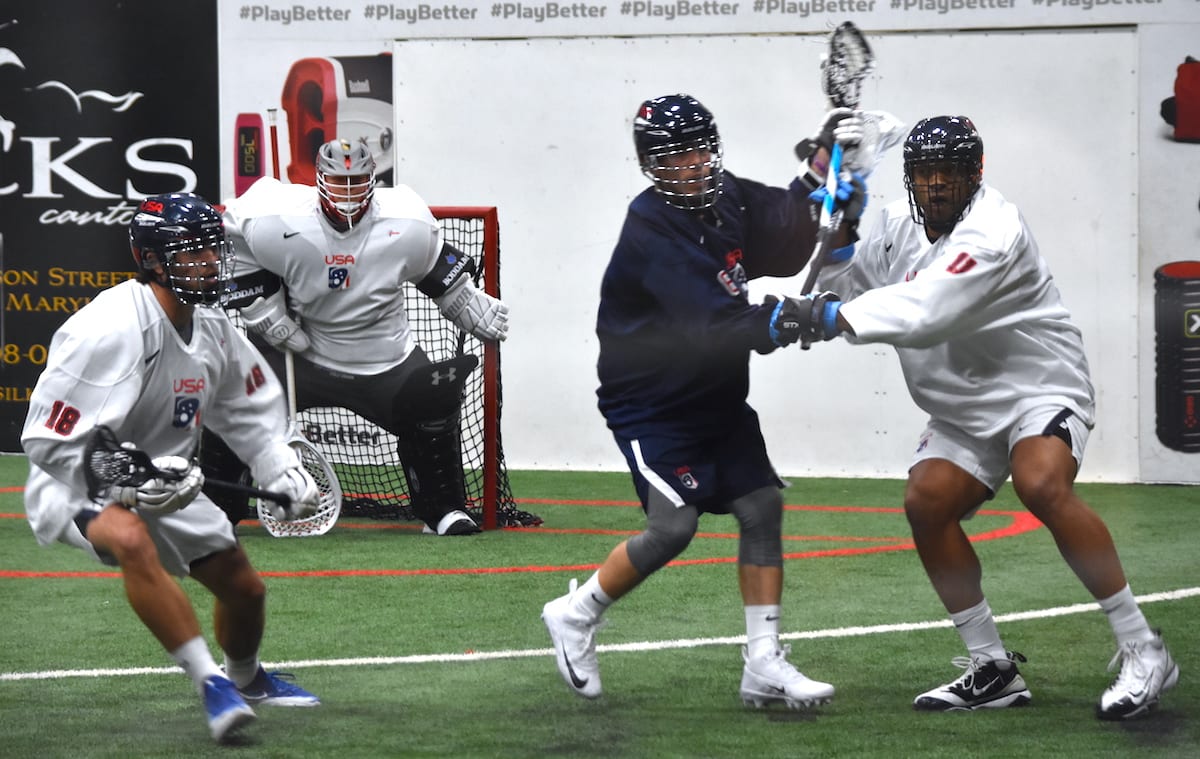 It was also great to see Travis Tunstall play (I'd never seen him play at this level), and he did really well, playing solid angles and keeping calm. I'd be a nervous wreck. It was impressive! Chris Collins has been at it forever and shows no signs of giving up. He's been with the US team before, knows the ropes, and just loves playing the game. He makes any event a better one, and while he gave up 8 goals, the veteran also made some big saves and played his heart out. Add in some guys who didn't make the trip, or a guy like Joe Evans who did really well in the Heritage Cup, and the US goalie chart is deeper than it's ever been before.
This is what progress looks like. It's slow, but as it develops, you see more and more guys making the big plays and looking more comfortable out there. Canada still has the best goalies, and the Iroquois will still likely hold an edge in this department, but the gap is shrinking whether you want to admit it or not.
Final Thoughts – 2019 USA Box
The USA Box team has never started things this early. There have never been this many high quality players invested in making the team. USLacrosse is doing more with box now than ever before. This is a different team, a different world, and things are looking up.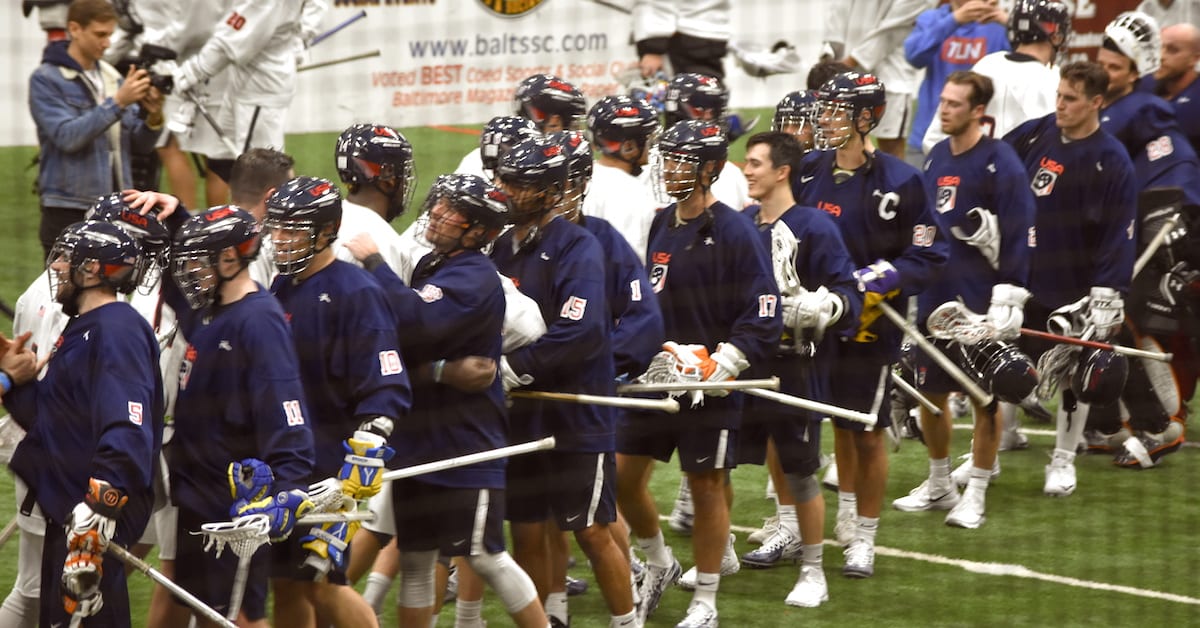 The reality is that it is an uphill battle. The US still lags behind Canada and the Iroquois when it comes to box development, a large roster of experienced guys to choose from, and guys who play box as much or more than field, BUT the current approach by the USA Box coaching staff has all the potential in the world to mitigate those issues, and build the best US team ever. This is not a shocker either, because the entire staff is beyond legit. It's a USA Box coaching dream team.
I also wouldn't count ANY player out at this point. It seems the staff is very open-minded and giving a lot of guys a shot. I'm extremely curious to see what the next group looks like, who else gets invited, and how it all shakes out. Right now I'm filled with hope. My hope is that the US training group will remain as large as it is now, or perhaps grow even larger. My hope is that these guys will all share knowledge, and train on their own and in small groups to develop more IQ and chemistry. My hope is that this works!
From what I have seen from the coaches, the players, and US Lacrosse itself, all signs point to success right now. Is this a glowing endorsement of USA Box? You bet it is. WELL DONE TO ALL SO FAR, but the journey is still only starting.
Keep grinding squad, we know you will!