James' Note: A few months have come and gone since Nick Skeffington's first player journal about the Denmark Fighting Pastries tryouts. Despite radio silence, things have still been happening in the land of Lego and suspicious herring sandwiches, so sit back, read and get caught up on Nick's journey.
What We've Been Up To…
It's been just around nine months since I became a part of the Fighting Pastries at the Kieler Lacrosse Meeting in Northern Germany, a tournament that Danish Lacrosse used to launch national team tryouts for the 2018 world championships. We got out journey to Netanya rolling with some great team bonding a tournament win while on the road – but what have we done since?
After the big move to my mother's home country, an adjustment to my new schedule was needed. Currently being enrolled in my second semester at the Aarhus University of Business and Social Sciences, I can say that it hasn't been a cakewalk. With classes expecting that I had a prior understanding of calculus and using computer programs such as excel to take exams; I had to play a game of catch-up from the start.
With classes from "Organizational Behavior" to "Quantitative Research Methods", each class comes with countless hours of coursework and extra-curricular studying. This has also been mostly through the longest winter I have ever experienced. I'd like to preface this by saying that a Scandinavian winter is absolutely no joke. Being part of a team in a city that punishes you for being outside can quickly add up to a serious lack of motivation. Staying disciplined through this period has been the hardest challenge yet.
So far, the team has combated this by implementing lots of indoor play. Our camps and game days have included a lacrosse format that is more box-lacrosse-esque in nature. This hasn't been all bad, however. Playing mostly indoors has allowed us to further improve our ball movement and pace of play, as the field of play is much smaller.
Staying Active with the Team
I mentioned above that we've had plenty of events in Denmark including regular practices, game days, and camps, but we have also attended a few events outside Denmark. In late September we sent a crew over to Lund, Sweden to take part in the annual Lund tournament.
The team would end up taking home 2nd place with a one-goal loss in the championship game to the B.I Lions from Norway. Many of the national team players were also on deck recently to take home the third place trophy at the Scandinavia Cup in Oslo, Norway, a tournament that I unfortunately could not join due to exams.
Our most recent endeavor was a trip to Wroclaw, Poland to play in the Silesia International Cup.
Leading up to Poland
The players from Aarhus, including myself, had a rough start to the Poland trip. As we arrived in the Warsaw airport, we had a five-hour layover ahead of us before flying to Wroclaw. However after waiting those five hours we came to find out our flight had been cancelled, and we'd have to wait even longer until a flight we can hop on became available.
Luckily, the Wroclaw airport has cold beverages. Although we arrived in Poland quite late, we did end up arriving in one piece. We got to the accommodation around 11pm and quickly caught up with the other guys, which is always fun. We stayed in small pretty tight rooms with around five guys and their accompanying lacrosse gear bags in each room.
Silesia Cup, Day 1
Alarm clocks, coffee, hotel breakfast. Day one was off to a great start. We carried this enthusiasm onto the field as we outplayed the first team that we faced – The Muppets International (a ragtag crew of transient players thrown together for this tournament under the leadership of LaxAllStars' Brian Witmer and Mark Donahue). This game was another catch up with old friends and acquaintances and made us feel at home despite being in Poland.
Playing at international tournaments is great, it allows us to test ourselves against some new playing styles. We went on to play against the world famous Grom Warszawa and Katowice Legion finishing off the day with an undefeated record, feeling great about the next day ahead of us, and our prospects at winning the entire tournament.
We celebrated the wins with some good pizza, cold beverages, and some classic team chilling.
Silesia Cup, Day 2
We got underway on day two with a rocky start, losing our first game to Riga Griffins. This didn't get us down, however, and we moved on to the next one. We had a nail biter game against Archer lacrosse out of Latvia. This game also ended poorly for us as we lost in overtime (to the team that would end up winning the entire tournament by one goal). This game was by far the best to play, as the competition back and forth was heavy all game.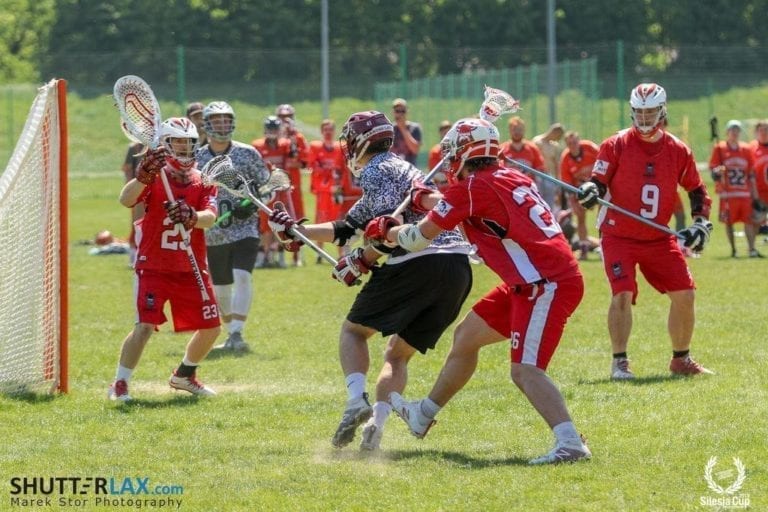 We suffered injuries across the board, highlighted by a broken hand on midfielder Søren Katborg and a broken collarbone on midfielder Morten Høyer. These players played their heart out in this game but unfortunately couldn't join us for the overtime segment. We would go on to take on the Riga Griffins again for the 3rd place play off, and we took our redemption! All in all, this was a great tournament to be a part of, and showed us how much we have improved as a unit over these last months. I've never been so bruised up as I was after this tournament, including painfully losing a toenail – hopefully it heals up in time for Isreal.
So, What's Next?
With the world lacrosse championships coming up in just a few VERY short weeks, the Fighting Pastries are as focused as ever. We have begun dotting our i's and crossing our t's. This recent trip to Poland allowed us to implement some new man-up and inbound plays, and test our ability to face new teams.
Now it's time for use to look ahead to our next battle which will be against Tennessee Wesleyan University at the end of June in sunny Copenhagen and after that it'll be on to dialing in our sticks and plays so that we are ready to take on the world in Israel.
Overall, the team is feeling good about the trip to Netanya. We have recently received notice of the division that we will start off in, and that we are playing China and Ireland in our first two games. This is good news for us, as both these teams are going to be hard fought games, allowing us to prove ourselves right away. We've spent this past year getting to know each other's playing styles and developing our own styles that fit into the overall team flow. All that'll be left for us to do when we get to Israel is prove that we can get the best out of each other it when it matters.