Welcome to the woodshop, everybody. Today, we're going to go over the WLS Color Series that we did for US Lacrosse, The Philadelphia Wings, Matt Rambo and Trevor Baptiste. Let's get started. Seeing as how my woodshop is located in Philadelphia, the Wings are my local home team, so it was great to have Trevor Baptiste and Matt Rambo come in and just see how the shop worked. What I want to focus on now is a really special stick that we did for their season opener.
WLS Color Series: US Lacrosse (w/ Philadelphia Wings)
It is going to be given to US Lacrosse, so the whole thing was done with a US Lacrosse theme. This is going to be one heck of a giveaway because it is signed by Matt Rambo and Trevor Baptiste, and we have a color inlay that has a nice, rich, but muted navy. I went with a little bit more of a plum-ish red for the US Lacrosse logo, just so it popped a little bit more. This is in a Box Pro frame, then I handed it off to Rich, who put in a stunning bright, vibrant red sidewall. We did white leathers and blue cross lace so that we could represent the US flag, as is the US Lacrosse logo.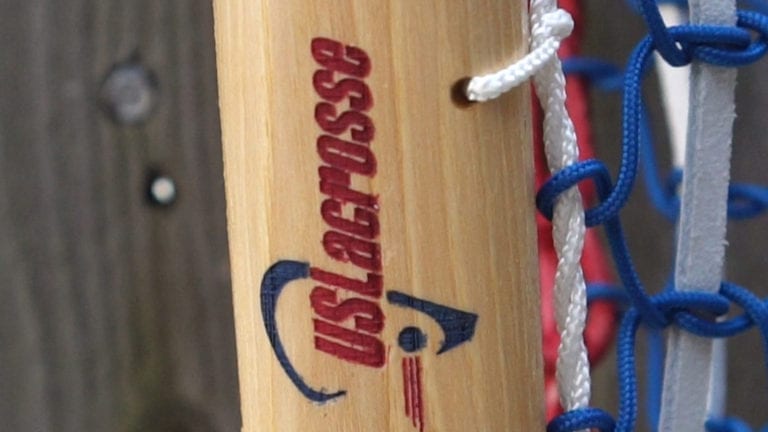 It was a really fun project, because there's four collaborators working on it between both players and both organizations — five I guess, because of us. I'm really excited, and I'm going to be on site when the stick gets given away, so that will be really fun. I'm excited because that's actually convention weekend, so there are just a lot of really amazing things going on all at once. I'm excited to see all you guys, and if you're on the floor out there at LaxCon and I'm out there, feel free to come and find me. Until next time, take care. Keep LAXin'.