While some men's lacrosse enthusiasts reading this don't know it, NCAA women's lacrosse recruiting has evolved just as quickly as men's over the years. Yes, the same turmoil surrounding early recruiting recently plagued women's lacrosse, too.
And when it comes to dictating, then navigating the changes in rules and regulations around recruiting, many would say the women's side of the game has led the way. Women's NCAA lacrosse coaches and event operators have found conducive ways to serve one another in the offseason, and the Northstar Invitational is a prime example of that. Women's lacrosse recruiting thrived at the sixth annual event in Lake Placid last week.
I recently spoke with Ashley (Gersuk) Murphy, a former Northwestern standout and current CEO at Summit Lacrosse Ventures (a proud LaxAllStars partner), to get her take on the women's game and find out how Northstar creates a premier player experience:
How would you describe the current state of the women's game now compared to where it was at 10 years ago?
Ashley Murphy: If it's any indication, the 2005 National Championship was played without true side/endline boundaries! It's an exciting time for women's lacrosse – the athletes are strong, fast, creative, and talented, and in my opinion, the new rules (ex. a shot clock) are good for the game.
High-level programs have been built outside the eastern time zone, and the establishment of a women's professional league is indicative of its development. I wouldn't mind getting another shot as a student athlete!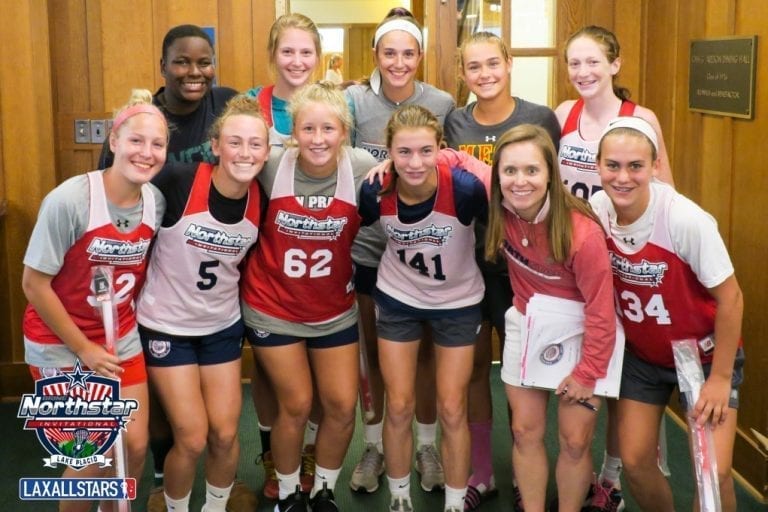 Why did you start the Northstar Invitational 6 years ago?
My partner, George Leveille, approached me with an idea to replicate Jake Reed's Blue Chip for young female student athletes. We saw great potential to concentrate talent from across the United States, and the Northstar Invitational began in 2012 as a recruiting-focused camp, with a calculated curriculum to showcase talent.
We have had more than 250 student athletes commit to NCAA Division I lacrosse programs in the first 5 years, and Northstar has evolved to be much more than a women's lacrosse recruiting showcase. It offers a unique, competitive, and wholistic curriculum which focuses as much off the field as on the field, and we relish in the opportunity to play a positive role in the development, preparation, and success of these talented young leaders.
Personally, I grew up as a passionate multi-sport athlete, and then had a tremendous collegiate experience at Northwestern, all of which prepared me incredibly well for life; I am grateful for the opportunity to share what I have learned over the years with future female leaders.
What aspects of the Northstar Invitational are you most excited about this year?
I think the recent recruiting legislation presents an increased opportunity to focus on development. We have tried to impart this message in recent years, as the pressure of the recruiting process and timeline continued to speed up, but now there is a bit more breathing room for these girls. Each year, we are impressed by the caliber of Northstar athletes and leaders, and I am excited to see this year's athletes follow in these footsteps.
What should first-time attendees expect to get out of showcases like the Northstar Invitational? How should they valuate their experience?
We aim for our athletes to be challenged on the field – for some, Northstar offers the most competitive lacrosse of their high school careers – and to broaden their horizons off the field. We hope they leave with an increased passion to raise their own bar.
We love watching Northstar athletes make friends from across the country (21 States & Canada will be represented in 2017), who they will continue to see on the recruiting trail, and ultimately, who will be teammates or opponents at the collegiate level.
Northstar athletes should leave Lake Placid as more informed, motivated, and confident leaders, with a sense of where they fall in the national landscape, and how best to allocate their resources as they navigate the waters, and aim to achieve their goals.
Athletes will leave as part of the Northstar family, a network we hope will continue to serve them over the years.
What is the purpose and benefit of having sports performance and mental fitness specialists involved at the event?
To succeed at the highest level, in any sport, requires far more than just athletic talent. We believe in the wholistic development of student athletes, and by offering insight into collegiate-level sports performance, mental fitness, leadership, and recruiting education, we add to their arsenal of tools which will help them succeed at the next level, and in life.
What inspired you to institute this kind of curriculum and the Northstar Performance Index (NPI)?
We wanted to build a special and unique experience, one that does more than concentrate high-level lacrosse players. We worked with college coaches to determine how best to ensure efficient exposure, and each year we raise the bar. Ron Greenfield, Northstar's Sports Performance Director, is a tremendous asset, and has developed the Northstar Performance Index (NPI) to prepare athletes for collegiate-level, lacrosse-specific strength and fitness.
How does the NPI assist with NCAA women's lacrosse recruiting?
The NPI format is built to align with collegiate sports performance goals. By offering quantitative measurements, college coaches can get a sense of where these athletes fall relative to their expectations. We have also developed the "Northstar 40," which is particularly relevant, as it adds a stick and ball to the 40-yard dash.
What intangibles will college coaches be searching for amongst the players during the week?
Because of the recommendation and invitation process, coaches know that they can except high-level on-field talent, and they can spend their time focusing on leadership, attitude, teamwork, vision, hustle, etc.
Unlike many showcases, we highly encourage Northstar teams (which remain consistent throughout the week) to focus on becoming the best possible unit, and to ensure that their teammates succeed around them. Success at the collegiate level requires much more than lacrosse talent, and we send this message loudly and clearly!
What advice do you have for young athletes who aspire to attend the Northstar Invitational someday?
Work hard, be passionate, have fun, and focus on being a good person, student, athlete, and leader.
Where do see the women's game 10 years from now?
I see the game continuing to develop, with increased opportunities for young girls to compete at the highest level.
Thanks for the great conversation about Northstar and women's lacrosse recruiting, Ashley! For more information about the Northstar Invitational, visit SummitLacrosseVentures.com/NSI.
What's your take on the current state of NCAA women's lacrosse recruiting? Sound off in the comments section below and let us know!