A few months back we featured a wood stick collection owned by one Colin Flynn. The sticks featured were made by an artist named Matthew Waies Etienne (1932-2011), but that was only a portion of the Flynn Collection. That's right, Flynn's collection is so large, that I was able to use a single portion of it as an homage to Etienne!
I have to take my hat off to Colin for having the most impressive stick collection that I have seen, second only to that of the great Alf Jacques.
Today I'm excited to share a several shots of the sticks that remain. I'm also pleased to report that many of these artists have made their wood lacrosse sticks available on my website, WoodLacrosseSticks.com! This even includes some new items by Jack Johnson.
Something should be stated before you run through this amazing collection. Colin Flynn is a talented and experienced stringer. Many of these sticks are holding pockets of his own design. He also buys unfinished sticks from various artists so he can learn more about the process. It is an interesting and respectable approach to the learning process.
To start the viewing party off, let's get the wholly grail out of the way and check out his Alfie masterpiece:
Jack Johnson is the next artist in Flynn's wood stick collection. I m a student of Jack's, and I was surprised to come across something that I had not seen before:
These junior wood lacrosse sticks by Jack are very unique finds:
Jack Johnson's sticks are made about as quickly as they are purchased, so my assumption is that this stick was with a special order or that Jack just got bored and decided to make something different (I am guessing the latter). Colin often gets unfinished sticks from makers like Jack.
"Three Junior sticks made by jack including a lefty. Top one came strung middle was an untouched frame. I drilled the holes, shaved the handle and strung it, lefty was ready to be strung when I got it."
– Colin Flynn
These sticks are made by Mitchell Brothers and Mohawk Lacrosse:
The most interesting one out of his Mohawks? This 3 leather Pee Wee stick: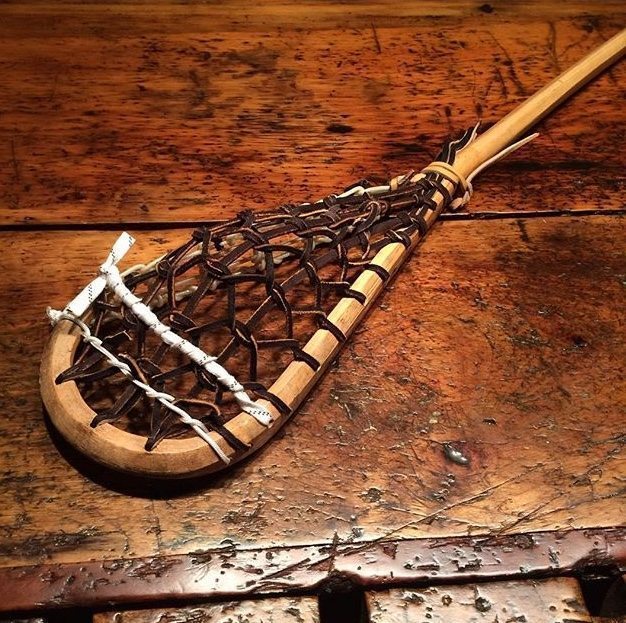 "A three-runner red sticker Mohawk Pee Wee for I had made for a coworker. He brought two empty frames to work for me, and this is how I returned them."
– Colin
Here are some interesting sticks with no clear creator. By all means, if you have any information at all, please feel free to drop us a line!
My favorite unknown stick from Colin's collection is this 6 leather pocket… The stringing is a testament to Flynn's skills as a stringer:
A special thank you goes out to Colin Flynn for sharing his wood stick collection with the worldwide lacrosse community!
Attention LaxAllStars Readers: If you have a collection of your own you're interested in sharing, drop us a line.