You guys already know how we feel about the fine folks at Summit Lacrosse Ventures, operators of some of the best tournaments the game has to offer such as the Lake Placid Summit Classic. So when Kevin Leveille called me and asked me to make them some custom trophies and awards, I was definitely excited to say the least.
I love making lacrosse sticks. But, some variety is always welcomed. The awards were to go to every MVP and Spirit Award winner at Summit Lacrosse Venture events that were named throughout the summer. That ranged from Tahoe, California all the way back to the East Coast. People were going to wear these, so I took it seriously.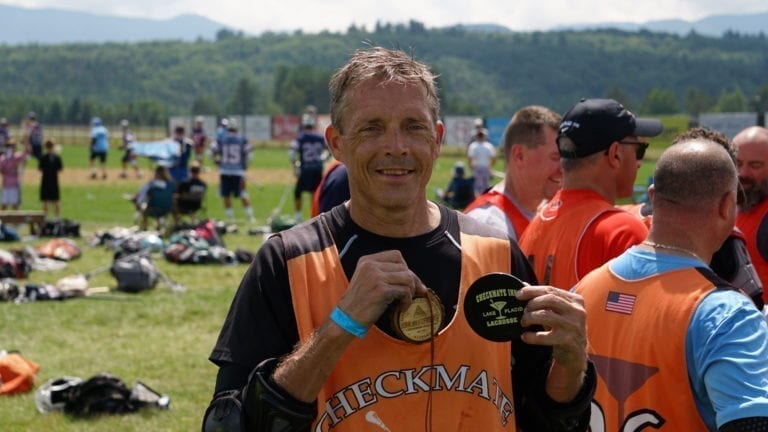 The Summit Lacrosse 'Woodal'-Making Process
Olympic medals are iconic and traditional. The simplicity speaks for itself. While I like a giant trophy as much as the next guy, I wanted these to be classy.
I started by cutting a pine tree into disks.
It was a recycled a tree from last year's Christmas season. By this time the wood was dry enough to stop it from bending, which is important due to the sap content found in pine.
I used my laser engraver to create the front medallions. The Summit Lacrosse Ventures logo is predominant, and the color difference between the two woods made for a contrasted layering effect. I was really happy with it and I hoped Summit Lacrosse would be too.
Thanks to my friend Andy Deardorf from Ripwood, I had a large amount of goat leather laying around. His farm in central Pennsylvania has a rather large goat population. The leather was used to denote each individual award to finish it off. Each event and award type was represented on the back of the 'Woodal' to memorialize the achievement.
Seeing people enjoy what I make is one of the great rewards of my job. Seeing people earn and feel honored to get an award I've made is exceptional.
Custom awards of this type are always a pleasure to produce. From the 'Woodal' to custom twigs, if you ever need anything just email me at justin@woodlacrossesticks.com.