Tim Martin, the coach from the Oneida Lake Pirates contacted me to make a large team order of wooden lacrosse sticks for the team. The Pirates are a youth lacrosse team based out of Syracuse, New York. Helping out young lacrosse teams is very important to me. These kids live for the game, and to help them learn the traditional aspects of the sport is a bonus. The sticks are all made from our signature Twig and each one has a player name and number along with the Oneida Lake Pirates skull-and-crossbones-style logo engraved on the shaft.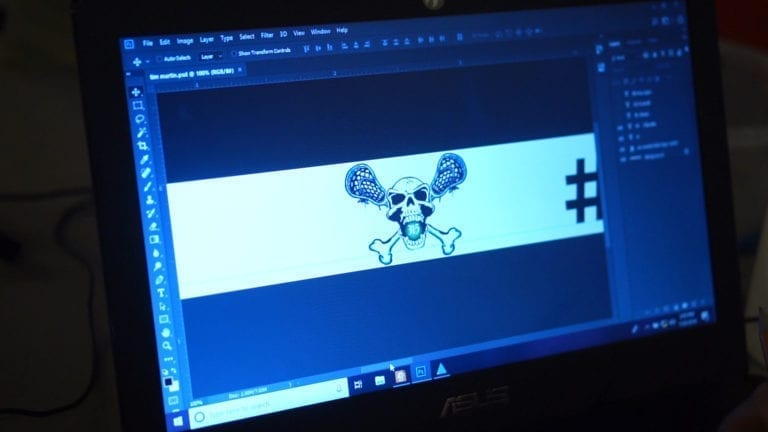 Large orders like this warrant a months-long cycle of production, and those are always tricky because there's an added pressure to make sure all the wooden lacrosse sticks are made the same as well as made at the same time. In these situations, the wood having the same grain is very important and these sticks all came from the same hickory tree. Also, when you're making items for younger kids, equality is important for them to feel like they're all part of the same team.
Hickory is the ideal wood type for this product. The wood grain is straight, but occasionally wavy, creating the visual patterns that you see along the shaft of the sticks. Being eco-friendly is what I aim for when producing sticks, and my current bending methods have led me to be more environmentally conscious with the way I create. At this time, I can make nearly one hundred twigs from one 12-inch-wide hickory tree.
All things considered, I'm incredibly happy with how these sticks turned out, and it's always a nice feather in my cap when I can execute a large and important project like this, and have all aspects of it come together in the end. As I continue to create these sticks, one thing has become certain to me; There's always room for improvement.
For more Wood Lacrosse Sticks content, click here. To visit Wood Lacrosse Sticks' website, click here.