Today we are taking a look at an AMAZING wooden stick collection, belonging to Jakob Works, aka LacrosseWorks! But before we can get to the collection, let's talk a little recent history. Just a little, I promise! I know school just started, so I'll keep it light.
The stringing community's online origins can be traced back to two starting points. E-lacrosse.com and The Lacrosse Forums were, at one point, the harbinger of all the stringing information and content. Before these two trail blazers, the art of stringing was passed down through word of mouth, in-person tutelage, hard-to-decipher one page manuals, and of course, experimental learning.
As an old E-lacrosse V-logger, I still love to swim through all of our modern media outlets, and I have noticed that most stringers rarely task themselves with a wooden lacrosse stick repair. It is the goal of www.WoodLacrosseSticks.com to expose talented artists who do this type of work, so please allow me to introduce you to the amazing restoration work of Jakob Works.
You may know him better by his Instagram name: @lacrosse_works!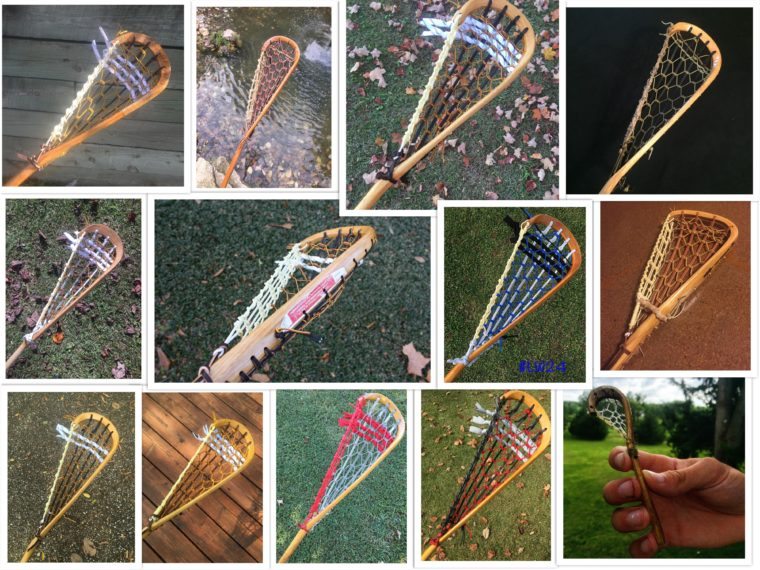 Even a brief background on Jakob will show him to be an absolute lacrosse fanatic. Jakob was a finalist in the String League Competition this past season, where he showed his skills on a national level. He also hails from Lincoln, Nebraska!
His town may not be known for its lacrosse, but he managed to have a fulfilling high school career, which led him to play at Huntingdon College. He currently plays for the Chicago Outlaws box team and works at Tama Lacrosse. Oh, and Jakob has an epic wooden stick collection. Did I mention that? And they're not just wall hangers either!
LacrosseWorks' Wooden Stick Collection
I will let Jakob lead you through his impressive wooden stick collection. Take it away Mr. Works:
After graduating from college with a degree in accounting, I made the easy decision to opt out of that career path and instead follow my passion for lacrosse, by accepting a job as the manager and team sales representative of Tama Lacrosse.
In the summer of 2014, a family friend asked me if I could restore a five leather Bacharach-Rasin for him. I restored that stick, and immediately started looking for a stick of my own.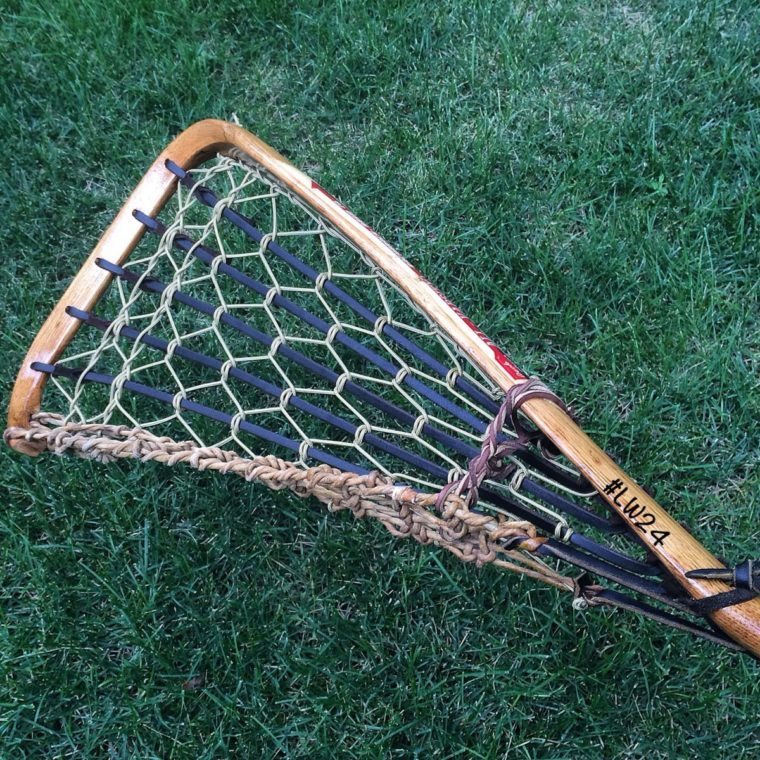 When my eventual sticks came in the mail, both were unmarked and one was in great condition while the other was not. One I strung up with some festive colors and recently gave to my best friend who handed me my first non-beginner lacrosse stick when I was a freshman in high school.
After these sticks, my addiction heightened and I began my quest to research different types of sticks and stick makers. I bought three more sticks off of Craigslist shortly after and restored them all. I was unaware at the time that within that group of sticks I hit the jackpot on a historical stick. I had just bought a Lally's Bob Pool edition, made by Lally's in partnership with Bobby Pool- a legend in the lacrosse community.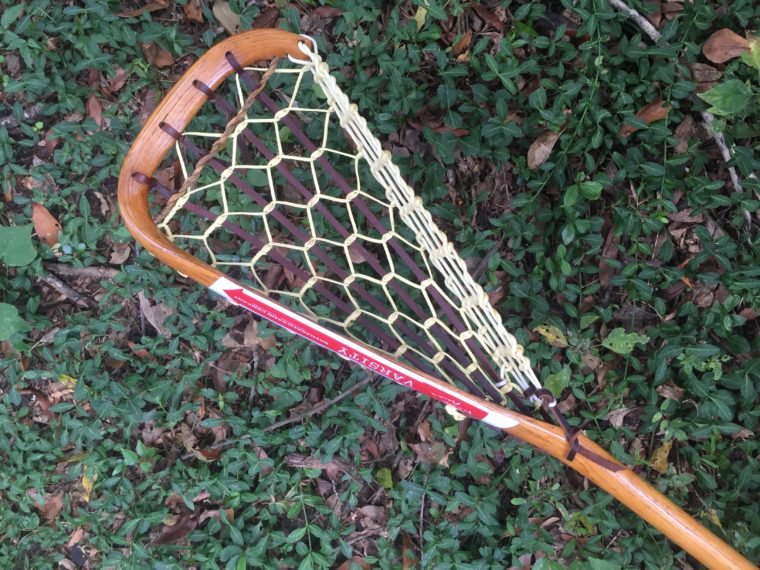 These two Patterson Cradle Babies are a set that I picked up for $25 and were nailed onto plaques and given away as awards. I pulled them off of the plaques and restored one to be an exact mini replica of my personal stick that I have used in multiple scrimmages. 
I took a small break from adding to my collection and started to do a lot of restorations for friends and fans. But then I found a stick that I could not resist. A connection I had previously made in Canada told me that he came across three sticks, one of which was a goalie stick. This particular one was made by M. Etienne & Son a very prominent stick maker from Quebec, Canada who makes some of the most sought after sticks for stick collectors.
With the goalie stick I was shocked to find that the other two sticks were also ones I would love in my collection, one being the Pro-All-Star also made by M. Etienne & Son. Sadly this stick had a very faded stamp on it so I decided to make it something unique for my collection and do a stained all-black stick. If this one looks familiar it's because this is the stick that got me into the top five of String League. I bitter-sweetly let this one go to a fan, but for me it just makes the hunt for a better conditioned Pro-All-Star all the more fun.
The third stick in that group was a stick made by The Mohawk Lacrosse Stick Manufacturing Company Limited, this model was the Pee-Wee. I had restored Mohawk Lacrosse Stick Mfg. Co. sticks before but never had kept one for myself and I decided that this one would be perfect because it was a three leather stick and in great condition. It is interesting to compare the size and weight of the two three leather woodies in my collection, as I previously mentioned the first three leather woodie I got was heavier.
The next stick I picked up for my collection was a Grays women's stick made in England. I got this stick so that I could say I have a women's wooden stick in my collection and show people the difference in the sticks. This stick also has sentimental value to me because my great aunt was from England and she told me stories of her playing lacrosse there when she was in school, though she did not enjoy it as much as I do.
One of the more unique sticks in my collection is a stick made by Canadian Lacrosse Mfg. Inc. The stick stands out in my collection because it is the only one made with laminated wood rather than one piece of wood. When you look down this stick you can clearly see the layers of wood, very similar to looking at a skateboard.
The most recent stick I have added to my collection, my pride and joy, is my Alf Jacques. Anyone who knows anything about wooden lacrosse sticks has heard of Alf Jacques and has probably watched his videos on youtube multiple times. Alfie is one of the main reasons I was interested in wooden sticks. I saw his video early on in my lacrosse career and always dreamed of owning one of his sticks. Alf is still making sticks today and they are the best quality stick you can find as his experience makes them unmatched.
My friend's younger brother found the stick in the middle of a field on the reservation, it was partially buried in the ground and covered in mud and grass. Right when I saw a picture of this stick after it came out of the ground I knew I wanted it. I felt like it was my responsibility to bring this stick back to life and give it its former beauty, the way Alf taught me to restore a stick. My friend was gracious enough to do a trade with me for the stick and shortly thereafter I had an Alf Jacques in my collection.
Thank you to Jakob for showing off this amazing wooden stick collection, and we hope you love your newly restored Alf! Truly great work, my friend!
If anyone of you would like to show us your collection, you can send an e-mail to info@woodlacrossesticks.com. We would love to dig through the stick pile with you, and possibly show off your wooden stick collection as well! Check out WoodLacrosseSticks.com, and follow us on Instagram!