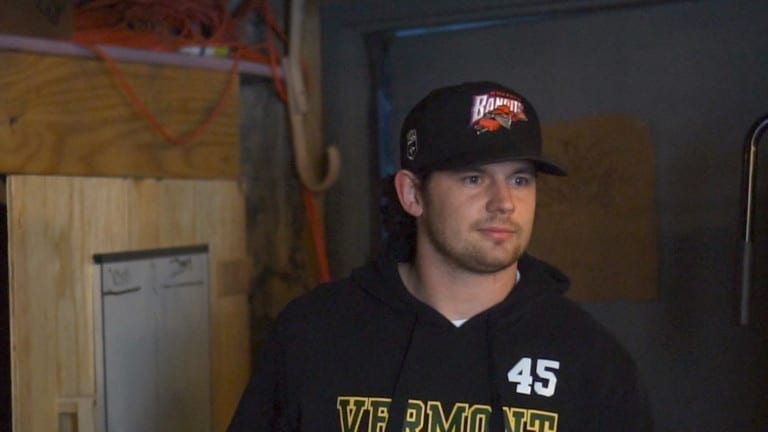 Today in the shop, we have Ian Mackay. He's a player for both the NLL and the upcoming PLL. And today, we're going to do something a little different, and we're actually going to make a Great Lakes style stick.
Justin Skaggs: I've gotta say… So, a guy comes down from Canada and moves to the United States and ends up in Buffalo. It's not alike, any warmer… at all. Is that by design? … Because Buffalo's a great lacrosse city, especially for box lacrosse…
Ian Mackay: Well, I didn't really have much of a choice.
JS: Oh, that's right, you got drafted.
IM: It's kind of where I ended up, but…
JS: That's a weird job thing. Like, that doesn't happen to me, you know? it's not like 'Ah, you know what? You wanna make lacrosse sticks? I hope you enjoy Georgia!' It doesn't happen.
IM: I think I lucked out, though, with Buffalo.
JS: It's a great crowd.
IM: It's awesome.
JS: You just played in Philly, and you said we had like 11,000 for the home opener. You guys get about 15, so… If we're in line with Buffalo's home opener, then I'm pretty happy about it.
IM: We were joking around, too, the other day, cause I wear #4, and it'll be the home opener, so I'll be the first one out of the tunnel. So, hopefully there's someone there to give me directions so I don't just run out blindly. (laughs)
I've only ever made a handful of these great lake style sticks, so I'm actually experimenting as I go. I decided to take the bark off the second one just to see what happens, and I'm pretty happy with how it turned out.
JS: So, you're going to be playing in two professional leagues in the same year.
IM: Yep.
JS: I mean… You're a young man. You're probably the youngest dude I've had on this show. I guess I kind of have a bland question. Are you just, like, absolutely enthralled with what's going on?
IM: Yeah, just trying to make Lacrosse a full-time job.
JS: Yeah, me too. I totally get it. It's not easy.
IM: No, and the fact that there's a new league coming, and I was just a rookie in the NLL. A rookie in the NLL this year, and then, I guess everyone will be a rookie in the PLL.
JS: Not quite. (laughs.)
IM: Not quite (laughs.) But I like to look at it that way, but it's definitely exciting, and I try to.. You can only play for so long…
JS: True.
IM: … Until your body gives out, or whatever maybe, so… [I'm] just trying to take full advantage of the years I have to play and play as long as I can.
JS: That's awesome, man, it sounds like you're living in the moment, and when life's good, and you don't recognize it, and hold onto that, you're totally wasting it. Why look back and be like 'things were sweet then, I played in three professional [leagues]'… Enjoy it now. It's awesome. And don't cut off your finger here. I mean, you would make me really bummed out If I ruined this whole thing for you.
IM: (laughs)