It's Day 7, and that means we have recaps for each and every World Championships game that went down. See how this whole FIL thing is playing out!
World Championships Game Reports: Day 7
Spain 12 Vs Denmark 7
Created by Mark Donahue
Puerto Rico 14 Vs Japan 8
Written by Justin Meyer
Four years ago, first-timers Israel knocked on the top-six door. Now in 2018, It's Puerto Rico's turn to burst onto the scene.
With Puerto Rico's 14-9 hold off win over Japan on Tuesday at Epoch Field, the team continued its march closer to the top six and a Blue Division berth for 2022. Hopes were high for the newcomers heading into the tournament, and the team has validated those expectations.
The story was the same yet again with Puerto Rico face-off specialist Jared Hershman dominating. He went 17-of-25 from the X, improving his rate for the entire tournament to 67-of-100, the most wins of anyone at these World Championships.
"His success at the face-off X has been a major part of our success as a team," said Puerto Rico head coach Jeff Ramos. "In fact, we credit him for our win versus New Zealand. His success has allowed us to stop significant scoring runs by our opponents and conversely given us opportunities to put together our own scoring runs."
Puerto Rico was able to outlast one of those attempted runs against Japan. Early in the third quarter, Puerto Rico led 10-2 after commanding the second quarter and scoring seven-straight unanswered. Japan flipped a switch in the second half, though, and notched seven goals in the while halving its opponent's production.
But the Puerto Ricans did enough to remain in control, never allowing the Japanese closer than four. Ramos said his team stayed calm and settled in to absorb Japan's runs.
"Our defense got more comfortable with the speed of their initiating dodgers," he explained. "Offensively, we figured out they were running a loose zone, and we had a scheme in place to address."
After Puerto Rico's win over Germany on Monday with the same 14-9 scoreline, Ramos said his team's objective at that point was to upset as many teams as possible from then on. Does making the quarterfinal make a difference?
"Nothing changes," he said.
Japan will play Scotland on Wednesday at 9:45 p.m. on Epoch Field to keep the top-six dream alive. Puerto Rico has earned itself a quarterfinal matchup with the Iroquois Nationals on Wednesday at 6 p.m. on ESPN Field.
Netherlands 9 Vs Poland 7
Written by Katie Conwell
The Netherlands started off this game well with a 6-2 first-half lead. The 3rd quarter, however, was Poland's as they outscored their opponents 3-0. Late in the quarter, the Poland defense made several key stops to prevent the Netherlands from extending their two-point lead. The momentum of the game had clearly shifted in their favor as the Polish offense became more aggressive in getting their shots off. Poland scored its fifth goal soon after to pull within one.
Poland's Matt Johnson opened up scoring in the fourth quarter to tie the game at 6-6. The Netherlands, however, responded with a three-goal run. In a span of fewer than five minutes, Jelle-Eric de Vries scored once and Steven Luna would do so twice. Poland's Matt Johnson added one more goal on a pass from William  McNamara, but their effort was not enough as the Netherlands defeated Poland 9-7.
Slovakia 10 Vs Argentina 9
Written by Katie Conwell
What a finish! This game came down to the very end. Just as was the case in the Poland-Netherlands game, the team who asserted itself offensively within the first half built up enough of a lead to withstand a comeback from their opponent. Slovakia outscored Argentina 7-3 in the first half and maintained their four-point lead going into the 4th as Justin Pickard scored with 25 seconds left on the quarter to go up 9-5.
Unsurprisingly, this proud and determined Argentina team did not give up. It was obvious that they wanted to win this game. They outscored Slovakia 4-1 in the final quarter, and Alexander Webber scored his 3rd goal and the team's 9th point of the night with ten seconds left to bring his team within one. Argentina was able to get the last possession. They got off a shot that was wide of the cage as the time ran out to zero.
There was a little bit of confusion as the refs called the players back and Argentia was given one more chance even though the scoreboard still read zero. This last-second attempt was also unnsucessful, and Slovakia narrowly escaped the game with a win.
Bermuda 10 Vs Taiwan 3
Written by Katie Conwell
On Tuesday afternoon, Bermuda (1-3) faced off against Chinese Taipei (0-3). Bermuda won 10-3 and continues to look more and more comfortable in its offensive sets. They controlled the pace of play, and came out with a big win over a newer program. Here are three great photos from the game, with many more to come!
Jamaica 11 Vs Greece 4
Written by Justin Meyer
A full circle can come a long way. In this case, it comes from two countries and meets in a third.
Tuesday night, Jason Pereles took part of one the finest moments of his lacrosse career. The Greece assistant coach's team lost to Jamaica 11-4 in a game no more or less memorable than most of the countless others to occur in Netanya this month. But how it came to be is what made it special.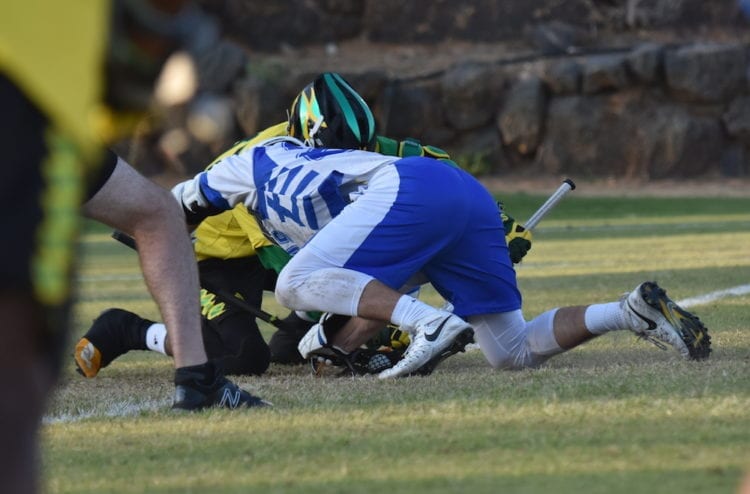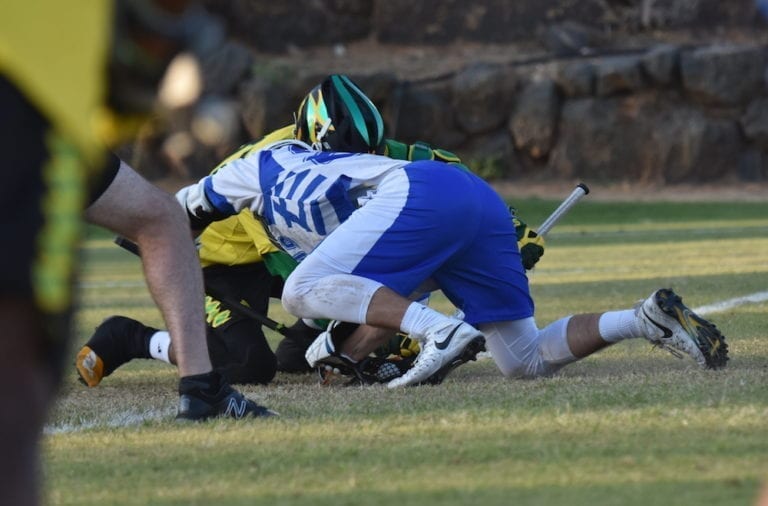 Pereles was one of the architects of Jamaica Lacrosse for years, and two of his recruits were Alex Benjamin and Donahugh Simpson. He found them as young boys looking for something different. He left them as lacrosse players.
Those two suited up against Pereles and Greece on Honig's Field, completing the circle and reconnecting with the man who brought them their passion after not seeing him for two years.
"I was a bit nervous because he was my first coach, and without him I wouldn't be on this team," said Benjamin, 20. "To play against him, I kind of felt guilty, but I also knew you have to come out here and do what you have to do."
The feeling was strange for Benjamin's teammate as well, but he also viewed the game like a professional.
"It felt awkward at first, but then you realize we have things to tend to," said Simpson, 17. "We should focus on the match first, and then go back to what we were used to, which is Coach Jason."
Pereles felt strange about the situation, too. When he first showed the Jamaicans lacrosse, he couldn't have imagined he would coach against them one day, let alone in a World Championships.
"Going into the game, I didn't know how I was going to feel," Pereles explained. "As soon as the game started, I kind of lost it a little bit on the sideline. To be part of this game is special."
But it doesn't end there. Elias Zacharopoulos, is also a Pereles project. After leaving Jamaica, the coach moved to Greece to build the sport there, living in the country from January to July in 2017. Zacharopoulos was his first find and by far the most committed of the Greeks who took up the sport. He joined Pereles on the sideline Tuesday to complete the trifecta of Pereles pupils.
With the inexperience of the three players and the size of the stage, they didn't enter the game until the final handful of minutes. For the last few minutes, the trio shared the field, with Zacharopoulos guarding Simpson and Benjamin multiple times. Pereles was left watching his work duke it out on the field in front of him.
"I took my phone out on the sideline and took some pictures," Pereles admitted. "I was telling (Jamaica's) coaching staff, I'll never forget this game. To think about the work that those two boys on Jamaica put in to be here, and to think about the work (Zacharopoulos) put in to be here; games like this, days like this, this is why we coach."
Simpson isn't shocked something like this happened, though, knowing his former coach. While the luck of the teams drawing each other is random, he said Simpson finding and inspiring players in multiple countries is unsurprising.
"It was kind of expected because he has a heart of gold," Simpson said of Pereles. "Anywhere he goes, his talent and knowledge will rub off on other people, and he will start to ignite a fire in people who didn't even think that they had something going on."
Benjamin agreed with his teammate and friend.
"I don't expect this to be a strange thing because (Pereles) is after all a very, very good coach," he said. "I wouldn't be surprised if some day he might even have his own team of guys he discovered."
But without looking so far into the future, Pereles relished the moment he had a major hand in creating. This seemingly innocuous middle-bracket game was one with infinite meaning for him.
"It gives me a boost of energy to continue doing what I'm doing and continue to grow this game," Pereles said. "If what we're going can change the lives of a couple of people in a couple different countries, then that's more than enough for me. To be a part of this is an awesome experience for me and something I'll never forget."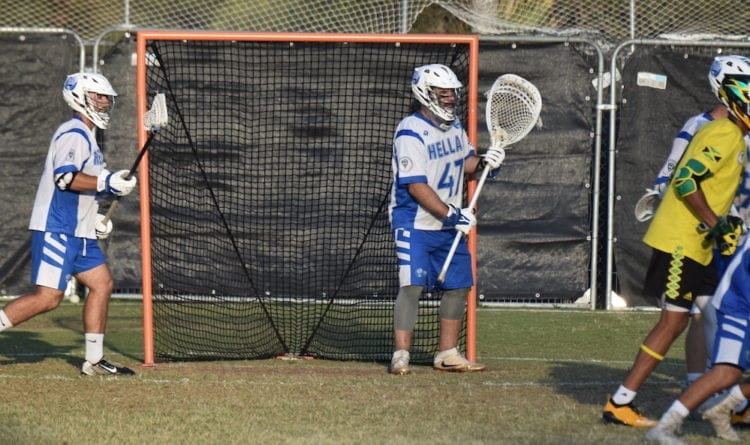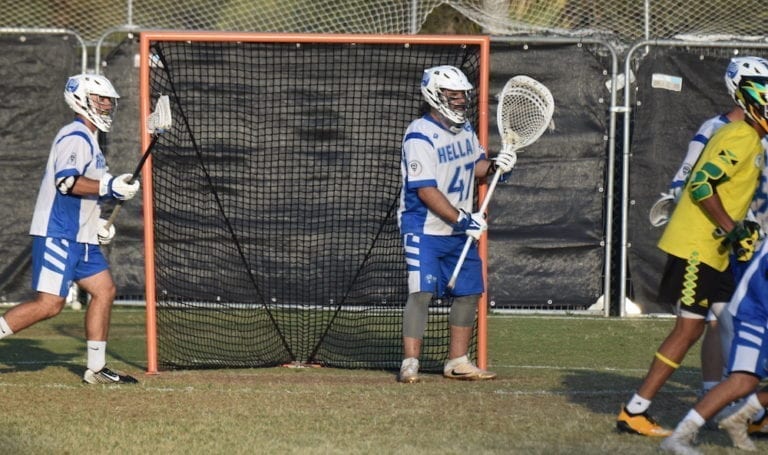 Pereles, Zacharopoulos and Greece will regroup and face New Zealand on Wednesday at 6:45 p.m. on Honig's Field. Benjamin, Simpson and Jamaica have earned a date with Switzerland on Wednesday at 2:30 p.m. on ESPN Field.
Wales 9 Vs Austria 5
Written by Ryan Conwell
The stakes for Austria and Wales was getting pretty high. Both teams had been playing some good lacrosse and were looking to make a run. Austria lost their opener to Finland, but won their next three over Colombia, Spain, and Poland. Similarly, Wales' only loss was to Puerto Rico, and had wins over Bermuda, Uganda and the Netherlands.
No matter what, when you're a few games out of pool play, and two teams with only one loss each meet up, it's set to be a good one. And it was. I had heard Wales' defense was a good one to watch, and it was pretty apparent why. They are very aggressive on the ball and were very fast slides. I do not think I saw Austria get a totally clean shot off, or have just ball movement setup and open look. Wales contested everything, and it was fun to watch. By far my favorite moment in this one was Wales defender Silas Fuller would yell "Let's go!" at whatever attackman we was covering on ball instead of the more typical "I got ball!" or other variant. Not that I think it would actually intimidate an attackman to pass it away, but I know there have to be more than a few times it has caused one to dodge when they shouldn't have. I just love that sort of confidence from a defender.
Back to the game, though. This was a true back and forth affair for the entire first half. Austria's Klaus Hauer scored with just two seconds remaining to make it an even 5-5 just two second before intermission. Neither team really was able to put a run together and the most goals anyone scored was just 2 in a row. It was shaped up to be exactly they type of game I was hoping to see.
For the second half, things changed. The Wales defense did not allow a single goal in the second despite Austria's 18 shots. James Richardson in goal did his part by saving all six that actually came his way. Especially given that Austria scored three straight late goals against Poland in the previous game to put that one away, the Wales defensive effort was one that deserves recognition.
Germany 12 Vs Finland 7
Written by Ryder Cochrane
To the casual observer, there is no reason there would be any obvious connections as to why this would be one, but this matchup felt like a rivalry game from the opening faceoff. Seeing as both of these teams have high aspirations in Europe (and beyond) in both box and field, and face each other often, it makes a lot more sense.
Players were pulled apart on several occasions, flags littered the field, and coaching staffs broke out some no-no words in team huddles. While this may have been a more stressful on-field situation for the zebras, it made for fantastic viewing.
Germany took the early lead and controlled for most of the day, but Finland never let the game
so far out of hand as to not have a chance at a comeback. Only when the Finnish defense lost a
second player to penalty in the final minute did Germany finally relax and let its foot off the gas.
Finland was within two at the start of the fourth quarter, but Germany outscored them 4-1 over
the final twenty minutes to secure the win. This had a lot to do with penalties, as Finland
recorded all four of the fourth quarter penalties.
Things got tense after Germany's last goal, a showy, but cheeky, one hander by Caspar Zizka into the empty net after Finland sent their netminder to double.
https://www.instagram.com/p/BlV9sHUg78b/?hl=en&taken-by=laxallstars
Both teams recorded the same number of shots, but Germany's Darin Eakins put up 10 saves on 17 shots on goal, whereas the Finnish goalie combo of Lauri Uusitalo and Riku Jokela combined for only 9 on 21 shots on goal. Nine German players recorded a goal, and that depth helped them a ton in the heat.
AND VIDEOS!
USA 19 Vs Scotland 2
Written by Rien Zabor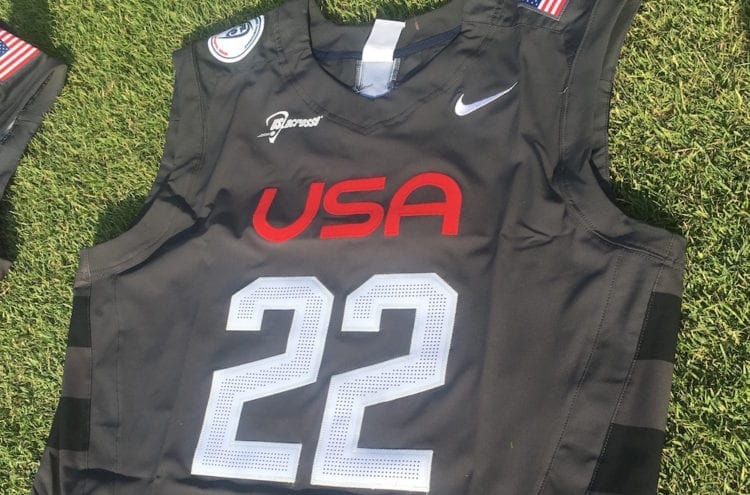 Stepping up to the face-off X, England looked primed to compete with the top team in the Blue Division, Team USA. In just under 5 minutes past the opening whistle, Joshua Sherry-Brennan of England struck first reinforcing the fans hopes for a close game. However, this 1-0 lead would not last long after Ryan Brown netted his first of 4 goals on the night just a minute later ultimately firing up the freight train that was Team USA.
For today's game, the US defense elected to play a tight zone pressing out aggressively on the ball carrier. This strategy flustered the English offense forcing them to make individual plays resulting in a handful of turnovers. But the list of turnovers did not grow too long as Team USA dominated possession time throughout the evening especially from the face-off where Trevor Baptiste and Greg Gurenlian combined for an 82% performance.
On the other end of the field, England's defense remained in a spread zone with hopes to dissuade dodgers. Unluckily for them, this plan backfired as the open space allowed their opposition to complete skip passes from all angles of the box finding open shooters on the crease. Team USA quickly took advantage of this opportunity and racked up a 12 goal lead before England grabbed their second goal, again from Sherry-Brennan, as time ticked away in the 3 rd quarter. Even though this defensive style seemed to play into the Americans favor, Ryan Brown noted that they were more focused on their game play.
"We focus on making the right play on our end and not necessarily playing to what they are doing so I think they played a big part in the looks we had today." – Ryan Brown, #4 Team USA
As frustration mounted on the English sideline, USA continued to roll through the 4 th quarter. Known for their serious sidelines, Team USA took this time to loosen up and have a bit of fun. This change in mood even started to show on field as Marcus Holman and Ned Crotty put together #SCTop10 caliber plays burying unassisted goals dodging from behind. At the end of it all, Team USA established a 19-2 win with high hopes for their run to the Gold Medal match.
Czech Republic 14 Vs France 7
Written by Ryan Conwell
Coming off their win over Uganda, France was feeling pretty good about where things were headed. For the Czech Republic, they were coming off two straight losses, to the Philippines, and Argentina so they were definitely hungry to get another win to their name.
Unfortunately for France, this turned into another slow start, and when that was combined with too many penalties, things were just not going their way. The Czech Republic on the other hand used a strong start with a very strong finish to put the game out of reach. As the game became more emotional and physical, the Czechs were the ones taking over.
The Czech republic used the brilliant feeding from Pavel Došlý to setup a fie goal run, which spanned the end of the first quarter and beginning of the second. Of those five goals, he scored two and assisted on all of the other three. He would go on to finish the day with six goals and three assists, which is just an outstanding performance.
As he game wound down, the referees found themselves quite busy. Offsetting penalties, late hits, unsportsmanlikes, slashes, pushes without possession, etc. were being called quite a bit. At one point, France was down three players, two of which were non releasable. The Czechs scored, but there was a slash while that happened, which meant they were down three men to faceoff. This is honestly something I do not think I had ever seen before. France won the faceoff, went backwards with it, but as he was looking for an open attackman, he instinctually ran over the midline which created an offsides.
After the game, The Czechs were excited, which sent them into a match with Beligum for the second time. A game they win by 7 on the first day. For France, the loss gave them a day off and a pending match with ether Russia or Peru.
Hungary 14 Vs Russia 12
Written by Ryder Cochrane
Despite its proximity to the sea, Netanya is still arid, and the effects are being felt by teams
across the tournament. It's hard to argue, however, that any team is more naturally affected by
the heat, and the wear and tear, of this tournament than Hungary. Traveling a roster of only 16
players, the Hungarians generally run into opponents carrying seven extra pairs of legs, and
that would be enough of a disadvantage for most teams as to send them packing.
Props, then, are in order for the Magyars, who bested Russia in a knock-down, drag-out match
on a dusty field five today. Rocking a long-pole on their man-up unit and playing with only six
midfielders, Hungary survived a late push by Russia to win today's match in walkoff fashion. Of
course, penalties factored in. A particularly egregious double-whammy from Russia added up to
a four minute man-up sequence for Hungary in the third quarter. Russia would manage a late
push to bring the game within two late, but penalties killed momentum throughout the day for
the Russians.
This isn't to say Russia didn't provide plenty of flare in the final outing here at these 2018 World
Games. Featuring eye-black mustaches, custom socks, and enough hitting the ground to turn
their white jerseys camo from dirt, the Russians gave it an all-out effort (at times out of control)
to impress one last time in these games.
The Russians chanted throughout the game, their national pride evident as they gave it all for the name on the front of their jerseys. However, the Hungarians dug a little deeper, and played a little smarter. Despite being outmanned and fighting through an Israeli summer day, Hungary takes home its second win of the tournament, and these tired legs will have to find the strength to go another 80 minutes. Here's hoping their hotel serves pasta tonight, and lots of it.
MORE Game Recaps &Photos – Coming Soon!
As it comes in, it goes up, but for now check out the scores for the rest of today's games, as well as the predicted lines for tomorrow's contests!
Switzerland 9 Vs New Zealand 6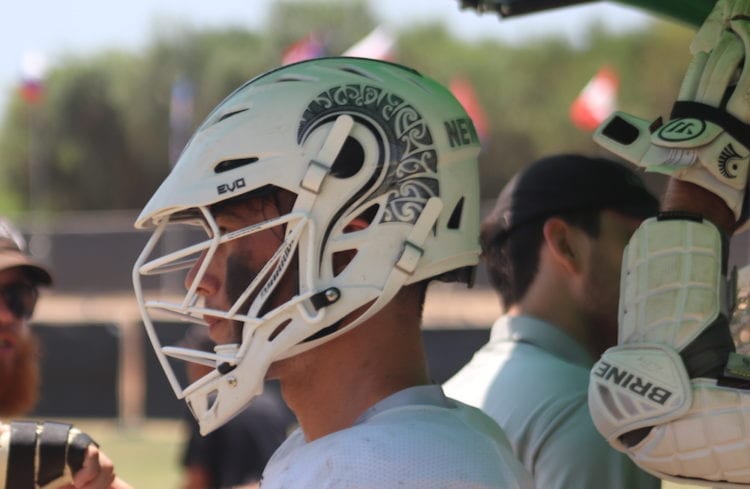 Norway 8 Vs Latvia 9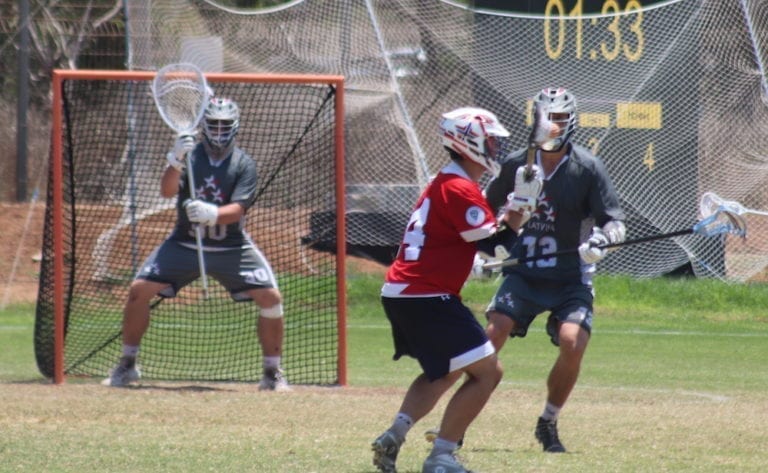 Italy 11 Vs Philippines 12
Korea 8 Vs Belgium 17
Mexico 22 Vs Colombia 10
Israel 16 vs Ireland 4
Canada 13 Vs Australia 7
Iroquois 14 Vs Scotland 7