England has one stick doctor that truly stands out on the international stage, and that is Chris Wilson, aka @lacrosseman. I first saw Chris' talents on display when he won the inaugural String League Competition, and I have been following him ever since. Today we will follow his restoration of this Lancer senior box stick. WoodLacrosseSticks.com is proud to present to you, @Lacrosseman and the Lancer restoration.
Getting ahold of wooden sticks in Europe is really difficult, so I want to start by saying a huge thank you to Northern Soul Sportswear for their assistance with the shipping, US and Canadian imports, and for allowing me to work on this very special series of projects. Thank you also to Lacrosse All Stars and Wood Lax Sticks for this Woodie Wednesday slot!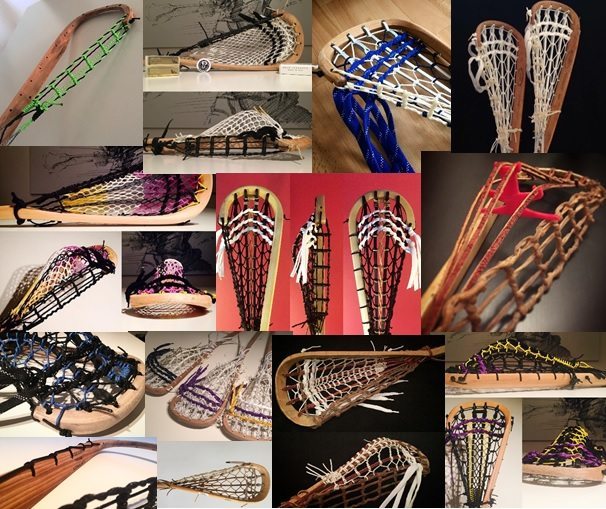 So far I've restored a range of sticks from manufactures such as: Hattersleys, Spalding, Chisholm, Huron Pro Select, Benedict Mohawk International, Etienne Martin, Gros Louis Snow Shoes and Sports Craft. The condition and age of the sticks varies considerably, and some require completely sanding down and restringing, whilst others only require a good clean. In most cases, the sticks I restore date from around the 1960 and 1970s.
Tim Martin (of Martin Mesh Lacrosse) recently posed the question – What is a vintage restoration and what does it mean to you?
My take on restorations is the experience of bringing vintage wooden sticks back to life so players, enthusiasts and fans can enjoy the feel and use of a wooden stick in a social environment. Whilst restoring sticks to be exact replicas is a fantastic idea, none of the materials or techniques I use are traditional and, as you can see, I like to combine the old with then new to create a fusion of lacrosse.
Most of the sticks I come across have been neglected, or left to rot and warp. I like to think that the creators value the care, attention and passion that goes into bringing these pieces of lacrosse history back to life so that they can be shared and enjoyed for many more years to come.
– – – – – – – – – – – – – – – – – – – – –
Today I'm going to talk you through a special project – the restoration of a Lancer Senior. Lancer was a Canadian company based in Cornwall, Ontario, who, like many others, were engaged in making other items. Lancer moved into lacrosse stick production in the late 1960s and early 1970s. This is the Senior model, which caught my eye due to its very pinched profile and strong, robust construction.
As with the majority of the sticks I restore, the leathers were suffering from leather rot, which shows as a white damp powder on the leathers. You can see how the leather rot forms in the picture below. Whilst you can clean this off, it's always going to be engrained into the leather will most certainly return over time, so, therefore, its best to remove the leathers completely. The gut wall was also in decay and had snapped in several places.
Stripping back the pocket and gut allowed me to see just how perfectly balanced this stick actually was. The wood itself was in very good condition and had already been coated in a resin. Sometimes I make the decision to sand the sticks down, as it's the only way to remove rot and the deeply engrained dirt. If I can keep a stick in its original condition (with stickers), I certainly will do!
Once the woodwork was complete, I moved on to the gut wall. I've been working with nylon shooting lace for the gut walls in my sticks as the nylon is strong and creates a good study wall (it's also readily available!). The Lancer here features LaxRoom Nylon which the guys at LaxRoom kindly supplied to me on their platinum spools! Gut wall designs can vary, just as traditional pockets do, and I experiment with different styles all the time. I strung a variation in the Lancer which I really like, strung using a single string.
Once strung, I coat the gut in a special resin which I picked up here in England. I spent some time introducing the manufacturer to lacrosse and discussing what the best options would be to produce a solid gut wall! A single coat with a paint brush works well, followed by 4 days drying. This creates a hard gut wall which is strong enough to take the tension of the pocket, whilst still providing a decent amount of flex.
When it comes to pockets, I'm open minded, I've used standard trads, trad-x pockets, hawk pockets and even (dare I say it) mesh! A trad-x is certainly my favourite, it looks traditional but enables me to create a very balanced pocket, whether the wood is straight or not. For the Lancer though, I went for the Hawk Pocket to make this stick a real show piece.
I always use a TradiTree to assist with stringing woodie pockets, sometimes on its own, if it's a pinched head, or with a TradiTwig (not sold in stores) if the head is wider. If you've got the tools, use them!
In this stick I used brown leathers, a bootlace sidewall string and white crosslace to give the stick a truly premium look. I string woodie pockets just over a ball deep and have the ball sit fairly high in the stick. The pocket is able to shift, whilst remaining tight up top, so it doesn't lip or whip.
To anyone who has a project of their own, I urge you to e-mail us at Info@woodlacrossesticks.com. We are always excited to review projects and see what the community is up to!