This past weekend, I headed back to Middletown, CT for the Wesleyan-Middlebury Men's Lacrosse game and the Wesleyan Alumni Dinner that followed.  It was quite a trip and by the end of the 12 hours I spent away from the LaxAllStars.com den, I felt like I'd been away for a week!  Editing the video that you can see below took almost as long!  Not bad work for a guy with a Flipcam and a Mac!
Video is better in full screen!
The game was fantastic and although the wind was blowing briskly, and the temperature never felt as warm as it supposedly was, the place was packed.  The entire far sideline was filled with people, the small stands were packed and there were even people standing on a grassy hill to the side of the field to try to take in the action.
Wesleyan needs to do something about the seating at their turf field ASAP because the lacrosse team is packing that house.  The opportunity to put raised aluminum bleachers on the far side is there if they want to go cheap.  The right way to do it would be to build raised concrete stadium seating behind the benches.  There is already a building behind that area that could also be used for electricity and locker rooms as part of my proposed stadium construction.  Once the concrete is up, let some Ivy grow on it, plant some trees around it and you're good to go for DECADES.  Go big or go home!
The game itself was kick ass.  No other way to describe it.  Both teams are looking good so far in 2011, and that is why they are both ranked in the Top 20 right now.  Middlebury is still in the Top 10 at # 7 in the Coaches' Poll (#7 in the Laxpower Forum Poll), while Wesleyan broke into the Top 20 for the first time this season at #13 (they were #10t in the Forum Poll)
Wesleyan came out with a tight 9-8 OT win and the game delivered on everything you thought it would.  Hild was phenomenal for Middlebury and really is a one man show at times.  Their offense relies on him quite a bit.  He's going to get his, so Wesleyan seemed to focus on minimizing the impact of others.  Gabe Kelley was all over the field and scored a huge goal with his longstick to tie the game back up.
Both defenses looked pretty solid and Wesleyan's offense was very different from years past.  The attack initiated nicely and crease feeds were just as common as outside skip passes for big shots.  In net, both keepers played well, but Covington of Wesleyan was the difference maker.  No question about it.  He came up with some big saves when Wes needed them, and even delivered a couple of key GBs.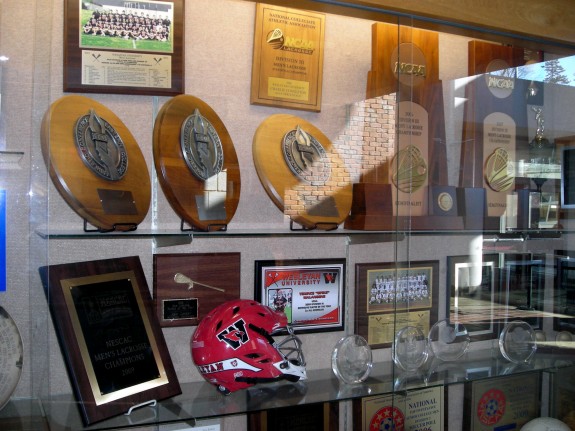 After the game, there was an alumni dinner where I was somehow allowed to speak for 10-15 minutes. Hopefully I didn't embarass myself too much and they invite me back next year! If you're heading back to your alma mater sometime this Spring and want to let the LAS readers in with a little behind the scenes action, let us know at info@lacrosseallstars.com!
All that and I got hooked up with a sweet new helmet!  I'll never pass that up!