Editor's Note: Connor Wilson has been in touch with a couple of guys from Fields Of Growth who have been setting up Uganda Lacrosse, and the beginnings of the game in Uganda are nothing short of amazing.  This is the first lacrosse program that we know of on the African continent that really has the potential to be playing in Denver in 2014 for the FIL World Championships, but this story goes so much deeper than that.  This is a story about passion, and a new found love for the game, in a brand new place.
First Connor interviews Kevin Dugan (of Notre Dame Lacrosse fame and Fields Of Growth), and then we get to hear from Johnny Christmas, who served as the head men's lacrosse clinician in Uganda.
___________________________________________________________________________________________________
So… Uganda Lacrosse, huh? Sounds really interesting! How did this all come about? Did someone from Uganda come up with the idea or did you guys decide to actively Grow The Game in a brand new place?
When I was coaching at the University of Scranton I had a chance to travel the world as a student chaperone in their International Service Program. I had the opportunity to lead student trips to El Salvador, Jamaica, Ecuador, Guatemala and eventually Uganda. I would go on all these trips and see students having their worldviews transformed by their experiences. The trips were fun, adventurous and soulful. I wanted to start an organization that ran trips like this for lacrosse players.
On my trip to Uganda I went out two weeks before the students and attended a conference on African business development, I basically sat down, kept my mouth shut and listened. I made a lot of friends on that trip, I also brought a bag of lacrosse sticks and ran really these really organic, pure clinics and teaching sessions. One day I held a clinic in Kkindu, a rural village in the Masaka District that is heavily impacted with the HIV/AIDS epidemic and fell in love with the place. The rest is history.
How did it go early on? What were the main goals of your initial interaction and who are you working with in Uganda?
It took about two years for the vision we now have to crystalize. We wanted to do something with lacrosse, but we would be incredibly naïve and neo-colonial to make lacrosse the emphasis of our work, however, we love lacrosse and believe there is a spirit of love and enthusiasm that brings joy to people when you share your passions with them. So we started to focus on supporting a school for orphans and vulnerable children. We have recently started to fully fund the school. We've bought land, have a child sponsorship program, and will soon be building classrooms at the school. That is the story on our work in the village. How we got real lacrosse started in Kampala is a whole other interesting story.
Did you guys make progess quickly? Or was it slow-going initially?
A little bit of both. From the standpoint of working with people in the village to building relationships and supporting education, yes, getting started happened quickly, but you can't rush relationships. We are really just getting to the point where we have the right team coming together here in the USA and on the ground in Uganda. We have seen good growth, but are now at a point where things are really taking off, and that has all been about having the right team come together. Everything is about relationships and having the right people helping you out.
Now that you've had some time to get organized and really get the ball going, what are the expectations for Uganda Lacrosse?
Lacrosse in Kampala is taking off, we have 5 enthusiastic men's teams that have formed a league, and we expect Kampala to continue to be the focal point of lacrosse in Uganda. We don't have any plans to bring "real" lacrosse to the rural villages where we are primarily focused on primary school education. We have a very real and legitimate goal and hope that we can bring the Uganda National Team to the World Championships in Denver in 2014. That is the dream of everyone in the program right now.
Where exactly is the game being played there now? By what ages? Men and Women? Is there socioeconomic diversity amongst the players?
The game is being played in Kampala at Makerere University Business School. We have men and women playing and almost all of them are college students. There is definitely socioeconomic diversity, as well as religious and ethnic diversity, which has emerged as a beautiful example of how sports can bring people together. We have Catholics, Protestants and Muslims playing lacrosse on the same teams. Outside of their interactions on the lacrosse field these groups would rarely come together.
Have you ever played or coached lacrosse in another country? Has the Uganda work inspired you to get more involved in the International Lacrosse Scene?
Yes, my senior year at Notre Dame Coach Corrigan took our entire team to Ireland, England and Wales on a European tour to play, practice and Grow the Game. Since then I have been fortunate to work really closely with the Federation of International Lacrosse (FIL) on clinics in France, Spain, Mexico, Jamaica, Uganda and Guatemala. My experiences with the FIL definitely shaped the vision for how we are growing lacrosse in Kampala. I am working on a project in Costa Rica right now and will be heading there for two weeks this winter.
Is it feasible for Uganda Lacrosse to be the first African nation to participate in the FIL World Championships in Denver in 2014?
Absolutely. The Uganda Lacrosse Union has a whole African chant and dance that they do after practice to motivate and inspire each other towards reaching that goal – it is wild to see the dancing, chanting and enthusiasm that they have incorporated into the game. They have already started their own traditions and given the game a little African flair.
It's all about passion and drive when starting a program!  That sounds amazing.
Have you been contacted by any Ugandan-Americans who are interested in playing and/or helping out with the program?
Yes, Ugandan Americans and African Americans in general. John Christmas went over with us in August and that was such a powerful thing for both John and the people on the ground in Uganda. He is looked to as a hero by the college students in the Uganda Lacrosse Union. We have also received a lot of interest from American and Western European ex-patriots living in Uganda.
Could the arrival of lax in Uganda spur the growth of the sport in other places on the African Continent?
I think so, but there is still the challenge of sustaining the effort which is difficult.  You need people that are driven, motivated and high on passion to take on that cause. Right now we have tunnel vision on Uganda and a collaborative project in Costa Rica.
If people want to get involved and help out, how can they do so?!?!?!
Great question! Fields of Growth is all about harnessing passion into social impact. We would love to coordinate something that enables people to capitalize on their pre-existing passion to uplift those in need. We have had people run road races, ride their bike across state lines, throw a benefit party, sell t-shirts and merchandise, run an equipment drive, sponsor a child at our school, run a lacrosse tournament or clinic, or even travel to Uganda for the lacrosse service adventure of a lifetime. We've been getting more and more great content and information up on our website, be sure to check it out at http://www.fieldsofgrowth.org.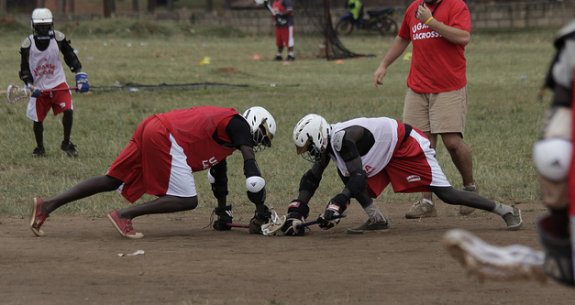 We also spoke with Johnny Christmas, and after letting the experience sink in for a while, we got his thoughts on what it all meant.  We know from personal experience (our trip to Thailand) that a little time to reflect can make things a little clearer, and if there's one thing to take away from JC33's comments it's that this was life changing experience…
I went to Uganda because I always wanted to visit the continent of Africa.  After some apprehension for several reasons, the main ones being leaving during August (which is a big month for camps and clinics), and the overall fear that has been brewed up about the continent in general, I finally just said to myself, "this is truly going to be a game changing experience".
I wanted to experience the people, the culture, the energy, the land, and poverty… I went with no expectations or any obligations, which made it easy to be in the moment and focus on what was truly happening.  I was the lead men's national team instructor.  The practices took place in the capital of Uganda called Kampala at a business university called the Makarere Business School. 
We then traveled West across the entire country to the Bwindi Impenetrable Rainforest where we built mud houses for the indigenous Pygmies.  Then we traveled back East to meet the kids of the Hopeful School, many of who had parents who had died from AIDS.  It was a completely sobering experience, where I truly realized how undeniably important education is for these kids, and for them to be in a safe place and to cultivate skills that will allow them to not only help themselves but to help their communities in general. 
When I got back to the states I was so inspired by the trip that I immediately talked to our design team about coming up with a shirt that would support the efforts of Fields of Growth, and we came up with a great design. 
Uganda lies right on the equator and $5 from each T-shirt sale  goes to FoG. What FoG is doing is amazing on so many levels from their lacrosse coaching to their humanitarian work.  A lot of people tell me that my vision with Encore and mission is unclear and/or not feasible, but to me it's simple. I want to create a platform with the brand that allows us to make some kick ass gear to support kick ass organizations. Action is character, character is culture and culture defines change!
For Johnny's full blog covering his experiences, check out his blog on the Encore Site.
All photos courtesy Fields Of Growth.