The conversations revolving around box lacrosse right now are myriad.  I've been arguing that everyone should play some box lacrosse and that it will help both offensive and defensive players improve.  I'm not 100% sold on whether or not it helps goalies yet, but I have yet to hear from a field or box goalie who thought playing the other version of our sport actually made them worse at their position.
Last night @SwankLax took to Twitter saying that he didn't believe box lacrosse could help a defenseman, and of course, I just had to argue with him.  Check out what each of us had to say below and then let us know where YOU stand in the comments.  Let's truly try to figure this stuff out, shall we?!?!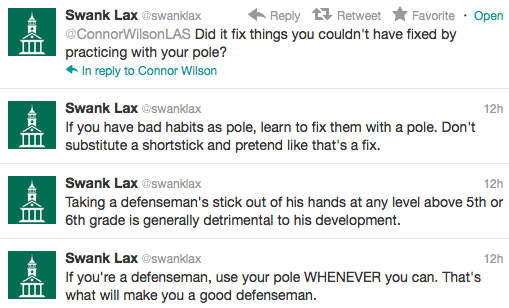 So now that you've had the chance to listen in on a heated but semi-intelligent box lacrosse conversation on twitter, what do you think?
Can poles improve by playing box lacrosse?  Should poles only play with a pole?  Is box lacrosse worth the investment for players who only care about field lacrosse?  Will caring about both make you a better overall player?  DYING to hear your thoughts LAS Nation!