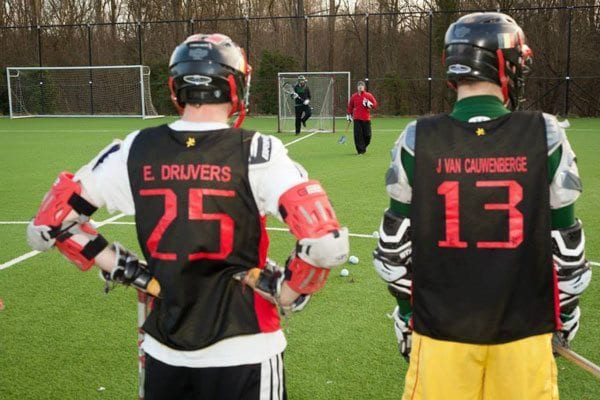 With only four months to go until the World Lacrosse Championships, Team Belgium is preparing its debut on the world stage. A record 38 nations have registered to compete in that tournament, which will be held July 10-19 in Denver, Colorado. That number alone is indicative of the sport's exponential global growth.
A small trading country like Belgium cannot shy away from compelling international trends, and that is certainly the case for lacrosse. Until 2009, only a select group of youngsters attending the International School of Brussels (ISB) enjoyed the privilege of playing lacrosse in Belgium. Canadian and American coaches at the school and burgeoning student interest has made lacrosse one of the most popular sports at ISB, even though the school team had to travel to England and Germany for games. But that is only the beginning of the story. Five years ago, a small but intrepid group of university aged Belgians, who had seen this ancient sport played on television, approached those coaches and asked if they would organize a series of clinics at the school for aspiring Belgian players.
The rest is history.
Within months these pioneer players had organized a club team and others rapidly followed suit. By 2011, these founding players had formed a highly organized six team league, established a board to oversee the sport's growth in country and initiated youth and referee training programs with the support of the ILF, the Brussels Sports Association and the International School of Brussels.
Belgium first tested the waters of international lacrosse at the 2012 European Championships in nearby Amsterdam. That first inexperienced but determined national team, consisting of the best players in the country and a few North Americans with Belgian roots, finished 15th out of the 17 European national teams competing. It nonetheless acquired invaluable experience preparing for and performing in that headline event.
Belgian lacrosse has grown steadily since then, and the quality of play has improved markedly. A country known for its Trappist beers and rich chocolate has added an unanticipated passion for this ancient Native American game to its international profile. The players are now eager to test their improving skills against the world's best.
Tryouts for the national team began last September with the coaches only making final cuts this past December. The International School of Brussels has generously made its turf fields available to the "Belgium Beasts" and the team will be practicing with mounting frequency as the kick off in Denver approaches.
Greg Murawsky, a Canadian box lacrosse player with a wealth of coaching experience, serves as Belgium's head coach. He is also the head coach for the ISB Raiders team. Assisting him is Paul Cook, a Johns Hopkins graduate, who played four years for the JHU Junior Varsity team as an attackman and captained that team in 1982. Cook also coaches the ISB Raiders. He and Murawsky also founded the first youth clinics in Belgium, which are now held in the fall and the spring at ISB and which are playing a key role in growing the sport in the lowlands region of Europe. Defensive coach is Vincent Vanschoenbeek, player/coach for the Braine Lions lacrosse team. He also played a season for Upper Moreland High School, Philadelphia.
General manager for the team is David Pucul, a Boulder, Colorado, resident with a Belgian history, as he coached the Ghent Goblins team in 2012.
On May 10, Belgium will play a warm up match against France in Machelen, Belgium. In the opening stage of the World Championships, Belgium will participate in the Red group along with European powerhouse Germany, Austria and Hong Kong.
The "Beasts" open against Germany on Friday July 11th.
Belgium Roster
Goalies
Simon De Vos, Ghent Goblins
Kevin Monsieur, Buggenhout Brewers
Matt Taylor
Defense / LSM
Steven Van Huynegem, Buggenhout Brewers
Gertjan Tilburgh, Buggenhout Brewers
Xavier Schietse, Ghent Goblins
Loïc Van Laere, Ghent Goblins
Mathieu Verpaele, Ghent Goblins
David Vermorgen, Braine Lions
Brendan Murphy, Canisius
Midfield
Emile Drijvers, Red Rhinos
Louis Drijvers, Red Rhinos
Wouter De Witte, Buggenhout Brewers
Rodrigue Spillebeen, Braine Lions
Diego Spillebeen, Braine Lions
Justin De Vuyst, ISB Raiders
Attack
Arnor Lahor, Machelen Minotaurs
Tibor Van den Wildenbergh, Simon Fraser University
Dave Taylor, Tufts, Shanghai
Kevin McKeown, Nepean Knights
Julian Cook, ISB Raiders
Reserve
Vincent Vanschoenbeek, Braine Lions
Jan Van Cauwenberge, Ghent Goblins
Follow Belgium lacrosse and the Belgium Beasts on Facebook!