This weekend at Aviator Sports Complex in Brooklyn, there will be a small first year tourney that, mark my words, has the potential to be HUGE in coming years.  The Brooklyn Brawl will feature four teams in its inaugural year: Jagermeister, Team Jesse, The TailGators, and The Brooklyn Dodgers.  Yup, they're back baby!
The games will be played on one field and all on Sunday, September 25th.  Aviator is a great sports complex, and it's located on historic Floyd Bennett field, which was NYC's first airstrip. The games will feature 22 minute running time halves, and each team will play 2 games to decide seeding.  Then #1 play #2 for the Championship, while #3 and #4 play for the Consolation.
The games will run from 10am to 4pm and it's going to make for a very intimate event.  The tournament is open, so the ages range from early 20's through early 40's. There are some great players coming, including former Team USA World Champs, NCAA National Champs, and some MLL guys as well.  Many of the players (on all 4 teams) play in the CT Spring League every Sunday morning from March thru Memorial Day.  In the summer the guys mostly play in The Sound Shore League, the South Norwalk League and the Gotham League.
The organizers decided to create a tournament in Brooklyn this Fall to keep it close to home, and still have a competitive tournament before the weather forces everyone to play indoors.  This first year is looking like there will be a lot of guys who know each other, but next year the doors may open up a lot more.
I got the chance to interview Rob Fox, the main man behind the event, to see what else we could learn.
There aren't a ton of fall lacrosse tournaments for men's teams… are you guys looking to fill a void?  Or just getting the guys back together for some fun?
There is a lack of good fall tournament action, and our friend organized The Hudson Valley Invitational last year. It' s beautiful up there in Warwick, NY but we wanted to play closer to home in NYC.  We travel a lot, including a lot of 6am sunday mornings in the spring, and a lot of team trips to other cities, which is all fun, but we wanted to create a NYC tourney.  So we went with Aviator in Brooklyn, which is a great sports complex and created the Brooklyn Brawl.  It's all about playing lacrosse, as much as possible, at a high level of competition and having fun. We're all passionate about lacrosse and play as much as possible, so we wanted the tourney to emulate that.
Did you get decent interest for this event considering it's the first year?  Are there plans on expanding the tourney in coming years?  Any interest in adding a women's division, or high school division?
We got a lot of interest immediately because we've all been running in the same lacrosse circles for a long time. Players move between teams in spring and summer, and we create tourney teams with guys that work well together.  Our roots are deep in the NYC area so as soon as we put the word out, everyone jumped on it. We came up with the idea right after the CityLax Tournament in Southampton a month ago so it was tough to get the field but we managed to get one field for the full day on Sunday at Aviator and everyone hustled to make it happen.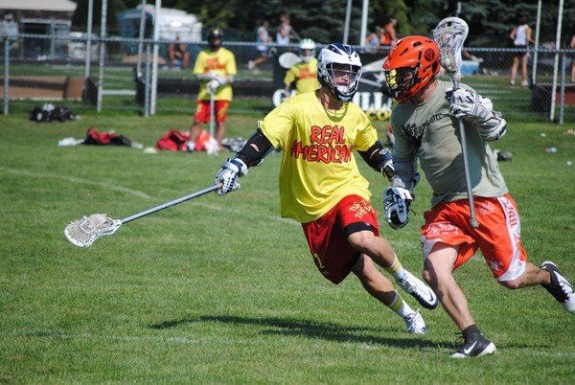 There's a lot of respect and friendship between players and teams so that makes it easier to organize. We even created a special team just for the tournament, The Brooklyn Dodgers, the uniforms are awesome.  Tell everyone, the Dodgers are back in Brooklyn!
I think we'll have two fields and eight teams next year.

What would be the ideal team to sign up next year?  What's the ideal level of competition for this event?
I'm biting my tongue here because I like to talk smack… but in all seriousness, anyone that wants to come play in this tournament is welcome. It's a mens tournament and there's really no age limit so we have guys that are playing college now on the same team with guys in their 40's. I'm inspired by Chris Chelios winning the Stanley Cup at age 47. NHL players are the toughest athletes in all of sports, and that 2008 Red Wings team had 15 guys on the roster over 30.  So although we all play in elite, masters and grand masters leagues and tournaments we're more interested in caliber of play than age range. And that's how we got some of the best players in the sport to come out for The Brooklyn Brawl in year one!

Any major tourney sponsors you'd like us to know about?
Jagermeister has been sponsoring us for years but this isnt about sponsors and money its about good lacrosse, good friends and good times.
Any thoughts to add a charity to work with next year?
We all support The Team Jesse Foundation http://teamjesse.org/about_foundation.html  and we're happy to do anything we can to support the men and women of our armed forces that fight for our country and the families of those that have made the ultimate sacrifice.
Team Jesse, huh?  Funny you mention that!  I (CW) will be playing with them this weekend in the Brooklyn Brawl!  So I reached out to the TJ guys and got a quote from Matt Corry about this event.  Seems like they're excited for the tourney.  I know I'm pumped to play with them for the first time!!!!
"Every single time that Team Jesse has been involved with the lacrosse community, whether playing ourselves or sponsoring a youth team like we did for Booth Lacrosse out west, we've been overwhelmed by the support we've received. From Lax Vegas to Miami and now to Brooklyn, so many great people and great players have wanted to be involved to help share our story and raise more awareness for our cause: Providing education and support to families of the fallen.
"Recently, for the last 12 months or so, the guys over at LaxAllStars have been tremendous supporters and we're psyched to get their very own Connor Wilson on the field with us in Brooklyn as a new member of the Team Jesse family.  John Jiloty at InsideLacrosse has been amazing as well and we can't thank Dave Gross and the MLL enough, for welcoming us with open arms at this year's MLL Championships down in Annapolis.  1Lacrosse and Stylin Strings are telling anyone who will listen about Team Jesse and have put their money where their mouths are with great custom designed Team Jesse products. The lacrosse community has stepped up every time and we're grateful.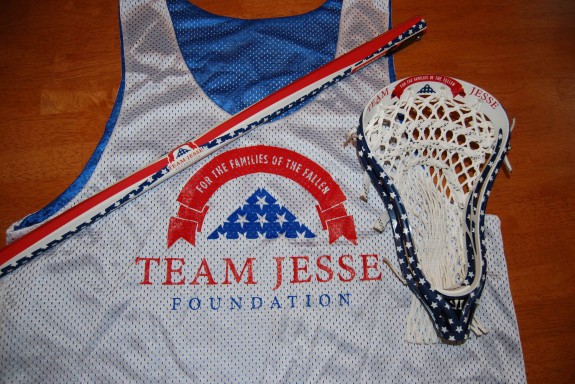 "The Brooklyn Brawl is a new tournament, being organized by Rob Fox and his squad. We know many of his players and this will be a great opportunity to reconnect with some old friends and make new ones. In the end, I just want more people to know about Team Jesse and what we are dedicated to doing for families of the fallen in honor of SSG Jesse Williams. The team for the Brawl is made up of some Team Jesse veterans, some CT masters ballers and some new young guys that we know will get behind our cause with total dedication.  Looking forward to a great day in Brooklyn."