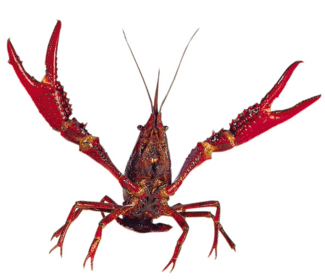 Excellent weekend for lacrosse, crawfish, and more lacrosse.
To start the weekend off, we played that Brother Martin team I told you about last week in our regular season conference game. Out of all the teams in the state, I'm pretty sure I have the most respect for Brother Martin's program. Is it because most of my fraternity brothers and best friends are from Brother Martin, or the best man in my wedding went there? Possibly.
Or it could be because they are by far the coolest, most sportsmanlike team I've seen.
It's weird – when you're the new kid on the block, you just come to terms with the fact that people aren't going to welcome you with open arms to the league. Brother Martin's players did the opposite. At the Navy Camp last year, the Brother Martin guys hit it off with the Dutchtown guys right away, and they've maintained that relationship throughout the year.
Just before we began doing warm-ups, I looked and saw a group of Brother Martin players talking with a group of Dutchtown players. When you would normally think "uh oh pregame fight," in this case, I knew that they were just hanging out. Pretty incredible to see how this sport is bringing people together.
Anyway, whenever Dutchtown and Brother Martin get together, you know you're in for a real lacrosse game. This year, our three meetings were neck and neck, with the outcome decided in the final quarter/minutes. In meeting one, at the Sugar Bowl tourney they beat us 5-4 after some mixed communications were cleared up. In the Battle by the Beach tourney, we won 7-5 (you DID watch that, didn't you?).
After three hard fought, intense quarters of this weekend's game, we were tied 6-6. It was every bit of 85 degrees outside with high humidity. Under those pads, it must have felt like 100+. Our defense simply didn't have the gas in the tank to finish the game, and we fell to BroMart  in the fourth quarter.
Final: Loss, 11-7
Impressions: Proud of the team for fighting so hard through the game. Brother Martin is no joke. They beat us 18-2 last year. I'm completely content with merely being competitive with these top tier Louisiana teams. Our time will come – at least I know we're on the right track in building this Dutchtown program.
What's Next: First, a crawfish boil. Then, Archbishop Rummel the very next day.
Immediately after the game, I had to participate in one of the lady friend's family activities. No complaints from me – it's one of my favorite things on the planet to be a part of. This is my favorite aspect of Louisiana culture – hands down: The crawfish boil.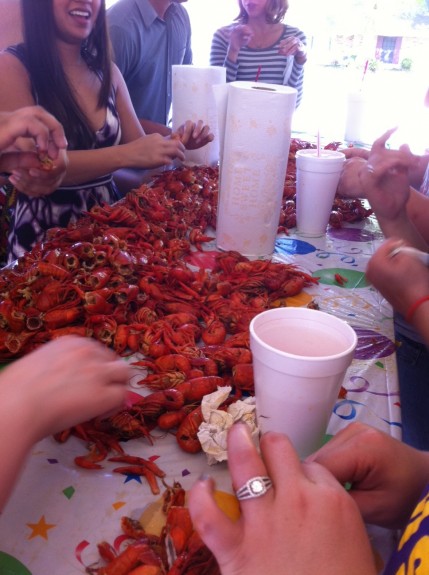 A truly festive way to spend your afternoon, nothing could possibly bother you at crawfish boil.
Sunday: Consecutive lacrosse games are tough, especially after a close loss. Players are tired. It's hot as Hell. And sometimes you just feel deflated.
I was concerned about this Archbishop Rummel team. While they've had some woes in their regular season, they came out to Battle by the Beach and dominated. They beat us 4-2, and their hearts were clearly in it to win. Here, watch this for visual proof:
Dutchtown vs Rummel BBBV from Knox Hutchinson on Vimeo.
My message was clear: Do not underestimate this team. They're coming to play, and land their first win. Something happened with my team on Sunday, and whatever it was, I'm thankful it happened. They just "clicked." Every aspect of the game, they performed well, but the most impressive part was offensive ball movement and patience. The second most impressive was dominance in the ground ball department.
Final: Win, 15-4
Impressions: Stellar patience, ball movement, and vision from our attackmen is better late than never. Some of the plays they performed were executed at NCAA D1 level perfection. Couldn't be any happier.
Next: Can't lose focus. In order for us to make the playoffs, we have to win out. We have 3 conference games over the next two weeks, starting with a road trip to Mandeville this Friday. After that, we have Louisiana's top team, Jesuit, and then Ocean Springs, who always plays a tough game to the bitter end.
________________________________________________________________________________
Sick Pictures and Effort
We've all heard someone say "he risks it all on every single play," but it's not as often that that risk is captured in a moment.
Patrick Messenger, one of our attackmen, towers in at maybe 5′ 2″. He risks it all on ever single play. Period. It also doesn't hurt that his stick skill is superb, and that he can "finish."
See for yourself.
These are two separate goals, coming in the 2nd and fourth quarters.
All pictures courtesy of Barry Spears.
_______________________________________________________________________
LSU/ULL
LSU had a nice win over Rice on Thursday, but somehow came up short at Tulane on Saturday. They bounced back on Sunday and took care of UL-Lafayette. Tulane is not to be underestimated – they have a few solid players.
Here's a couple pictures from the Tulane game that I found on Daniel Adler's facebook page. Not sure who took these photos, but they're nice.
Here's some footage from the LSU-Rice game.
Also, a big congrats goes to ULL for landing their first ever win over Stephen F Austin, 16-14.  My sources who are close to ULL have told me they have some very big recruiting prospects coming their way over the next couple years. I'm super anxious to see how that works out for them.
_______________________________________________________________________________
Chris Dill
Remember when I told you about Chris Dill?
He's going to Limestone.
Told you we're good at lacrosse down here.