Editor's Note: Malcolm Chase is back on LAS with more preparation and training for the 2012 Hawai'i Lacrosse Invitational. Malcolm is an LXM PRO, lacrosse rat, and a staple out in Hawai'i. Oh yea, he's also a mean takeaway artist! One Week until the trip of the year begins anew… let's see what Mr. Chase is up to!
_________________________________________________________________________
#8DaysOut
#HardWorkPaysOff
Monday Fun Day! It's a term I used to coin with my college players to put a positive spin on what they all knew to be our true start-of-week doctrine Monday RUN-day. Today is all about recalibrating, getting organized to head West for my LSM clinics this weekend, and narrowing my sights on the Hawaii tournament. Bottom line, let's work!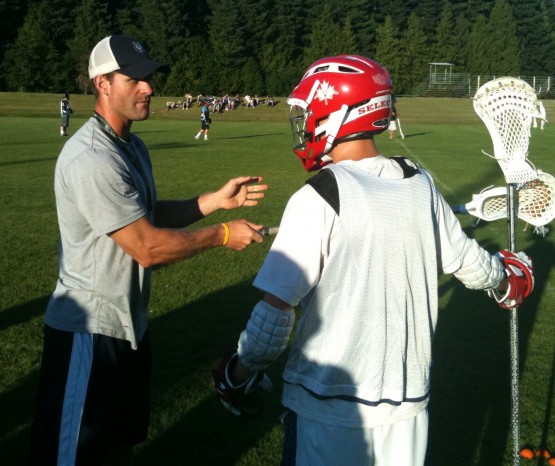 I'm excited to get two good indoor runs this week: one tonight with the Blazers in Hingham, Mass, courtesy of Randy Fraser's Boston Box Lacrosse League; and the other with my boys from Maine in John Fay's (UNH Legend/owner of Atlantic Sportswear) Wednesday night Goon Ball.
Goon Ball, by the way, is one of the best runs you can get in an hour's time. We play 3 v 3 on a short field with 4 x 4 cages and box goalies, and we get after it! The boards are curtains so the ball hits and drops – awarding the man willing to hustle to the GB.
Many a pro has made a guest appearance over the years on Wednesday night – Morris, Reid, Farrell, Stone, Battista, Garber, Beebe, Fallon – all leaving with a respect for the game that Fay and company play year round at The Portland Sports Complex (http://www.portlandsportscomplex.com), which is an awesome facility that is in the process of adding on to their already impressive field space. Hmmmm… Goon Ball tournament anyone?
Oh yeah – and I'm teaching my first kettle bell class before I roll out to box lax at RPM Fitness (rpmfitnesswinthrop.com) – home to many lax conditioning tips to come via LAS!
Kettle bells are awesome for strength, power and cardiovascular. Here's a circuit I threw together that gives you an example of what I'll be putting my class through tonight, and remember, As always, you need a doctor's approval and the supervision of a certified trainer before attempting any new workout:
So that's it for today. Gotta get a solid functional workout in this a.m. at RPM, and send some LSM gear off to our Check Of The Month Winner.
I'm sure you guys all have your own To Do Lists. Let's attack the start of our week with purpose and tenacity. And while we're at it, let's see if each of us can make someone else's day better today as well. It can be as simple as giving a smile or asking someone how they are doing. Leave an impression and whatever you do… Do work!
Remember, it's Monday FUN-day.
MAHALO!
– MC III