As we get ready for another superb weekend of college lacrosse, we've got great games in NCAA D1 through DIII, as well as a ton of good MCLA action, JuCo ballers and NCLL contests on the slate of games.  Men's college lacrosse is on and popping!
As usual, I'll start the post with the big boys of NCAA D1, work my through the NCAA games, and then get on the rest of the top notch action!
Friday's big game has to be Ohio State Vs. Robert Morris.  OSU is coming off a big loss to Penn State, and their offense seems to be slowing.  If it's a lower scoring affair, I like RMU to pump in enough goals to win.  But if it goes over 8 goals per team, either one has a shot.  Then on Saturday, the action only gets better.  Army vs Air Forceis being played in Houston, and while Air Force looks improved, we still like the Black Knights of Army.
Most people's BIG game of the weekend is probably Cornell vs Virginia, which will be played at M&T Bank in Baltimore.  Cornell is without Rob Pannell, but still flying high.  Virginia looks really solid and seems to be in midseason form.  We like both teams to go over 10 goals, and think Virginia will take it by 2-3 goals.  With Pannell, it might be an even line, but I think the Cavs get the nod in this one.  Denver at Penn State could also be magic.  In a low-scoring game, PSU has a great shot.  If it turns into a shootout, I like Denver's offensive depth and potential.
Hartford at UMass could be great.  Early on, Hartford looked like they were in trouble, losing to Maryland (12-6), Holy Cross (15-14 in OT), and Denver (11-10), but they came out and put a hurting on Brown, 20-6.  If Hartford keeps it up, this could be great game, but I still like UMass to win by 3-4 goals.  Notre Dame at Hofstra is another game with a lot of potential as Hofstra is surging right now, and ND is keeping scores low, and making the long play.  I'll say Hofstra takes this one 7-6.  Princeton at North Carolina features two teams in need of more wins, and I like Princeton by 2.
UMBC recently knocked off Maryland, and their game against Johns Hopkims has the makings for another potential upset.  Hopkins is not showing all their cards right now, and if UMBC can possess, score early, and make Hop play catch up, they have as good a shot as anyone.  Villanova at Penn should be interesting, and both of these teams are on that bubble between good and great.  A win here will go a long way.  On Sunday, Yale at Lehigh will be awesome.  Both teams want to make 2012 their year, but only one team can win here.  I'll say it's a one goal game, and it's up for grabs.
In NCAA D2 action, Dominican College at Seton Hill jumps out as a potentially big game.  Seton Hill is definitely up, and Dominican is looking to make a name for themselves.  Seton Hill then plays Coker right afterwards.  CRAZY for D2 lacrosse!  Limestone takes on Merrimack in Baltimore, and it's great to see a North-South match up like being played in the Mid-Atlantic.  Mercyhurst at Mercy should be excellent as 'Hurst is where Mercy wants to be.  King of the Hill game right here!  Finally, we like NYIT at Dowling.  Long Island match up at its best!
On Sunday, Adelphi plays Dominican U at Lindenwood, and this should be a fantastic game.  DU is looking like the top team out West, and Adelphi is still REALLY strong this year.  Adelphi by 3, but expect it to be close.  NDNU is playing at Lindenwood as well, but they are playing Lindenwood, and this should be a nice, tight game.  I like Lindenwood by 1 at home!
I'm most excited for NCAA DIII action this weekend though.  Why?  Because the NESCAC begins play!  Bates heads to Middlebury, which is often a tight early season game.  I like Midd by 2 or 3 though.  Bowdoin heads to Conn College, and both of these teams have potential to rise in the NESCAC.  Amherst hosts Colby, and there will still be some hard feelings about Thompson leaving Colby for Amherst, so expect this game to be tighter than one would expect, even though Amherst is easily a Top 5 team.  Amherst will win, perhaps on the order of 10-6.
Outside of the NESCAC, we see a couple of fantastic match ups.  Denison at Haverford is going to be good, but I think Denison will take it by 3 or 4 goals.  Gettysburg  and Cortland will keep their rivalry going on Long Island, and I don't think either team will crack 10 goals.  If its low single digits, I like Cortland.  A 9-8 game might favor Gettysburg.  Ohio Wesleyan plays Salisbury, and I'm hoping this game is good.  It has the potential to be an SU blow out though.
Skidmore travels to CT to take on Trinity, and this game will definitely help decided which of these teams is deserving of a Top 20 spot.  Both have talent and potential, but can they put it together?  Stevens at Endicott should be good, but after Stevens dominated Springfield, I like the Ducks again against Endicott.  Stevenson at Lynchburg might be a great game, or it might not.  Stevenson will come to play.  Will Lynchburg?
Hamilton joins the NESCAC this year, and as a reward they get to play Tufts on Saturday.  Welcome to the deepest conference in lacrosse.  Union at Babson should be good too, as both of these teams have the potential to be Top 20 squads all season long.  Wesleyan travels to Williams, and it's super weird for these two huge rivals to OPEN the season with each other.  Crazy!
We don't usually see a ton of DIII games on Sunday, but this weekend seems to be an exception.  Why?  Because a portion of the vaunted NESCAC is pulling double duty!  Bates travels to Amherst.  Wow.  Midd, then Amherst on back to back days.  That's tough.  Wesleyan also has a tough road as they travel from Williams to Hamilton, HOWEVER, Hamilton travels back from Tufts at the same time, and that trip is longer.  So somehow, an away game at Hamilton benefits Wesleyan more.  Weird, but true.
Dickinson at Roanoke is the non-NESCAC game of the day on Sunday.  Roanoke has been up and down this year, and so has Dickinson.  Can't wait to see who shows up and who is for real!  I like Roanoke by 2 at home.
Let's get a quick JuCo/NJCAA action in here real quick!  Army Prep at Anne Arundel will pit athletes vs. skill.   Should be fantastic.  ASA looks for their first win against Northern Virginia.  Army Prep plays AACC on Friday.  On Saturday, they play Howard.  Genesee travels to Onondaga.  Prepare for a blowout.  Nassau CC at Monroe could be pretty darn solid too!
And now we get to the MASSIVE slate of MCLA games!
I'm going to just run down some Friday games real quick.  BU vs Vtech, I like VTech.  Colorado at Chapman is looking good.  The Red Hot Buffs are stepping up.  Chapman by 2 though.  Minnesota AT Santa Clara?  If SC is still healthy, I'll give them the nod here!
On Saturday, there are almost TOO many games to preview, but I'll do my best!  Colorado State at Arizona State immediately jumps out as a potential game of the day.  Lots of talent, a new look ASU, and CSU is rolling.  I'll say the Rams take it 9-7.  If BU roughs up VTech, Indiana could sneak in and get a win, but I'm still thinking VTech takes this win.  Minnesota-Duluth at Cal Poly could be awesome.  I like Cal Poly to win, but this is a game they MUST take seriously to do so.
Oregon State and Boise State playing in Idaho could be unreal.  Both of these teams play hard, physical lacrosse, and are more than capable.  Who is for real?  This game actually tells us quite a bit!  Sonoma State at Chico State is going to be a good game, and I think this California rivalry will only get better over the coming years.
On Sunday, we get a couple more games of interest!  Indiana at Florida State last year would have been a blow out.  IU would have been smoked.  So how far has FSU fallen?  And how far has IU risen?  This game went from a sure loss to a potential win in just one year.  Can't wait for it!  If ASU has a rough go with Michigan State, their Sunday game with Northeastern could also be awesome.
In the NCLL, the Maryland Club team takes on Delaware's Club team AND Rutgers Club team, and both are Top 10 NCLL teams.  A tough go, but the Club Terps look good, and they get both games at home.  Then on Sunday, Hofstra Club takes on the Princeton Club.  Could be a good one!
And although Thailand and Singapore do NOT play college lacrosse, we'll go ahead and preview this International game as well!  Thailand will be wearing their new third uniforms and helmets, which incorporate grey, black and a volt like color we like to call volt.   It's bright yellow.  Last time these two teams met, Singapore edged out Thailand 10-9, but this time around we like Thailand to pull out the W.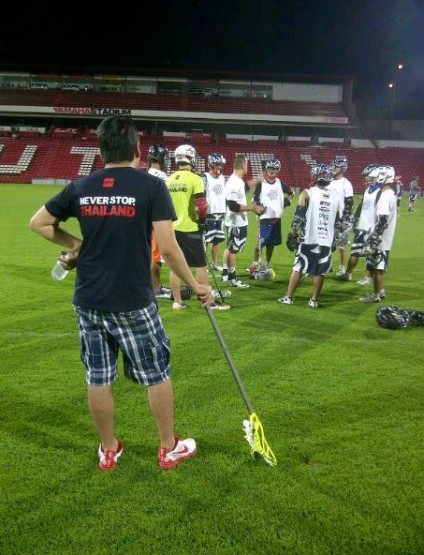 Good luck to both teams in this International Friendly Match.  Grow The Game!