It's going to be another great weekend of college lacrosse; I have no doubts about that.  I'll preview all the big time action from across the spectrum of college lacrosse and if you think I've missed a stand out game that deserves some attention, let me know in the comments.
Well start off like we do most weeks, with NCAA Division 1 Men's Lacrosse!
On Friday night, Denver and Bellarmine will play, and I'm willing to be we'll see some superb goals in that one.  Denver wins it.  Navy and Maryland also tango, and this is just a great rivalry game.  The last time I saw Navy play I was impressed but I have to go with the Terps here.
Saturday brings us more way more great D1 action.  Army at Bucknell?  To me that's a toss up game.  Brown at Penn?  Same thing.  I have no idea.  Lehigh should be favored over Colgate, but then again I'm not so sure.  I'll go Army, Brown, Lehigh here, but wouldn't be shocked to see all three come out the other way.  All 3 should be excellent games.  I would expect Loyola (vs. Fairfield), Cornell (vs. Harvard) and Delaware (vs. Michigan) to all win, but each of those games could go the other way.  I feel safer picking Loyola, Cornell and Delaware though.
Penn State at Drexel should be a really good game, although I'm unsure how many goals will be scored.  PSU could try to slow this one down, and if we see an 8-7 game, it could go either way.  I like Drexel to pull out the W here by a couple, but it's not a pick I'm totally sold on.  I really like UMass over Towson.  I'll set that one in stone.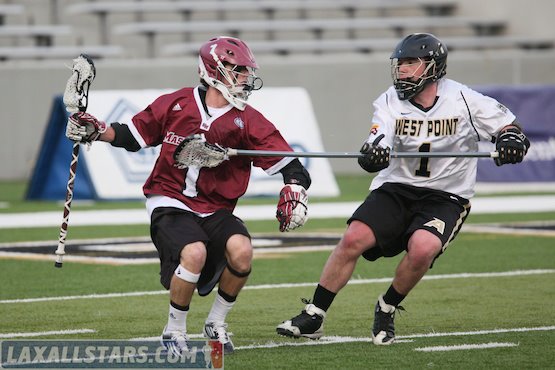 Virginia at North Carolina is the most challenging game to predict though.  Virginia has looked great all season, even when they lost to Hopkins, and UNC has looked REALLY great as of late.  Consistency vs. a streaking team?  Without knowing the ins and outs of UNC's week, it's going to be tough to call!  I'll go UNC with the upset in OT.  Joey Sankey with the winner.  I'm more than prepared to be wrong here.
NCAA D2 only gets two games mentioned this week, but man are they doozies!  Merrimack is super hot right now, and they want to keep that rolling as they head up to LeMoyne on Saturday.  LeMoyne is number 2 in the polls, 'Mack is 3.  Merrimack is #4 in the Laxpower PRs, LeMoyne is #5.  This should be a titanic clash of top notch D2 teams.  I like Merrimack to take it though.  Call me crazy.  I'm also excited to see Chestnut Hill host NY Tech.  I like Tech here, but expect CHC to really go for it.  They have nothing to lose at this point and if they unleash the beast, Philly could be upset city.
NCAA D3 gets just a little more attention in terms of number of games, but the overall quality of the match ups simply warrants it.  Denison at Stevenson is a headliner for sure, and I love seeing NCAC teams take on strong OOC opponents.  It's the only way to gauge where they really fit in on the DIII landscape.  I like Stevenson by 3, as long as they keep playing more disciplined lacrosse.
Trinity at Bowdoin is a HUGE NESCAC game believe it or not.  Right now Trinity leads the pack and Bowdoin is right there with them.  A win for the Polar Bears would even the field, but a win for Trinity would put them a step closer to the #1 seed.  I don't think Trinity will win all their NESCAC games, but I'm not so sure this is the one they lose.  Still, I'll go with Bowdoin by 2 at home.
On Sunday, Trinity plays Colby (also in Maine) after Colby hosts Wesleyan on Saturday.  Anything could happen in both games being played at Colby this weekend.  They're actually a dangerous sleeper team.  I think Wesleyan will win by a couple in a low-scoring game, but the trip to Maine can be a tricky one.  In Upstate NY, Clarkson has actually turned out to be pretty good this year, so their game with Union should be solid. I like Union by a couple, but think this one could be competitive.
And now it's on to the wonderful world of the MCLA!
We're going to lead the weekend preview off with a D2 game, and it's a good one.  Davenport travels out to Holbrook, NY on Long Island to take on Briarcliffe at home.  I think Davenport takes this one on the road, and I'm sure that all the Davenport guys I know in NYC will be out on the Island for the game.  Briarcliffe doesn't get to play a ton of great home games, so it's nice for them to be able to host a legit opponent in Davenport, so that their LI brethren can see just how good MCLA D2 ball can be.
If you want a run down of all the big games that SELC teams are involved in, look no further than Scott MacPherson's SECL Blog.  He previews all the big games in D1 and D2, plus there's a little highlight video.  Love it.
BYU plays Colorado State, and this might be the game of the year.  Lots of talent, toughness and a desire to win.  Throw in that both of these programs are run like actual programs and you've got the recipe for a great lacrosse game.  I'll go with Colorado State winning by 2, 13-11.  Now that's a prediction.  Cal Poly has to be wary of Sonoma State, but it's a game they should definitely win if they are indeed a top 4 team, which I think they are.
Texas at Oregon should be a good one too, just because it's Texas – Oregon.  Add in that these are both top 20 teams from HUGE state schools that should both go D1 in lax and everyone should be excited.  I like Oregon at home, and I like them by 4 or 5 goals, but if Texas brings it and Oregon doesn't, this is a very winnable game for the Longhorns.  Texas plays Simon Fraser in Oregon Sunday, and even though they play Saturday, I like Texas to win this one.
In the NJCAA world, Nassau CC at Suffolk CC on Fridayu should be epic.  I think Nassau will run away with it, but when two CC teams like this, each representing 1 of the 2 counties on Long Island, get together, the game guarantees to be intense.  It's all about Pride.  Suffolk wants to win.  Nassau wants to win big.  NCC pulls it out big 18-10.  The next day Nassau takes on Anne Arundel and this should be another good test. NCC by 7.
Over in the NCLL, Navy Club should roll over UVA Club.  They just look too tough and conditioned.  Rutgers Club also looks really strong, and I can't see them losing to the Penn Club, but evidently that game has been moved to April 20th.  Thanks Kevin M for the update!  Maryland Club should roll at WAC Club, but anything could happen!  A lot of NCLL teams are off this week as Spring Break tends to affect the schedules a bit more.