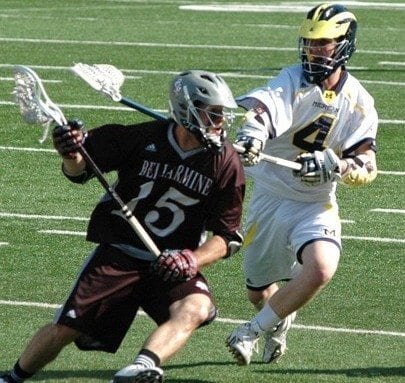 What a weekend of college lacrosse!  There were a ton of games, some really big upsets surprise scores and more.  I'm tallying up all the action in one place and running through the big game results.  Where accompanying video is available, it is posted.  If I miss anything, let me know in the comments.  Let's get our lax recap on!
On Sunday, Duke took down Dartmouth 20-9.  Duke is looking HOT all of a sudden, especially if you watched them take down UNC on Friday night.  Duke is talented, and has a mean streak on D.  Notre Dame beat Denver in 3 OT periods.  Don't worry, we have the game winning goal for you.  We also have Michigan – Bellarmine photos, and it sounds like this was an awesome game, with Bellarmine winning 13-9.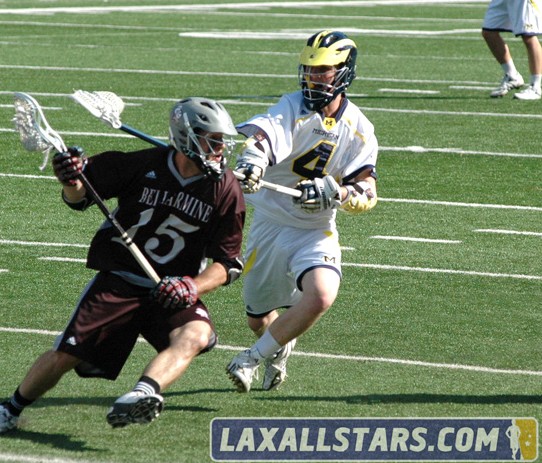 Bucknell tore up Lafayette 16-6, and from this game at least it's clear which tier each of these teams sits on.  Video highlights below.
Colgate took down Fairfield 12-6.  Cornell snuck by Yale 8-7.  A win is a win, even if it's close.  Harvard beat Brown 10-9 in OT, and I just barely missed the upset call on that one.  SO CLOSE!  Brown is right there, but needs to find that next level and unite to get there.  A consistently high top 20 slot is well within their grasp talent-wise.  Hofstra wore green and beat Delaware 13-5 on some Irish holiday.
Hopkins took down Cuse on national TV 11-7 and just looked athletic and dominant.  It was a fun game to watch and we even got a little hidden ball action from Hop.  Hop could win games against lower teams by HUGE margins if they can beat Cuse 11-7.  I told you they were holding back.  Lehigh continues to surge as they beat Army 7-6.  Lehigh's defense is legit.  Good to see the Mountain Hawks making waves.  Maryland beat Villanova 11-5.  UMD seems really up and down.
UMass beat Penn State 9-8 in OT and as long as UMass keeps winning, I'll keep believing.  Talent, toughness and a desire to win.  I like the Minutemen!  PSU is also looking up and Tambroni's hyper controlling style of coaching seems to be paying off for the Nittany Lions. Definitely a team to watch in coming years. Princeton beat Penn 11-4 and Virginia escaped Ohio State 11-9.  Siena got a big win over Hartford in a total shootout.
Congrats to Mercer for their 14-11 win over Wagner.  This is the first EVER NCAA D1 win in Mercer's program history.  Way to go Bears, and a shootout to Eoin Collins, a Brooklyn native on the Mercer squad ripping it up down in GA.
Moving along to NCAA D2 ball, I thought the Seton Hill vs Mercyhurst game had potential.  Guess I was wrong.  Hurst, the defending National Champs, won 19-5.  Domination.  Wow.  Adams State beat Dominican U 14-13.  GTG!  In a big upset (big to me at least) Dowling beat CW Post 14-4.  Did NOT see that coming!  LeMoyne beat Adelphi 9-6 in what was probably the game of the weekend.
Limestone, Mercy, Molloy, NY Tech, Tampa and St. Mike's all won as well.  In a big game for relatively newer programs, Chestnut Hill College played Dominican College and CHC won 19-4.  CHC is killing it right now and ranked 8th in D2.  Very cool to see Brian "Doc" Dougherty having so much success in his hometown of Philly.
And now we move one more division down to NCAA D3 lacrosse!  Amherst barely got by Bowdoin 14-12.  Amherst has had a number of close games this year.  If they win, their high ranking works.  If not, who knows?  Bates beat Wesleyan 6-5 in OT.  This game always comes down to who wants it more and fundamentals.  I bet the Cardinals had a deservedly tough practice on Monday. Cabrini keeps rolling with a big win over FDU 15-2.  I guess Cabrini is finally for real?
Cortland beat Stevenson 13-9 and this just adds to my doubts about Stevenson.  Cortland isn't an offensive behemoth, yet Stevenson gave up 13 goals?  Their ability to score 9 is good, but not great.  Stevenson may not be a top 10 teams this year.  Way too much sidearm on that team right now.  Dickinson beat Widener 10-6.  Solid win.
Lynchburg and Roanoke had an old fashioned ODAC battle, but this time Lburg pulled out the 13-12 OT win.  Both of these teams can score, but if they want to make it out of the South, their defenses will have to get them past Salisbury, or at least put up a fight.  SU's offense is THAT good.  Still, the highlights are good…
Middlebury beat Conn College 12-6 and I mention this because Middlebury has a STABLE of young stud defenseman.  They are super talented at long pole.  And now those LPs are scoring?  Watch out now NESCAC.
RIT won 15-10 over St. John Fisher, and I like RIT to keep improving as the season progresses.  Expect them to challenge for North superiority by season's end.  Tufts beat Stevens 14-12 in Hoboken, NJ and we have photos!  We also got photos from Washington College's 10-9 win over McDaniel.  Lots of great photos in that bunch!  And finally, Western New England beat Nazareth 12-11 and it looks like WNE is for real this year!  No more picking against the Bears.
Older Whittier over Gordon highlights? Fine.
Over on the MCLA side of things, we have a lot to talk about!
BYU, Miami (FL) and Colorado all won on Sunday.  BYU also won two more games.  Nothing new there.  But Colorado also lost this weekend, at home, to Clemson 6-5 in OT.  HUGE win for the Tigers on the road as their program tries to get to the next level.  Chico State also got a big win over SDSU 8-4.  And somehow, Richmond beat South Carolina 11-5, proving they just might be the class of the SELC D1 this year.
Chapman beat ASU 10-6 and the highlights were glorious.  Clemson also beat UNH 5-2.  Weird score line.  Santa Clara continued to roll along healthily taking down Idaho 12-7.  South Carolina suffered another loss this past weekend when they dropped a game to VTech 12-11.
On the MCLA D2 side of things, Davenport took down MBU 12-4.  Kennesaw State beat North Dakota State 6-4.  SCAD beat Liberty 9-6. All big games with results more or less as predicted.  The big game of the weekend was Dayton vs Briarcliffe and while it was close at 17-13, Dayton proved they are still a next level team.  Briarcliffe did get a big win over Indiana Tech 19-12 a day earlier.  St. Thomas beat Davenport 9-8 in OT, so maybe that was actually the game of the week.  Either way, a couple of big games!
When it comes to JuCo ball, the NJCAA has us covered with good games.  Brookdale beat Delaware Tech 11-10 and Essex beat the Naval Prep Academy team 7-5.  Bet that was a physical game.  Anne Arundel knocked off Suffolk 7-6 in OT in a game both teams desperately wanted to win.  Broome beat Herkimer 17-5.  Herkimer still makes me sad.  Nassau CC and Onondaga CC are both still rolling.
And last but not least, we get to the NCLL!
CCNY got rocked in a couple games 15-1 and 21-0 by NYU and Hofstra Club respectively.  CCNY is an historic lacrosse program that the school dropped a number of years back.  A TOTAL shame.  Penn State Club beat Lehigh Club 1-0.  That was a forfeit, right?  Rutgers Club beat Villanova Club 9-4.  The big results are a week or two old though as Delaware Club beat Loyola Club 5-1 and Drexel Club beat Penn Club 5-2.