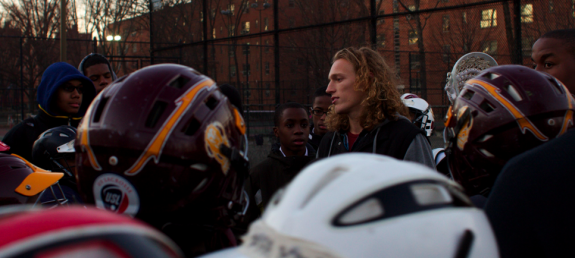 Last week I headed up to Frederick Douglass Academy in Harlem to get in a little practice/clinic time with the FDA lacrosse team and Connor Martin.  Connor heads up to FDA whenever he's in NYC and leads a day of practice and fun.  One might not think that a long-haired leaping lacrosse gnome from Oregon and a bunch of lax players in Harlem would have that much in common, but one would be wrong.  I've seen it firsthand now, and it's a pleasure to behold.  The connection Connor has with the FDA kids is amazing…
I rolled up to the handball courts where FDA practices a little early and I felt like I was late.  There were already a ton of kids outside with lacrosse sticks having a catch or warming up.  Connor Martin was there early too, and as I walked over to where he was standing I could already hear him answering questions and engaging in witty banter with the kids.  I could tell it was going to be a great day of lax from the get go.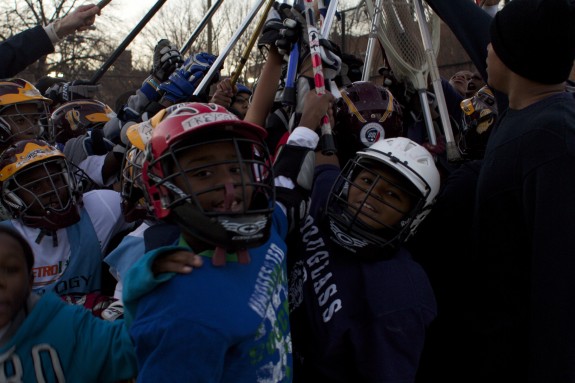 We did some line drills to start off, went over some basic form and technique tips and got down to business.  The balls were flying all over the courts and the kids were eager to play, learn and have fun.  After line drills Connor covered the all-important wall ball and put on a show for the players as he demonstrated how wall ball can truly take you from being a good player to being a great player.  For the final portion of the day we got the kids playing a little bit and we ran 3 on 2s and 4 on 3s to finish up.  I don't usually single players out, as they ALL did such a great job, but I was particularly impressed with Idriss, a rookie who stepped into goal for the day.  He played big, played tough and made some great saves.  I think he's got a bright future as a fearless goalkeeper!!!
At the end of the clinic I got to chat with Connor briefly on video about why he helps out at FDA, how he feels about getting picked up by the Ohio Machine in the MLL draft, and how NLL training camp is going for the Colorado Mammoth.  You may tend to dismiss Connor Martin as a publicity stunt, or a "lacrosse personality", but if you've seen him in person and interacted with him, you know that isn't the whole story.  He's also an incredible lacrosse player, and a flat out great dude.