"A Game of Character"
I recently watched an interview with Craig Robinson about his new book "A Game of Character". (click the link to watch the 18 minute interview!)  Coach Robinson is now the coach for Oregon State hoops.  Before he took the helm at OSU, he was at Brown University for two years; and that is when I became familiar with Coach Robinson's reputation as a well respected coach, and also the brother-in-law of Barack Obama, who at the time, was still just the charasmatic young Senator from Illinois.
When I first saw that Coach Robinson had come out with a book, my initial reaction was that he must be capitalizing on his current notoriety as the President's brother-in-law.  That was the skeptic in me.  But after watching the interview I lined to above, I realized that I couldn't have been more wrong.  Coach Robinson has a compelling story and a valuble message.
As someone who loves the emphasis on character building in sports, this book is right up my alley.  I was actually so excited about what he talks about in the interview, that I had it assigned as "required watching" (click to view the exersise and video) to many of the players that Empower the Athlete is advising.
I love how he talks about how his Dad taught him that you can tell a lot about a person by the way they play basketball.  He goes on to tell the story about how when his sister, Michelle, first started dating Barack Obama, she knew that Craig and her father held this belief, so she asked  Craig to take Barack out for some pick up hoops and report back to her with a judgement of his character… based on his play.  She wanted to know if this guy she was dating was someone she should continue seeing.  The Robinsons knew that the way someone plays basketball truly reveals their character.
The same is true for the sport of lacrosse.
I remember Sid Jamieson, the legendary coach of the Iroquois Nationals and Bucknell, preaching this message in his "7 Generations" talk to campers at Top Star Camp when I attended in 2001.  It was awesome hearing this message from Coach Jamieson because he incorporated his Native beliefs into his speech and spoke about how, as a recruiter, he wasn't just looking for talented players, but players that played the game with fire, love, passion, humility, and an immense amount of respect for the game, and its history.
As we all know (or SHOULD know!), the game of lacrosse was originally played as a means of developing young members of a tribe into warriors – to make them tough and courageous, and to turn them into men.  The original purpose of the game lives on and is applicable in today's society; it is a way young people can develop the character traits – teamwork, sacrifice, accountability, unselfishness, stick-to-it-iveness, work ethic, and leadership – all necessary character traits for a successful adulthood.
These lessons are all around us, in everything we do.  And on a pretty similar note, this anecdote about Joe DiMaggio is one of my favorite sports anecdotes of all time and it's worth sharing here:
Joe DiMaggio is one of the greatest American athletic legends to ever live.  I use the present tense "is" because as we all know, he played 13 years for the Yankees; during that time he was league MVP three times, and was a 13-time All-Star selection (he is the only player in history to be selected for the All-Star game every season he played).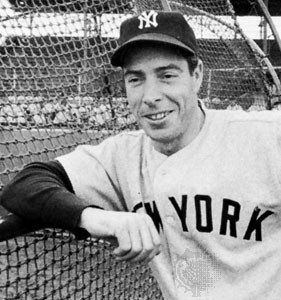 Joe DiMaggio was a leader for his ball club.  He once said "a person always doing his best becomes a natural leader, just by example".  That's the type of player he was, always going 100%, regardless of whether the game was a barn burner, or his team was winning or losing by a lot.  He was renowned for never slacking on the field, and for never watching and admiring his home runs.
The story goes that after a game which was a total blowout (but he was still going 100% fielding balls and running bases in the 9th), a reporter asked him why he always played the game so hard and he sharply replied, "Because there is always a kid who may be seeing me for the first time, or for the last time.  I owe him my best".
So how exactly does this effect current High School Recruits?
If you are an up and coming high school player, regardless of your skill level, these lessons apply to you.  Magic Johnson once said, "with few exceptions, the best players are the hardest workers".  My highschool coach has a similar phrase he shared with me since I started coaching: "if your best players aren't your hardest workers (/leaders) then you have a problem".  UVA seemed to realize this truth this year, and made changes to get back to doing things the right way.
But right now, lacrosse recruiting season is knocking at our door.  The regular season for college lacrosse is coming to a close and the NCAA Tournament is right around the corner.  Many college teams will be left out.  Some of the coaches of those teams may give themselves a short hiatus from the game after the 7 day a week grind of the season, but most will take advantage of this time to get a head start on the recruiting trail, and get out and scout high school games.
After Memorial Day weekend all college coaches will be on the recruiting trail, evaluating prospective student athletes.
Yes, coaches are looking for speed, size, strength, athletic ability, skill and lacrosse IQ, but (like the NFL draft process) they are also evaluating character.  They are looking for work ethic, coachability, unselfishness, and other traits that will make their job of grooming you into a college athlete and contributing member of their team easier.
These are the intangibles.  They come from habits that you instill in yourself at the youth and high school levels.  Do you win every sprint?  Do you work hard for every ground ball?  Do you always hustle back on D?  Do you always ride hard?  Do you practice like you want to play?
As you enter the final stretch of your high school season, and will soon be playing at summer recruiting events, think about Coach Robinson's father from the Southside of Chicago, and consider how spectators and scouts might interpret your personality from watching you play.  Think about Joe DiMaggio, and determine the impression you want to make on someone who is watching you play for the first time, whether it is a college coach or someone else.
……………………………………………..
ETA Note: players should contact coaches of the schools they are interested in and let them know about upcoming games, post season tournaments, and summer recruiting camps and tournaments that they will be playing in.  Empower the Athlete has a College Coaches' Contact database that makes it easy to look up email addresses and phone numbers for contacting college coaches.  Create a free account in order to use that and other recruiting resources.
//