Editor's note: Welcome Josh Rottman back to LAS with more a ton more info on stringing lacrosse sticks!  Josh recently put on a stringing clinic for the Davis Lacrosse Association and he was nice enough to put it all out there for us to see.  As Connor can attest, being able to string you own stick WILL elevate your game, your understanding of the game, and make you a commodity any team will want to have.  Take it away, Josh!
______________________________________________________________________________________________________________
It was early 2001, I was in seventh grade, and I was in the car with my dad on the way to Lafayette, CA. This is about fifteen minutes from my home in Danville, but it was the closest place that sold decent lacrosse sticks.  You see, I'd just started playing lacrosse and I'd ordered all my equipment through my youth program, the Diablo Scorpions. The "starter package," most likely. My first head was a Warrior Savage atop an Alloy 6000, and after I'd used sticky felt tipped markers to doodle all over it, I needed a replacement. It was bringing turf pellets into my mom's car, and we couldn't have that. My first attempt at self-expression through my stick failed, so I tried what I thought would be simpler: get a different one than the other kids.
The store from which I purchased my first unstrung lacrosse stick was called Nor-Ski and Sports. I think my dad had my parents' skis waxed in the same visit.  I don't remember the experience extremely vividly, but I do remember my dad holding what I now know to be an STX Proton, when he said to me, "So we gotta string this thing, huh?"  He unfolded the instructions that came with the stringing kit. "How hard could it be, right kiddo?"
He fumbled with it for fifteen minutes or so and gave up. He had little idea what he was trying to accomplish. He told me that I should learn how to do this thing myself anyway as, "It'll build character," or something paternal like that. I quickly took over using my old head's factory stringing as a guide and the instructions from my new kit. It wasn't much different from LEGOs, I thought.  And with black and white checkered shooters, I found I could express myself without all the sticky ink.
The Summer after, I attended my first lacrosse Summer camp; an experience I wouldn't trade for anything.  It was sponsored by Nike at the Robert Louis Stevenson School in Pebble Beach, CA. They did something there I haven't seen any camp replicate since (admittedly it's been a while since I went to camp): they had a stringing clinic. They sat willing campers down with an unstrung head and a fresh piece of mesh, and the employees from a small emerging store called California Lacrosse Company taught us the finer points of stringing mesh. I sat next to Steve Dini, who is now the head coach of NCAA Div. II NDNU and I strung the brand new Warrior Blade with navy blue six-diamond mesh. These were simpler times.
By the end of what turned into a four hour stringing session, half of the camp could string their own stick, or at least the campers understood what they were trying to accomplish in doing so. And over the years I would notice it was these campers who were becoming the most successful on the field.
As a high school coach, a stick-doctor, and a player, I think an optional stringing clinic is one of the most basic things that need to start appearing in more overnight camps nationwide. It's hard to explain to a younger player why the grocery bag on the end of his stick is making him throw into the ground if he doesn't understand how mesh works. It's the classic, "if you can't string it, you shouldn't play with it." Knowing how to adjust your stick when it needs a tweak can only be beneficial.
In my first year as a coach for the Davis Lacrosse Association, I brought this proposal to the powers that be and arranged to have our first stringing clinic in proud cooperation with our local Sacramento Lacrosse Fanatic. I want to share some photos and some broad advice for when you coach your first youth stringing clinic:
1) Know your stuff.
Teaching forty people how to string is different than teaching one. If you're unsure whether you're prepared to instruct so many people at once, you're not prepared. You should have both a conceptual and a technical understanding of what you're teaching, and it takes having strung a few hundred heads consistently to be confident in this. Spend the night before organizing your thoughts to most effectively deliver them to a larger audience. Prepare how you'd like to cover certain topics, how you'll demonstrate the technical aspects, when you'd like to answer questions, and how you'll deal with players' inevitable frustrations.
2) Assume ignorance.
After stringing for years, much like playing, some of the concepts become automatic. Do not give your young stringers the benefit of the doubt. You wouldn't assume a young player knows to cradle in his outside hand, he has to learn this, so don't assume he knows we fold mesh over at the top or that we don't skip diamonds on the sidewall. These are fundamentals that need to be taught repeatedly, just like on the field. It doesn't matter whether they're in 7th or 12th grade. When beginning to teach stringing techniques, experienced stringers can often overlook the simplest aspects; the things they learned at their first session.
3) Concepts vs. Technique.
Teaching what you're trying to accomplish when stringing mesh (a consistent channel, symmetry, pocket shape and location, etc.) is equally, or perhaps even more, important than teaching technique (stretching mesh, tying knots, stringing sidewall and topstring, etc.) These things work together to execute a quality pocket, so they should be taught together too. I find it's helpful to explain what a stringer is trying to accomplish before giving him the tools to execute it. The former is a 15-20 minute conversation, the latter is a four hour session. Also, keep it simple. No one is going to string a P34 or a Pita Pocket on their first go. Stringers have to learn to crawl before they learn to walk.
4) Get helpers and supportive parents.
I had 42 kids attend our first stringing clinic this Saturday and after an hour of organization it became complete stringing madness. You have to put your perfectionism aside and accept that you can only do your best to help each person individually. With this in mind, get a few older players or knowledgable teammates together the night before and catch them up. This way you won't be the only person the kids can look to for help. After all, the goal should be that by the end, the kids can begin helping each other. The parents booked our location, set up the chairs and tables, brought water, and paid for their player's stringing supplies. As always, without the parents, I'd get no where as a coach. The support of the parents is a must, don't think you can do it all on your own. You'll find that there are little logistical things you totally forgot about.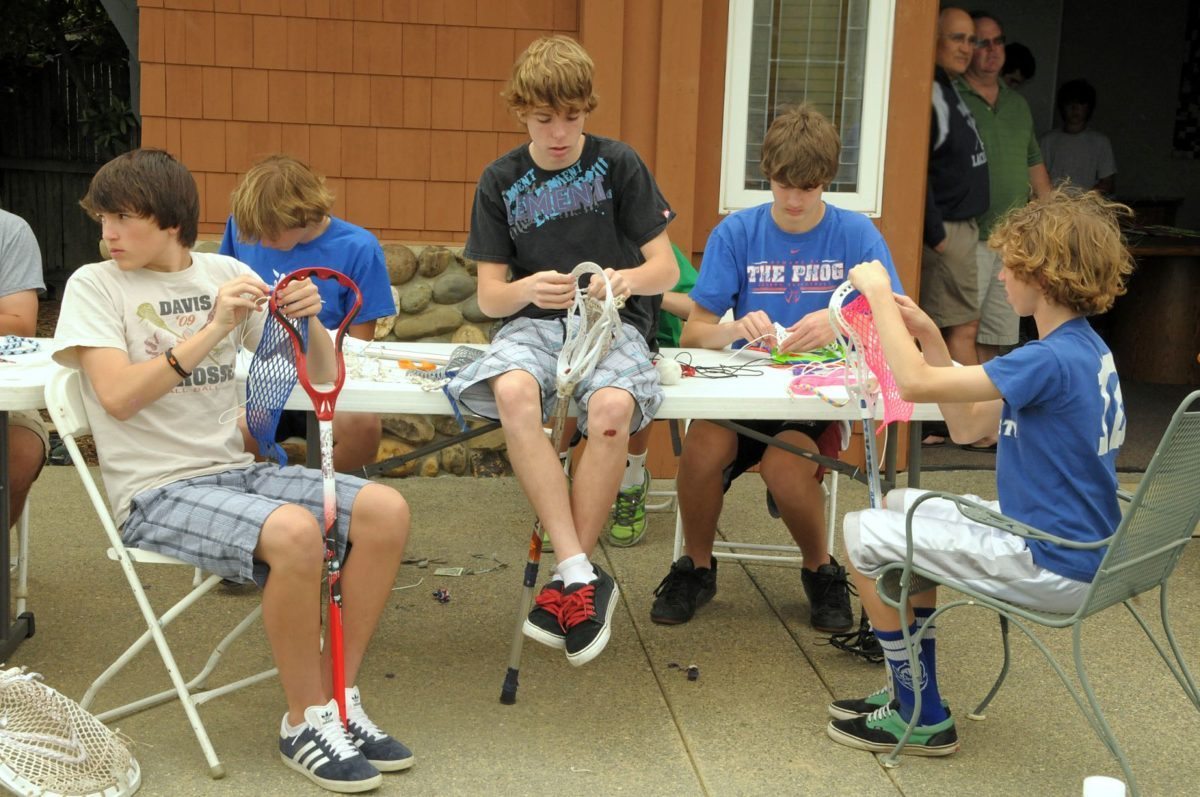 5) Use your local store!
If you bring lax, they will come. This clinic would not have succeeded without the tremendous help of Lacrosse Fanatic. They came out with a horde of stuff, and the kids were extremely responsive to it. Almost everyone needed at least a stringing kit or two, and some found this the perfect opportunity to replace that busted or worn head. You're doing your program a favor by bringing the lacrosse store to your players' backyard, and you're keeping your local store in business. They'll be more responsive to your players needs and broken sticks in the future, like giving a bartender a good tip. Grow the Game on two fronts.
6) Have a space to throw around.
This will help players fine-tune their pockets as they apply their shooting strings. As always, encourage your stringers not to cut everything until they are DONE and their stick throws as they'd like it to WITH GLOVES ON. Additionally, they'll be forced to play catch with each other, so they can discuss the problems or successes they're having together and learn from other players' experiences.
Here are some more photos: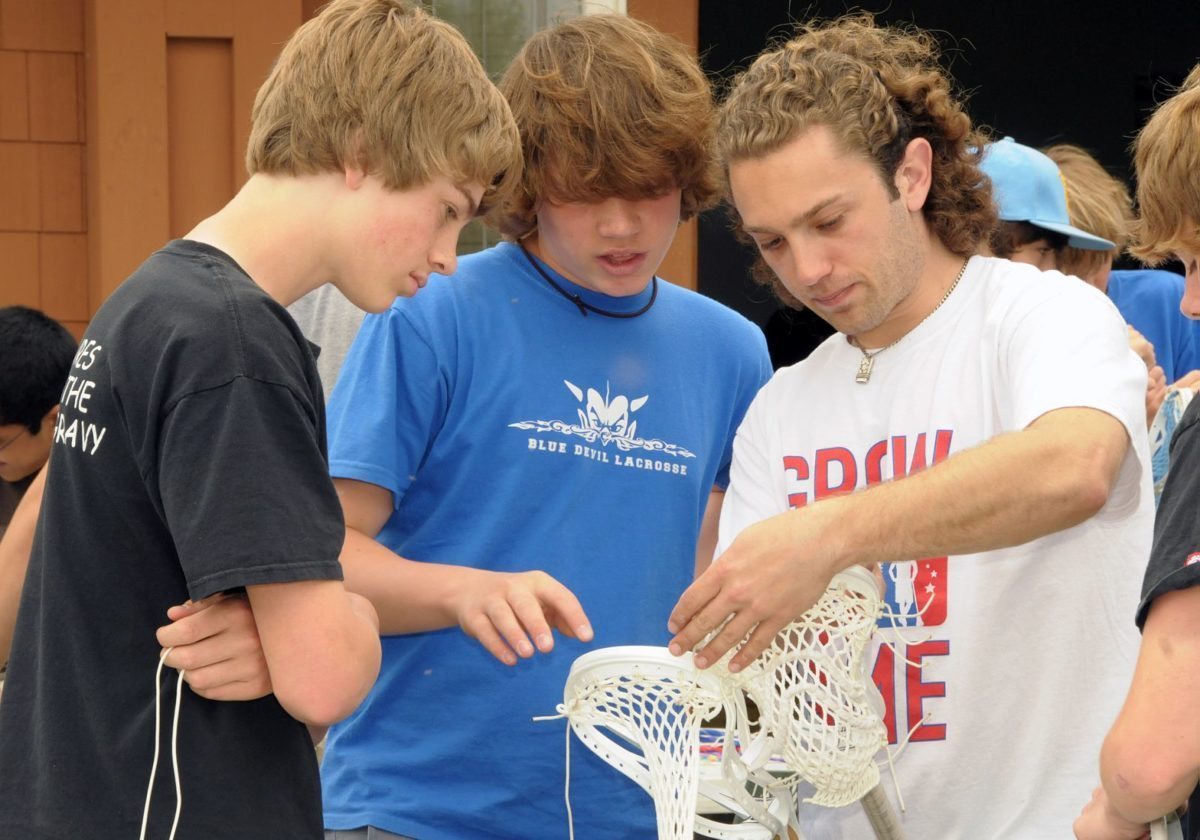 All photos by Theresa Ratermann!
As always, you can reach me in the comments section with questions. I'll be scanning below!
//