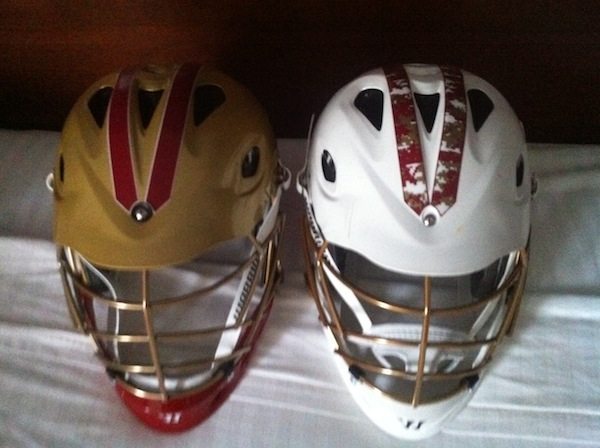 Denver should be rocking brand new Warrior TII Lacrosse Helmets tonight at Loyola and these things are just plain old awesome.  ALL kinds of awesome, in fact.  Both helmets are awesome.  Did I mention they got TWO new helmets?  Well, they did.
They've rocked white helmets all season so far.  The facemasks were an oxidized gold version.  Very cool.  But these are a step up.  In a big kind of way.  Their new facemasks are brass.  They can't be anything else.  That has to be brass.  Unreal.  And while I don't love digital camo, when it's this small, it does look pretty sweet.  Especially from a distance.  During a game, it will look great.  Back to the brass, it still looks unreal.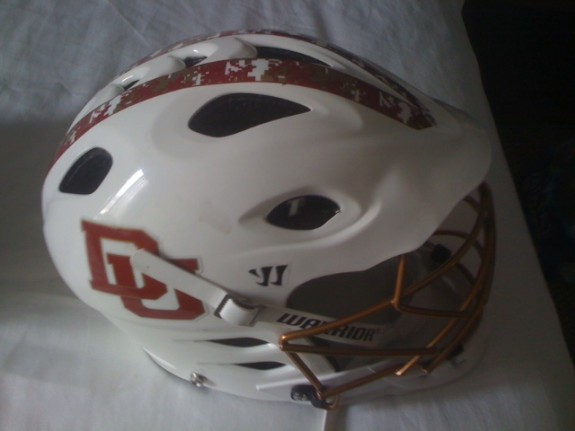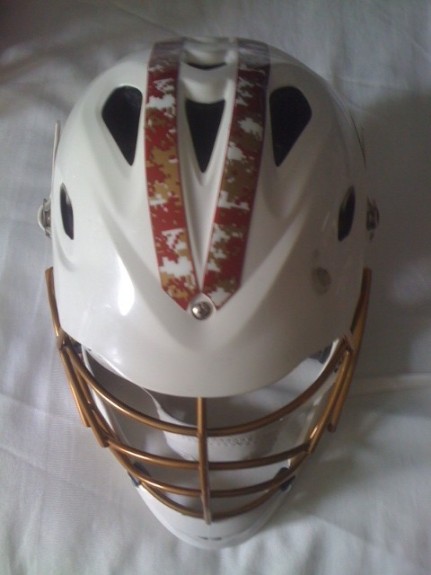 Now, on to the not white helmet. The lid to rule all lids. It's gold.  And Denver's reddish maroon.  It's both colors.  Warrior brought back the two-tone helmet.  WOOHOO!  I loved that look.  It was fantastic, and I was very surprised to see that college teams didn't all jump at the chance to have versatile, two-toners.  I call them crazy.  The gold helmet is beautiful, and provides balance between the flashy mask and modern helmet striping detail of Denver white lid.  This is like a helmet from the 1950s, if it happened in the future.  Aesthetically, it's almost perfect.
For more custom Lacrosse Helmets, check out Sweet Sweet Lax!  We just dropped Tufts over there!  Jumbos went white.  Not really a surprise since they don't seem to be able to get Brown.  Please get Brown, please get Brown.  Follow Denver's lead.  Be bold, and make sure to do it right!
________________________________________________________________________________________________
UPDATE – 3/16, 11:30PM
The DU Pioneers got the win tonight against Loyola while wearing their brand new white domes from Warrior, and the photos below arrived in my inbox an hour or so later. Win the Pioneers win, everybody prospers!
For more on the big W, see here: No. 16/19 Denver Opens ECAC Play with 12-8 Win Over No. 15/17 Loyola