NCAA Division 1 Lacrosse is a big deal. (So is D2, D3 and MCLA lacrosse, but…) D1 lax enjoys a special place as the top dog in our sport.  In basketball or football you can go on to the NBA or NFL or even play in Europe, but in lacrosse, Division 1 college ball is the tops. Guys go on to the MLL and NLL, but college lacrosse has the largest budgets, the largest fan base, the most TV exposure – and the athletes are treated like all D1 athletes are treated; professionally.
At some colleges and universities, the only papers that care about the lax team are of the school variety, but at places like Cornell, Hopkins or Maryland, the entire community gets in on the act of caring. In the video below (from Cornell's first practice), the coaches and the players basically have "media time" before they hit the field. Interesting. Could you imagine that? Would you even want to?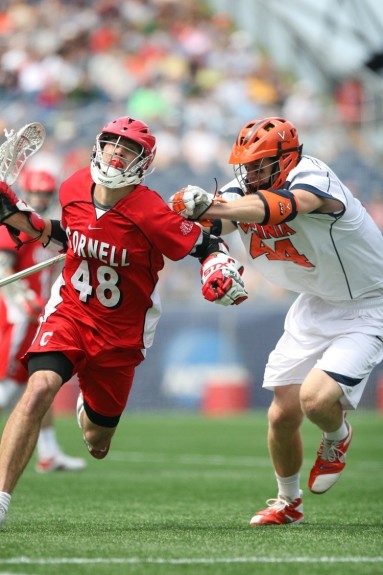 Of course on the flip side, after taking media questions, the Cornell team got to head into a multi-million dollar field house (and not at 11:30 pm), so maybe there is some benefit to this whole "treated like a pro" thing after all. We wouldn't know, we're just a bunch of former MCLA and Div 3 players here at LAS, but it looks like there is some good and bad to everything! Revolutionary thinking, we know.
Cornell's first practice:
BONUS D1 Lax footage. Hopkins – Penn State scrimmage action: