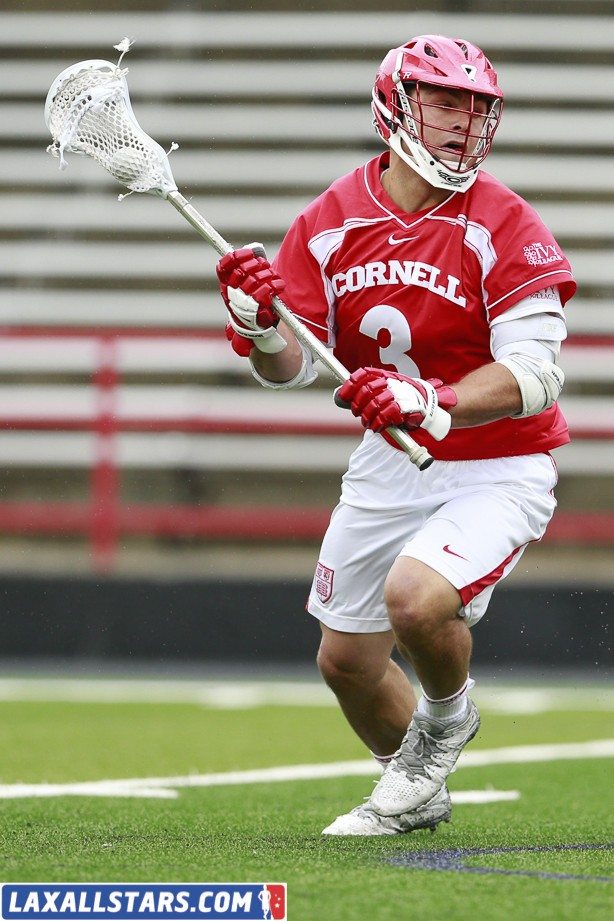 Lincoln Financial Field will host a lot of lacrosse this weekend, and two of the five games go down on Saturday, in the men's lacrosse NCAA D1 semifinals. We've got Syracuse – Denver, and Duke – Cornell. Both should be excellent games. So let's break down what we can expect from each match up.
Both of the D1 semifinal games will be broadcast live on ESPN2, so make sure you tune in (or at least DVR the games), and see what happens for yourself. Also check out Ryan Connors' NCAA D2 Final Preview.
Cornell Vs Duke – 2:30PM
Duke started the year out slowly, as many predicted they might. It's a Duke thing. Don't worry about the early season, just win when it counts… and it works. Duke is in the process of creating a nice little consecutive Final Four appearance streak. Of course making the Final Four is only part of the battle.
The rest of the battle is beating Cornell (and then someone else), and that is no short order. While Duke has been getting goals from a number of different players, and in a number of different ways, Cornell is a little more predictable. On offense, the ball is going through Pannell. Unfortunately for the Blue Devils, this doesn't make their job any easier. After all, a little predictability is just fine when the little red hulk is running the show.
For me, there is no question that Cornell will score goals. Pannell is a man on a mission, and while he garners a ton of attention, the guys around him aren't exactly slouches living off of the scraps of his success. The Cornell offensive players are disciplined, excellent shooters, and more than ready to step in and score when they get the chance. With Pannell grabbing so much attention, they get that chance a lot.
The Duke defense is large, and athletic, and they throw some mean wood out there as well, but I've yet to see that style of D pose a huge problem for Pannell and co. I can see the Duke D keeping Cornell at bay to some degree, but I still think we're looking at a 12 goal output from the Big Red at a minimum.
So, assuming Duke's defense shows up, and holds Cornell to 12 or 13 goals (that sounds crazy: hold a team to 13 goals), the question becomes, can Duke's offense put up 14 goals on Cornell's defense? This is where the game will be won or lost, in my opinion.
Duke has a great group of offensive players, and any one of five or six guys is capable of having a huge game at any time. If two of these guys can go off, Duke will be in great shape, and we are in for a shoot out, which should be thrilling. If only one guy gets a hot hand, or if Cornell's goalie has a big day, Duke could be playing catch up throughout the contest.
For me, this match up has a favorite, and it is Cornell. I think Duke needs to capitalize on some early chances, keep pace with the Big Red scoring machine, and not allow Pannnell to pick them apart. Pannell with five goals is better than Pannell with 2 goals and 7 assists. It's more predictable, and manageable. You know he's going to get his, so try to manage how that happens.
If Duke can do that, they have a great shot at winning, but like I said earlier, it's a tall order.
Syracuse Vs Denver – 5:00PM
If time machines existed, Denver 2013 Vs Syracuse 2000 could be the runningest, gunningest lacrosse game ever, but time machines don't exist, so instead we get up-and-down. box-style Denver against precision-passing and team-oriented 2013 Syracuse. Honestly, I'll take it!
It might not be the run n gun game some wish for, but this one is going to be really good, however it plays out. Here's why: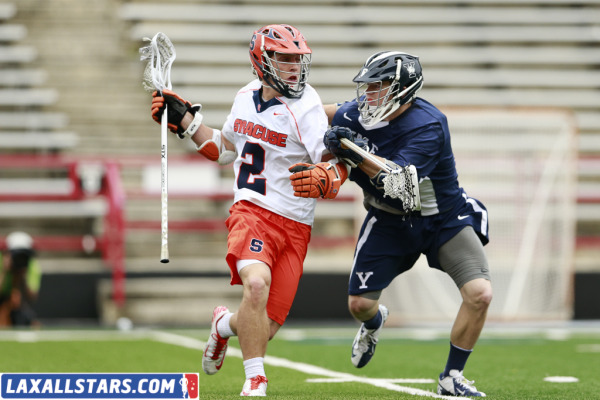 – Syracuse O presents a unique challenge – In my opinion, there isn't another offense in the country quite like Syracuse. The Orange use a variety of sets, and at times, they put right handed players where left handed players usually play. They cycle the ball well, and can also carry and dodge, or intentionally draw doubles, with three or four players. They penetrate well, and when the slide comes, they kick it backside through X or a wing as well as anyone. Their over the top skip pass to a midfield shooter reminds me Bryan Griffin and Devin Clarke against my college team back in the day, and it gives ME nightmares.
Any time you crush down on Cuse, they make you pay for it. Your defense must be communicating well, and ready to make judgement calls all day long. What looks like one set or M.O., quickly becomes another. You have to be a defensive genius to figure this stuff out.
– Tierney is a defensive genius – Ok, well that was easy! Basically, if there is anyone who can prepare his team to face Cuse, it's Tierney. He did a great job of prepping his D for the unorthodox play of Albany, and while Cuse presents a different challenge, the same idea applies. A Tiereny led team can make defensive adjustments… in fact, that might be what he does best!
– Half time adjustments – I expect Syracuse to come out with a few new wrinkles for this game, and I expect the Orange will put up at least 5 goals in the first half. My concern for the Orange lies in the second half though, as Tierney is known to coach his guys up as well as anyone during the break. If Cuse doesn't put up at least 7 goals in the first two periods, I'd we worried. Denver is going to keep coming on O, and eventually they will put some in. If their D tightens up in the second and plays lights out? The game is theirs.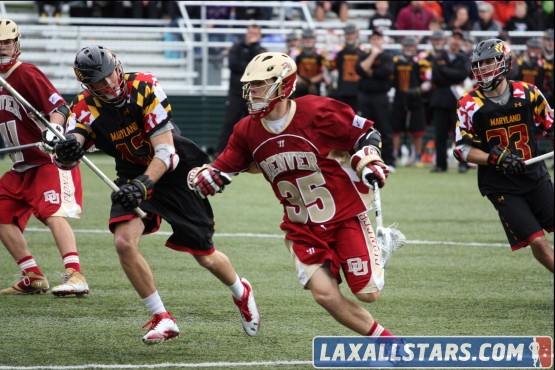 – The Cuse D – Now there is one possibility left that I haven't discussed, and that would be the Syracuse Defense rising to the occasion, and dominating like they did at times earlier this year. I highly doubt that Denver can be held to 8 or 9 goals at this point in the year, but if anyone can do it, Syracuse on a good day has a legitimate shot. If one on one assignments don't break down, and Cuse can cover effectively, the rest could fall into place, but it all starts with solid one on one play with Denver. Give them an inch on a slide, and it's a shot, possibly a goal.
Overall, I like Cornell and Denver to win their games, but I do think Duke has a shot, and I'm only favoring Denver 55-45% right now. It's a thin margin, and I could definitely be wrong. A couple things we KNOW: Pannell will run the show for Cornell. Duke will get goals from SOMEONE. Denver will improve as the game goes on. Syracuse is different, but as dangerous as ever.
We're in for a GREAT Final Four… who do YOU think is going to win on Saturday? And WHY?