Editor's note: LAS' own Rob McQuade has been interviewing members of the lacrosse community at a torrid pace, especially when you consider he works full-time n Washington, DC!  Politics is crazy!  At the US Lacrosse Convention, Rob met the Asics Lacrosse folks and followed up with an interview.  All the big athletic companies are getting in to lax, let's see what Asics has to offer to the American public.  Their shoes have been popular with Asian and Australian lacrosse players for years!
____________________________________________________________________________________________________________________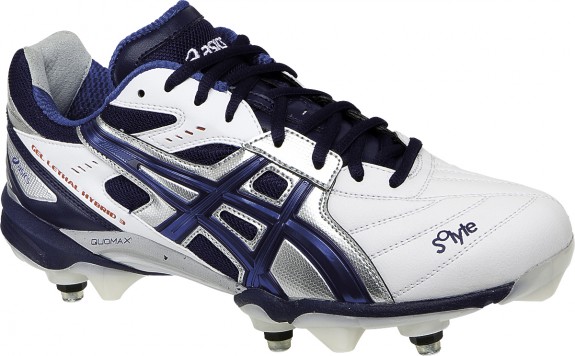 Has Asics partnered with, or sponsored, any teams? Any plans to?
Currently, ASICS is working with local programs (California).
Any plans to expand into manufacturing equipment such as sticks or gloves?
No plans to get into the equipment side of the business, only footwear and apparel at this time.
Asics has introduced lacrosse specific cleats and at the convention was displaying uniforms.  What's prompted this entry into the lacrosse market?  How long has Asics been contemplating getting into the lacrosse market?
We have been marketing field product for a few years including Field Hockey and Lacrosse. A greater emphasis has been put on Lacrosse product for the past year which will result in our Fall 11 and Spring 2012 updates. The growth of the sport (lacrosse) and our desire to grow the cleated categories (which includes Field Hockey and will soon include soccer) is what prompted this entry.
What do they think will be the biggest challenge for a "non-U.S. company" breaking into the U.S. industry?
ASICS America Corporation is a subsidiary of a Japanese operated company but by no means considers itself as an outsider. We have been in the US market since the 1970's and have participated in almost all categories of athletic footwear since our entry. As a global brand and manufacturer of products created for the worlds best athletes, we pride ourselves on our craftsmanship and product focus, a fact that has made us one of the leading brands in the US and in all of athletic footwear worldwide. While every brand recognizes the sophistication of the US market and the challenges that come with – the ASICS brand is well positioned in the US market as a technical leader and a trusted brand amongst serious athletes. Like most of our competitors, our challenge is in finding new ways to tell our technical story and addressing emerging market opportunities with innovative product.
How do you plan to set yourselves apart from other manufacturers of lacrosse footwear and uniforms?
By creating technical product that performs better than our competition while being used in and out of competition.
Have you noticed any similarities or differences between lacrosse consumers and consumers in other sporting markets (i.e- runners or volleyball players)?
There are many differences between team sports participants vs. individual sport participants and we recognize and embrace these differences in our approach to marketing our product. That said – the common element amongst all athletes is the desire for product that helps them in preparation for, and during, their competitive season. We love the competitive spirit of team sports and the learning, growing and sense of accomplishment that comes with working as a team.
From Asics:
The Jersey retails for $48.  The Shorts retail for $40.  And the Cleats have interchangeable studs for different conditions and retail for $125
________________________________________________________________________________________
This has been another Lax All Stars Fireside Chat. Check out our full list of interviews here.