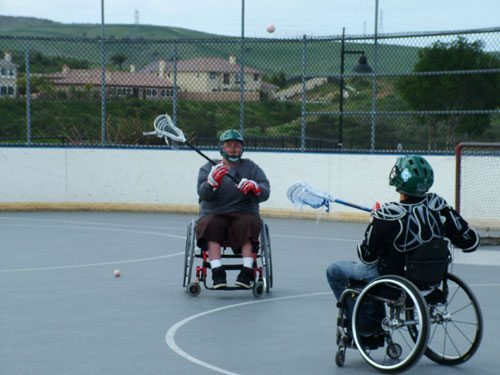 Editor's note: Connor Wilson got the chance to talk lax and so much more with the founders of Wheelchair Lacrosse, Ryan Baker and Bill Lundstrom. They recently went to the US Lacrosse convention and have been hard at work Growing The Game. This is Real!
__________________________________________________________________________________________________________________________
Let's start with the basics. On your about page, you talk a little about how you came to pick lacrosse as your sport of choice.  What are the aspects of the game that made it most appealing to you guys?
There are a few sports and recreational activities available for disabled athletes but ultimately there are obvious limitations.  We just felt that lacrosse was something that was possible and that can become another viable option as a competitive sport for our community.  They do have variations of wheelchair hockey where guys use hockey sticks with a puck in their chairs (on a roller hockey rink), and there is (what is called) Sledge Hockey that is played on ice with sleds.  We knew lacrosse could attract some of these guys.
Why start your own thing instead of just joining an existing basketball league?  Or playing tennis?  What was the main driver behind starting your own version of lacrosse?
No offense to basketball players or any disrespect to the game, but I personally never have had interest in shooting hoops.  It is the most popular sport among disabled athletes and it probably gets the most attention, along with rugby, which is a sport specific to quadriplegic guys.  They are all amazing competitors.  I played a lot of tennis and it took me all over the country for tournaments.  I will still hit for some exercise.  There is also individual sports or activities like snow skiing, water skiing, kayaking and golf.  There is great interest in a wheelchair version of softball played in parking lots with painted lines.  Lacrosse is a team oriented game with similarities to basketball and other sports not even available to us, such as soccer or water polo.  The flow and pace is perfect for us and the passing, catching and shooting is extremely different from anything that now exists for us.
We want to give people the opportunity to try something different, by not stealing or feeling like we have to compete with other disabled sports.  If they just try it they will love it and we feel it will spread like wild fire in our sports community.
How many guys do you usually have out there?  Any women?  any thought to getting a women's game going?
If everyone came we would have about 15, but it is hard when guys have families, and other commitments.  We play on Sunday mornings and it is a tough time to get people together, but its when the floor space is available to us.  We have not thought about a women's specific game, but we do have women padding up and playing with us.  They love it and are equally skilled.
The roller hockey rink idea is a great one; what are the advantages over playing on just a concrete surface?  Is it hard to find a rink?  It took us a while to find one for our box league in NYC… are they all over the place in Cali?
We are fortunate to have a place to play and it is 'County' operated so they donate the space, but it is limited to having practice around the roller hockey kids and adult leagues.  We know there are places to play all over, the issue for us will be finding places that are also willing to donate a space as most places are for profit businesses.  As a non profit, they can donate floor time as a write off, but we know this will be a challenge.  We need people to participate in finding places to play, or encourage the building of rinks for us and our programs.  We can practice in a gym or parking lot, but we find having the boards helps maintain the speed of the game.
Have you been contacted by groups in other cities/countries who want to do the same thing?
We have been contacted by people in Mass, NY, Jersey, Florida, Virginia, Denver, Nova Scotia, BC, Ottawa, Toronto, Germany, the UK, Turkey, Ireland….  The response has been totally amazing.  But the reality is that this is not going to just happen over night.  The goal for now is to just keep doing what we are doing and spread the word.  We need to make sure everyone is on the same page as far as rules and what is deemed legal and what is not.  Also how the floor space or 'field' is configured for our game.  We want to people to reach out to us for Clinics, to do demonstrations for players and coaches so it is consistent from the start.
I've noticed your games get pretty physical!  What are the rules, and how is it different from box lacrosse or field lacrosse (aside from everything being on wheels!)?
We want to keep the integrity of the game intact.  We will modify, and have only modified, the essentials.  All of the equipment is the same from the helmets and pads to the sticks' specs.  Our D pole is a goalie shaft with a standard head and there are only 2 allowed on the field at the same time.  Seven per side. Goalie, 2 D, 2 mid, 2 Attack.  2 must stay at the redline and the blue line will be the box for a 4 on 4 at all times.  We are using the hockey goals (as they are usually provided) and they are pushed up so the goal line is at the top of the hockey crease.  This allows for more play behind the net.  Then we create a new crease with highly visible tape.  We use an indoor ball.  There are also rules for the chair that we basically took from wheelchair basketball rule book as most disabled sports programs and players have access to those chairs and they suit what we do as well.  No need in designing a new chair for a sport that we are only now starting.  If the ball gets stuck in the lap or feet, it is brushed off onto the floor, taking possession with the crosse and play continues.  No holding or grabbing the ball with your hand.
Where do you see this going?  Any thoughts toward trying for the Paralympic Games?  Or maybe an exhibition at the next outdoor championships in Denver in 2014?  Maybe there could even be a wheelchair division at the Prague tourney in the future!  I know its early but I'm just curious to hear what you're shooting for!
We believe this has the potential to reach the Paralympic level, but we need at least 8 countries playing competitively in order to present it as a viable option to that committee.  It would be great to just have one other team to play against now, but with time will see teams start to grow and populate the nation.  Soon we can have regional and national events.  We will travel anywhere to do do a demo!  Please contact us to showcase this all over the world.  It is something that benefits the lacrosse community, and industry.  We have basically invented a new sport for people with disabilities and we need funding to continue growing it on that international level.  We know its not only possible, but I truly believe it will become the most watched and exciting sport in a wheelchair.
What is the biggest benefit of learning and playing wheelchair lacrosse?  Not only for you, but for everyone involved?
The benefit comes in not only learning a new sport, but learning that things are possible.  This is new and never been done.  There is a reason for that, but we know we are on to something big.  We want people to know what they are capable of, even if they think otherwise.  Lacrosse has a very rich heritage and a beautiful mystique about it.  It is sacred.  It teaches us that we are imperfect but we also have the ability to be tough, selfless, accurate and amazing…  It is infectious.
How do you find players?  Do you recruit or is it a word of mouth kind of thing?
We need to reach out to disabled sports programs and everybody that has any interest in seeing this grow.  It is crazy to think about, but there are a lot of people out there that know someone in a wheelchair, or know about programs for disabled athletes. We just need to inject this game into these existing programs, locally, regionally, and internationally and get it into the hands of these groups and people.
Thanks, guys!  Great interview and a great project.  We wish you all the best and will help however we can!  Now to our readers… if you want to GET INVOLVED, work on a local clinic, donate, etc., then email the guys from Wheelchair Lacrosse.  They can be reached at info@wheelchairlacrosse.com!
________________________________________________________________________________________
This has been another Lax All Stars Fireside Chat. Check out our full list of interviews here.