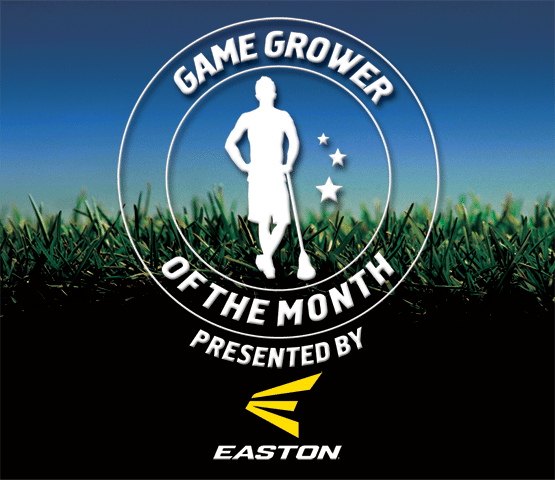 Today we're excited to announce our next Game Grower of the Month in collaboration with Easton Lacrosse. It is our hope that the GTG Award will inspire others to give back by recognizing those that already do!
Now without further ado, the August 2012 Game Grower of the Month is…
Zach Zielonko of Des Moines, Iowa
"Zach has been instrumental in Growing The Game of lacrosse in Central Iowa. His influence has helped turn my vague hopes of playing lacrosse into a real development strategy. Without his help, who knows how much further behind lacrosse would be in Iowa…"

– Adam Edgington
Congratulations to Zach Zielonko, LaxAllStars.com's August 2012 Game Grower of the Month! To reward Zach for his efforts, Easton Lacrosse will be supplying him with a Stealth HS Head and his choice of the Stealth Scandium+ Shaft or the Stealth RS Ultralite Shaft.

Recently, we sat down with Zach to learn more about what he's doing to help grow the great sport of lacrosse in and around his current residence of Des Moines, Iowa.
LAS: Can you describe the state of lacrosse in your area?
ZZ: Currently the state of lacrosse in Des Moines is one that is growing very steadily. Five years ago there were no lacrosse options out there. Currently we have grown to have a varsity program that has gone 41-12 in the Nebraska High School lacrosse league over the past 3 years. We also have a JV program, men's indoor and outdoor leagues, and just completed our first full season of youth lacrosse, having 100 youth players participate.
In what ways are you involved in growing the sport in your area?
I am the founder and varsity head coach of lacrosse at Valley High School, the state's only high school boys lacrosse program. We have made three consecutive final 4 appearances in the Nebraska high school lacrosse league. I also serve as an assistant coach on the Nebraska/Iowa U-19 tournament club team that participates in many tournaments throughout the country including the Vail Shootout.In just three years with the select team, we have sent several players on to play at NCAA Division 2 and 3 schools. I also serve as one of the head coordinators of the men's league in town, as well as with the youth lacrosse league/camp we run in the summer.
What is the biggest obstacle for lacrosse growth in your area?
The biggest obstacle has been getting enough donated gear to get the youth lacrosse league going. Fortunately we have received large donations from West Genesee high school in New York as well as the YMCA of Des Moines. Another obstacle is having enough people with previous knowledge and experience with the game that can coach and ref.
How did you get involved with the sport? Who taught you the game?
I got involved in the sport playing for my high school, Christian Brothers College, in St. Louis, Missouri. I also played club lacrosse at Kansas State University.
What has been your biggest accomplishment when it comes to growing the game?
The biggest accomplishment has been making it to the state semifinals for three consecutive years, since we have only had a varsity program for three years. It means our players have been really dedicated to learning this sport in such a short time span.
Also the huge success of the youth program in its first year was also a great accomplishment.
Who or what inspires you most to help grow the game?
What inspires me most is just being able to have the sport I love available to the youth in my area. I know what a huge impact this sport has had on my life and the doors it has opened both on and off the field. Being able to give the kids and teenagers in Des Moines that same opportunity is great. It's also just fun watching people develop their skills and just have fun playing this great sport.
What is your favorite thing about our sport? What has drawn you to lacrosse the most?
My favorite thing about our sport is the relationships you form with the fellow players and coaches. Don't get me wrong, I love the competitiveness of the sport and always get pumped to play in games, but the people you play with are great all around people. I still play on men's teams today, in tournaments all over the country, and the people I have met have been great. It is a close fraternity that opens a lot of doors.
Do you have a favorite lacrosse team? Favorite player(s)? 
I am a big Notre Dame fan, so I always pull for the Irish when watching lacrosse. I also like Coach Tierney and love to learn from him as a coach, really appreciate what he has done out there in Denver.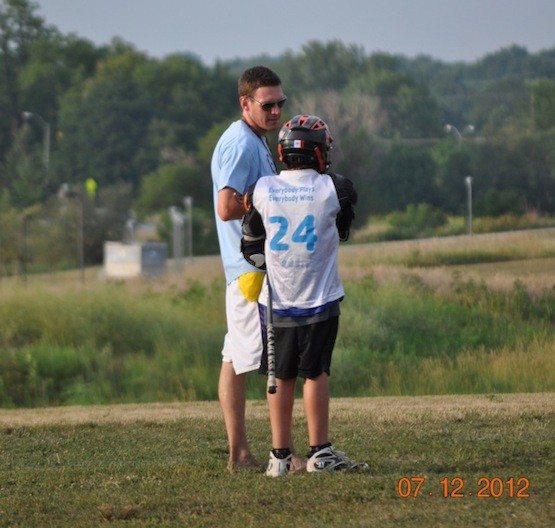 What do you do outside of the sport? 
I am an architect when I am not on the lacrosse field. I also love being outdoors, climbing, skiing, playing sand volleyball, and of course, rooting for the St Louis Cardinals.
If you could change one thing about our sport, what would it be and why?
I would change the way people look at our sport from an outside standpoint. It has been hard to get the football coaches and other sports coaches to get onboard with what we are trying to do here in Iowa. I think a lot of it is just a perception that it's just a sport for goons to hit each other with sticks, when in reality they would see it as a sport that brings in so many skills from other sports that it can actually help their players become better all around athletes in the offseason.
I would also like to see the more NCAA Division 1 teams added out West.
Congratulations again, Zach! A well-deserved honor. Keep on Growing The Game!
Do you know someone who deserves recognition for Growing The Game in your area? Click here to fill out the Game Grower of the Month nomination form. We'll be announcing the August 2012 winner very soon.