Today we're excited to announce our December Game Grower of the Month in collaboration with Easton Lacrosse. It is our hope that the GTG Award will inspire others to give back by recognizing those that already do!
Now without further ado, the December 2012 Game Grower of the Month is…
Dave Low of Bainbridge Island, Washington
Dave Low is the President of the Washington Chapter of US Lacrosse. We were able to see first-hand how Dave is working to grow lacrosse in the great state of Washington. Just this past October, Dave was able to bring two of the best teams in NCAA D1 lacrosse to the state of Washington to play in front of a sold out crowd – now that's Growing The Game!
Congratulations to Dave Low, LaxAllStars.com's December 2012 Game Grower of the Month! To reward Tim for his efforts, Easton Lacrosse will be supplying him with a Stealth HS Head and his choice of the Stealth Scandium+ Shaft or the Stealth RS Ultralite Shaft.

Recently, we sat down with Dave to learn more about what he's doing to help grow the great sport of lacrosse in and around his current residence of Bainbridge Island, WA.
LAS: Can you describe the state of lacrosse in your area?
DL: We're growing by leaps and bounds especially at the youth level – both boys and girls.
In what ways are you involved in growing the sport in your area?
I am currently the President of the Washington Chapter of US Lacrosse.
What is the biggest obstacle for lacrosse growth in your area?
We need more coaches, officials and volunteers to continue to deal with the demand from more and more players.
How did you get involved with the sport? Who taught you the game?
I played in high school in NJ, played college at Middlebury in Vermont and then played club in Seattle for many years. I also coached a high school team in Seattle and then ran the high school boys league for several years.
What has been your biggest accomplishment when it comes to growing the game?
The recent Seatown Classic where we had the University of Maryland and the University of Denver here in October and had 3,500 fans out to watch the game was one of the biggest.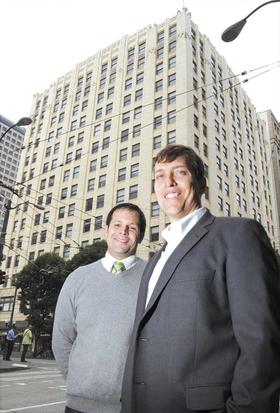 Who or what inspires you most to help grow the game?
I love to watch kids who are just learning grab on to the game. Anyone can play, which means it is accessible for almost all kids. The lacrosse community is a special one and all kids who play lacrosse join that special community – I love to see that grow.
What is your favorite thing about our sport? What has drawn you to lacrosse the most?
The lacrosse community and the fact that it is a life long community. I still feel like I have something in common with anyone I see who is wearing a lacrosse t-shirt whether I am in Seattle or walking through some random airport anywhere in the world.
Do you have a favorite lacrosse team? Favorite player(s)? 
I still love the Middlebury Panthers.
What do you do outside of the sport? 
I work as a green building consultant and chase around two young daughters – one who played for the first time last season.
If you could change one thing about our sport, what would it be and why?
I would encourage kids to play other sports and participate in other activities in the off season so they do not focus solely on lacrosse. I have seen too many kids get burned out because they play the game all year long.
Congratulations again, Dave! A well-deserved honor. Keep on Growing The Game!
Do you know someone who deserves recognition for Growing The Game in your area? Click here to fill out the Game Grower of the Month nomination form. What an incredible year it has been in the lacrosse world!