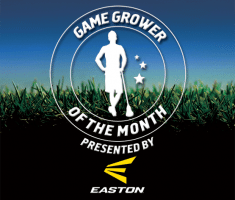 Today we're excited to announce our January Game Grower of the Month in collaboration with Easton Lacrosse. It is our hope that the GTG Award will inspire others to give back by recognizing those that already do!
Now without further ado, the January 2013 Game Grower of the Month is…
Patrick Dougherty of Istanbul, Turkey
Patrick Dougherty has been working hard to Grow The Game on the international front, specifically in Turkey. The New York transplant has used his lacrosse knowledge and background to build up both the Men's and Women's teams for Turkey Lacrosse since arriving there in 2009. We are very excited to announce him as our January 2013 Game Grower of the Month!
Congratulations to Patrick Dougherty, LaxAllStars.com's January 2013 Game Grower of the Month! To reward Patrick for his efforts, Easton Lacrosse will be supplying him with a Stealth HS Head and his choice of the Stealth Scandium+ Shaft or the Stealth RS Ultralite Shaft.

Recently, we sat down with Patrick to learn more about what he's doing to help grow the great sport of lacrosse in and around his current residence of Istanbul, Turkey.
LAS: Can you describe the state of lacrosse in your area?
PD: Turkey Lacrosse is still in its infancy but is growing at a steady pace. We have teams in Ankara, Istanbul and now Alanya mainly. Alanya U is the first university that is fully funding their new men's and women's lacrosse program. We still have plenty to go until I am satisfied. We do have players in cities like Izmir and Eskisehir but not enough for a full team. Our women's side is still very small but working hard to expand the growth in this vital area.
In what ways are you involved in growing the sport in your area?
Well, I am the Founder and Executive Director of Turkey Lacrosse. Turkey never had lacrosse until I arrived in 2009. I deal with marketing, sponsorships, education and training, coaching, equipment procurement, fundraising and everything else under the sun for a full lacrosse program in a country that never had the sport before. Luckily, we now have others on the Turkey Lacrosse staff whom have taken over some of these responsibilities and have advisors like Johnny Christmas, Kyle Sweeney and Dr. March Krotee.
What is the biggest obstacle for lacrosse growth in your area?
Our biggest obstacle would have to be funding as with many programs and countries. Historically, Turkey Lacrosse has been funded about 90% by my own wallet. We need help with funding the growth which is most important. Over the last 3 years, we have had approximately 100 plus players in Istanbul alone with only 23 helmets and less gloves, etc and this has hurt our growth tremendously.
How did you get involved with the sport? Who taught you the game?
I learned from a good from of mine in middle school who gave me his stick to use and play with. I was hooked ever since. I grew up in Upstate NY in the Binghamton area. I started playing around 12 years old and in my area, I was already 5 plus years behind the majority but haven't put sown a stick since.
What has been your biggest accomplishment when it comes to growing the game?
Honestly, there is no one big accomplishment since each step we take is a big accomplishment. Hosting our first international tournament in 2012, hosting what might be the biggest tournament in Europe for 2013 called the Turkey lacrosse Open. Having teams in Ankara and now university funded teams in Alanya. Seeing my players go from nor knowing the sport to living, breathing and all out consumed by the sport. Playing in our first international tournament in 2011 and winning it. Like I said, this program in its entirety is the biggest accomplishment and all the steps within it.
Who or what inspires you most to help grow the game?
Simple, the love of the game and passing on our way of live and the traditions of the sport to others, young and old, players or fans. Also, my Turkish wife, since she has to endure all the days/nights that I am working on this and seeing how proud she is of me for doing this for her country and not asking anything in return.
What is your favorite thing about our sport? What has drawn you to lacrosse the most?
The camaraderie we have for each other from around the world. The lacrosse community as a whole is probably the best of any sport.
Do you have a favorite lacrosse team? Favorite player(s)?
My favorite team are all the teams in Turkey and those yet to be. My favorite players are all those playing the game in Turkey and again all those who have yet to.
What do you do outside of the sport?
Funny question because it seems I do not do anything outside of lacrosse as most of my time is spent with some type of relation to lacrosse. I do own some businesses in the US.
If you could change one thing about our sport, what would it be and why?
I would change the fact that we are not back in the Olympics even though all steps are being taken so we are…AGAIN!! The reason is obvious – it is the best sport in the world and one of the oldest!! Pretty simple.
Congratulations again, Patrick! A well-deserved honor. Keep on Growing The Game! (EN: Check out a little slideshow for the upcoming lacrosse tournament in Turkey this September.)
Do you know someone who deserves recognition for Growing The Game in your area? Click here to fill out the Game Grower of the Month nomination form.