Today we're excited to announce our next Game Grower of the Month in collaboration with our newest sponsor, Easton Lacrosse. It is our hope that the GTG Award will inspire others to give back by recognizing those that already do!
Now without further ado, the July 2012 Game Grower of the Month is…
Charlie Freedman of Salt Lake City, Utah
Charlie took over a program in Salt Lake City that had just one high school team in 2011 and built a full fledged youth-high school system, donating his time and money to create a sustainable lacrosse program. Charlie's main focus has been creating a solid foundation by adding a youth lacrosse contingent. This spring, East High (of the "High School Musical" franchise fame) had a full Varsity team, a JV team, three 7th/8th grade teams, two 5th/6th grade teams, and two 3rd/4th grade teams.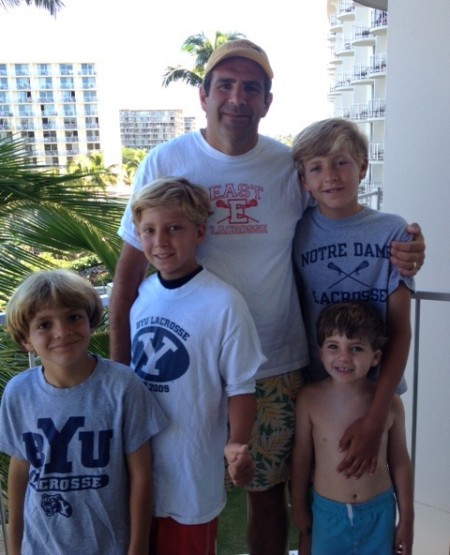 Beyond the lacrosse field, Charlie is a very successful entrepreneur and owns a clothing chain in Utah. We wish Charlie the best in his future endeavors to grow the game in Salt Lake City!
Congratulations to Charlie Freedman, LaxAllStars.com's July 2012 Game Grower of the Month! To reward Charlie for his efforts, Easton Lacrosse will be supplying him with a Stealth HS Head and his choice of the Stealth Scandium+ Shaft or the Stealth RS Ultralite Shaft.

Recently, we sat down with Charlie to learn more about what he's doing to help grow the great sport of lacrosse in and around his current residence of Salt Lake City, Utah.
LAS: Can you describe the state of lacrosse in your area?
CF: It's growing rapidly.
In what ways are you involved in growing the sport in your area?
I took over youth expansion for our local high school area (East) and helped put our varsity coach in place.
What is the biggest obstacle for lacrosse growth in your area?
Definitely field space, cost of gear and league fees. Also, kids love the sport more than parents.
How did you get involved with the sport? Who taught you the game?
I played for Scarsdale High School in Westchester County, NY. I started four year at Brigham Young University and am in the BYU Hall of Fame and currently am the lacrosse color commentator for the BYUTV game broadcasts. I also helped filed organization papers for the Utah Lacrosse Association in 1993 and I have coached youth lacrosse for eight years.
What has been your biggest accomplishment when it comes to growing the game?
When we formed our East youth teams two years ago we had 25 kids. Last year we jumped to 45, and this year we had 140 1st to 8th graders. Our summer clinic for new players started with 40 kids two years ago and has 145 this year. We purchased 45 full sets of gear for use in inner-city schools and had our first team of 7th and 8th graders this year.
Who or what inspires you most to help grow the game?
I love the game and have four boys at the ages of 11, 9, 6, and 4.
What is your favorite thing about our sport? What has drawn you to lacrosse the most?
Aside from the fact it is a blast to play, for many it is a brotherhood. I also love that all body types can be rewarded if the kids develop their skills. My biggest concern is that many can't afford to play. We hope to have four school program teams functioning this year with donated gear and league fees.
Do you have a favorite lacrosse team? Favorite player(s)? 
I played defense and loved watching Dave Pietramala play – I have never seen a better long pole. I also loved watching the Nelson brothers at Syracuse. They shredded us in high school (Yorktown).
What do you do outside of the sport? 
I am trained as a lawyer but founded a chain of 51 retail stores. We started our company when I was in law school at Brigham Young University. It is called Downeast Outfitters, Inc.
If you could change one thing about our sport, what would it be and why?
We need to swing the equipment battle back in the D's favor. Defense has grown too conservative and the game is slowing down because of it. I miss the takeaway check and Syracuse running up and down the field. I can't stand watching teams pull out the fast break to hold the ball for five minutes.
Congratulations again, Charlie! A well-deserved honor. Keep on Growing The Game!
Do you know someone who deserves recognition for Growing The Game in your area? Click here to fill out the Game Grower of the Month nomination form. We'll be announcing the August 2012 winner very soon.