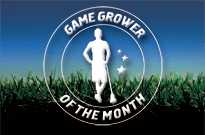 Today we're excited to announce our October Game Grower of the Month in collaboration with Easton Lacrosse. It is our hope that the GTG Award will inspire others to give back by recognizing those that already do!
Now without further ado, the October 2012 Game Grower of the Month is…
Tim Haslam of Salt Lake City, Utah
Known for his very popular lacrosse site, Utah Lacrosse News, Tim Haslam is well-versed in the lacrosse world and just like Lacrosse All Stars, gives Utahans all over the state a place to find everything they need to know on lacrosse. Possibly even more important than just providing great coverage of lacrosse in Utah though, he has given the sport a huge amount of positive publicity that has helped to Grow The Game all across Utah.
Congratulations to Tim Haslam, LaxAllStars.com's September 2012 Game Grower of the Month! To reward Tim for his efforts, Easton Lacrosse will be supplying him with a Stealth HS Head and his choice of the Stealth Scandium+ Shaft or the Stealth RS Ultralite Shaft.

Recently, we sat down with Tim to learn more about what he's doing to help grow the great sport of lacrosse in and around his current residence of Salt Lake City, UT.
LAS: Can you describe the state of lacrosse in your area?
TH: Lacrosse in Utah is growing at a great, healthy pace. In 2012 there were 40 Boys High School teams, 28 Girls High School teams, 5 MCLA and 6 WCLA teams. Each season at least 1-2 high school teams form and begin competing. There were several club teams formed this summer as well which gives kids more opportunities to play more often. The Utah college teams continue to impress nationally and LXM 801 was a huge success.
In what ways are you involved in growing the sport in your area?
I am the founder of a lacrosse news website called Utah Lacrosse News. I built the site to give players, coaches and fans a place to go and talk about lacrosse on a local level. It gives the lacrosse loving people of Utah a place to read articles, view pictures and videos and stay up-to-date on the latest lacrosse news. I believe this helps grow the game because it opens up conversations about a wide range of topics that get people talking about growing the game. It also helps new players get acquainted with the game.
What is the biggest obstacle for lacrosse growth in your area?
In my opinion, it's the lack of man power. At every level of the game, there could be a few more people in key positions. I get discouraged when I hear about teams without coaches or going to games with only one official. If the state had 40 more people step up and volunteer this season, the state would see some amazing growth.
How did you get involved with the sport? Who taught you the game?
I was sitting on a bench in a hallway of my high school eating lunch with a group of friends. The captain of the lacrosse team came up to one of my friends and was talking to him about registration. The captain turned to me and asked me if I wanted to play lacrosse. I had seen the NCAA Championships on TV before but never really thought about playing it. I agreed and bought an STX starter stick. The shaft was so heavy. The head was solid plastic with no gaps in the sidewall. I've been involved with the game ever since. My high school JV coach was Matt Foster who grew up in my neighborhood so he taught me the game and my high school Varsity coach was Mark Etheridge who had been coaching lacrosse since the beginning of the league in 1994.
What has been your biggest accomplishment when it comes to growing the game?
My greatest accomplishment in growing the game was when I coached a group of 7th/8th grade kids from 3 Salt Lake high schools. It was a bunch of kids who had never really played but they wanted to learn the game so I taught them everything I new. After winning our first 2 games, I told them if we went undefeated I would buy them t-shirts and throw a pizza party. We reeled of 8 straight wins to go 10-0 on the season. I'm still not sure if they played so hard because they loved the game or wanted the pizza party. That group are now Juniors and Seniors at their high schools and are leading their teams as captains and starters.
Who or what inspires you most to help grow the game?
I am inspired to grow the game because I believe it's a game that can turn a kid into a man. It has highs and lows, ebbs and flows both during a game and a season. It's about responding in a positive way which is how life works.
What is your favorite thing about our sport? What has drawn you to lacrosse the most?
I love the pace of the game and how quickly a game can change by just a single 3-4 goal run. I love the constant action of a game. I love standing behind the score table during a game because of the action and emotion on the sideline.
Do you have a favorite lacrosse team? Favorite player(s)? 
I try to be unbiased when it comes to these questions so I don't offend anyone but I find myself cheering for the University of Denver because of their recent success and proximity to Utah.
What do you do outside of the sport? 
My full-time job is a web developer for a local web development firm. My wife, daughter and I are Real Salt Lake and University of Utah Football season ticket holders so that keeps us busy. I am an avid fly-fisherman, duck hunter and cyclist.
If you could change one thing about our sport, what would it be and why?
Overall I am pleased with the direction the sport is headed. At the end of the day, there is always room for improvement in every aspect of the game just like every other sport.
Congratulations again, Tim! A well-deserved honor. Keep on Growing The Game!
Do you know someone who deserves recognition for Growing The Game in your area? Click here to fill out the Game Grower of the Month nomination form. We'll be announcing the November 2012 winner very soon.