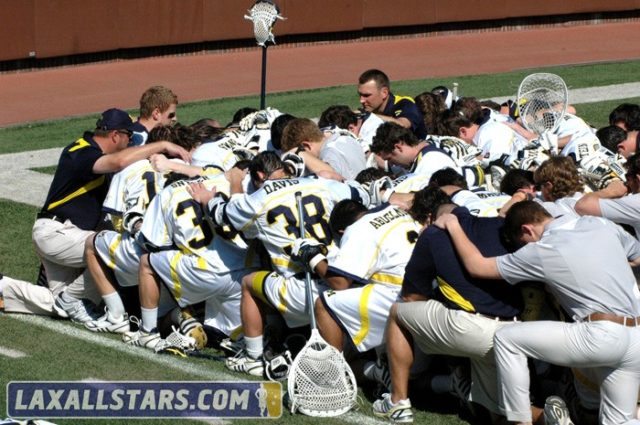 The University of Michigan men's lacrosse team faced off against Bellarmine in the Big House on Saturday, March 17th. Televised on the Big Ten Network, the game saw some solid back and forth action, and even featured a nearly full field goal by the Bellarmine goalkeeper! Bellarmine defeated the Wolverines 13-9.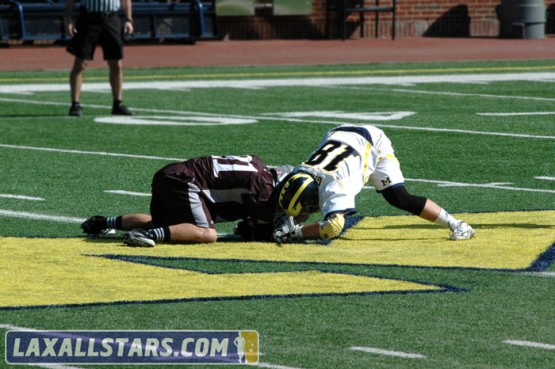 Holly Deremo took in the game live and snapped a ton of great photos for us! She also provides a little color commentary on the game:
It was a really amazing experience shooting inside the Big House, and we got gorgeous weather for this St. Patrick's Day battle.  I'm not sure if you guys watched it at all on TV, but UM came out really strong with two goals within the first four minutes of the game, but that early momentum faded during the second half.
Combined with defensive mistakes and a very aggressive Bellarmine offense, it made for an interesting game, but ultimately a Wolverine loss. The first goal of the second half was insane. Bellarmine's goalie, Dillon Ward saw that the UM net was unattended, so he launched a shot from about 10 yards in front of his own crease, and it just sailed straight into UM's net. It was his first collegiate shot and goal ever.
Wow.  An awesome game and a full field goal by the Bellarmine keeper during a ten-man ride!  Exciting. Bellarmine followed that goal with another goal off the face-off, and this is where they really took control of the game.
From everything we've heard, it sounds like lacrosse is alive and well in Ann Arbor this spring as the Michigan Wolverines enjoy their first year as an NCAA Division 1 lacrosse program.
On Saturday, Trevor Yealy, Thomas Paras and Will Meter all netted two goals apiece for Michigan. Bellarmine was led by Lance Robinson's three goals, and Austin Bright's 5 point effort on two goals and three assists.
Michigan takes on Mount St. Mary's at home next, while Bellarmine takes on Ohio State this weekend.
Check out our College Lacrosse section for even more fantastic game photos!