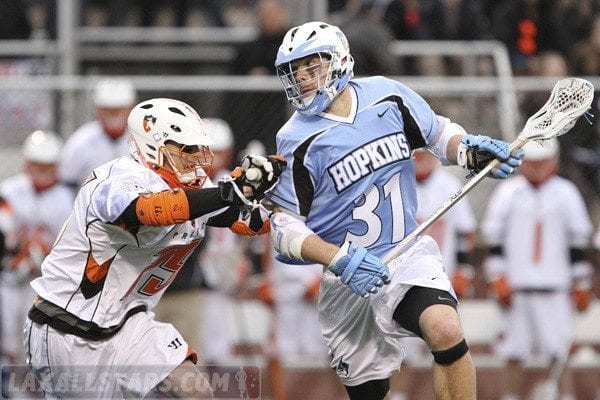 No. 2 ranked Johns Hopkins men's lacrosse took down No. 14 ranked Princeton to the tune of 10-8 last Friday, March 2nd to improve to 4-0 on the season. With the win, Hopkins ended their three game losing streak in the rivalry with the Tigers, and held onto their #2 ranking in the nation, while Princeton dropped from #11 to #14.
The Blue Jays proved their mettle in the game by using a 4-1 run in the beginning of the fourth quarters to stretch their lead from two points to five and then hold off a late rally by the Tigers that brought the game back to a two-goal match.
Johns Hopkins was led in scoring by Mark Goodrich and John Kaestner with two goals each, while Zach Palmer added four points with one goal and three assists.
On the other side of the ball, Princeton was led by Jeff Froccaro with two goals and Tom Schreiber and Mike Grossman with a goal and two assists apiece.  Froccaro was great on face offs as well, and really provided a solid spark for the Tigers when they did make their run.
Defensively, both Tyler Fiorito and Pierce Bassett kept the game close by tallying nine saves each.
All photos by Tommy Gilligan, LAS Staff Photographer