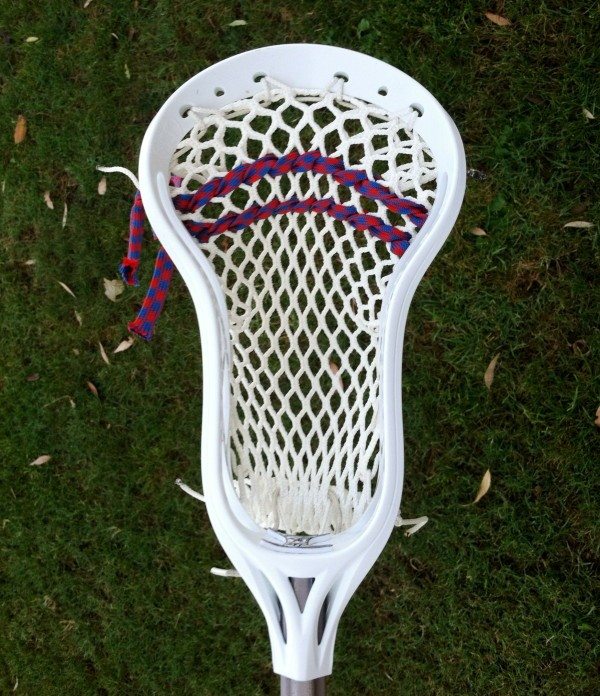 [rwp-review id="1″]
Company: Warrior Lacrosse / Product: Blade Pro X6 Head / Price: $84.99
Before I began reviewing the Blade Pro X6, I thought the process would be a little like reviewing a remake of a great film classic. To some extent, I found this to be true, as the Blade Pro is the 2013 rendition of one of the most popular face-off heads ever and is built to be the ultimate midfield head. I wasn't sure this "remake" could stand up to the glory that has been bestowed upon the original, but I was pretty impressed with this head after taking it through a workout including tons of wall ball and shooting.
Appearance… +7.5
I'm still getting used to this whole "X6" phenomenon, and the shape of all X6 heads remind me of the old box-specific heads Warrior used to make. However, I can't deny that this head looks pretty great strung up with some fresh white mesh. There's certainly nothing wrong with a clean classic look!
Stringing… +5.0
Full disclosure: I don't string sticks. For whatever reason, I never really started to string as a kid, and for about five years I had all my sticks strung by my partner in crime of my high school's two man game on attack. Since he was a year ahead of me and moved on to college ball, I've had a few other guys string my sticks since he graduated, but I haven't let anyone who wasn't on that high school team string my sticks until very recently. Call me superstitious if you want, but I played with those guys from youth through high school, and I trust them to know how I like my sticks strung.
So this time around, I had my former high school goalie, who now coaches at my high school, string my head. Here's what he had to say: "It was easy enough to string [and] I got the pocket I wanted on the second try. There weren't as many sidewall holes as most sticks nowadays like the Clutch, which is what I use and usually work with. The lack of holes didn't affect my stringing, but I would assume it limits the overall ways you could string it."
Stiffness… +10.0
This head is built for facing off, and its stiffness fits that perfectly. It is really stiff at the top and has stout sidewalls for support but is also flexible enough to really dig in on face-offs. The stiffness also lets it have a nice "bite" on checks. Midfielders, especially face-off guys, will love this head, but I think it could work for attackmen as well. The Blade Pro also has a new "Pro Scoop" that makes it really easy to pick up ground balls.
Durability… +7.5
Besides having great stiffness and solid sidewalls, the head also has a little bit of a longer throat which provides even more support. All of this is important because as a face-off head the Blade Pro could see a lot of twisting and bending. I think Warrior did a great job reinforcing it though, and it should stand the test of time just fine.
Value… +7.5
The Blade Pro X6 is only $84.99. For the sake of caparison, the new Rabil head is is $99.99 and an Evo 3 X is $89.00. This puts the the Blade Pro X6 at a cheaper price than other high-end Warrior heads despite being a pretty great choice, especially for FOGOs or middies.
OVERALL SCORE: 7.2/10
I think Warrior has another winner with the Blade Pro X6. While it's nothing revolutionary, this head simply does a lot of things well, and there isn't much more you can ask from a stick. One thing that should be mentioned, though, is the lack of offset in this head. It truly is designed for facing off, so it may take some getting used to for guys who've played with deep offsets their whole career. However, with the stiffness and reinforcements to both take a beating at the face-off circle and give one on defense, the Blade Pro X6 seems ideal for middies and FOGOs.