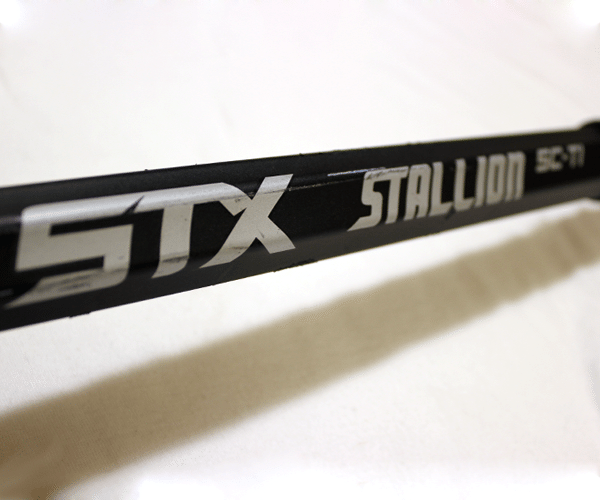 [rwp-review id="1″]
Company: STX Lacrosse / Product: Stallion SC-TI Shaft / Price: $149.99
STX has been releasing a ton of new gear over the past year, the Surgeon stuff, Shadow line, more Stallion gear, and even talks of K18's next line of gear to come out as well. We got our hands on a few of their shafts and will be reviewing them in the upcoming weeks. Today, we are checking out the muscle hamster that is the Stallion SC-TI by STX Lacrosse.
The Stallion SC-TI is the successor to the SC-TI Pro from previous year. This shaft is said to have a little thicker sidewall for added durability, so we are super excited to see how it performs. On we go!
Appearance… +10.0
STX offers this shaft in five different options (black, gray, dark gray, red and royal) that basically covers all your key school colors. With a very clean design, it is hard to be upset with the look of this shaft.
There is no more than a silver (or black) 'STX Stallion SC-TI' printed on each side of the shaft and that's what makes this great. I really enjoy the dark gray option, I've seen a few other companies test out that look as well with the matte craze coming into play.
Grip… +7.5
I can't decide if it has a slightly gritty finish or nothing at all, either way though, I kind of like it. I ended up adding tape to the top and bottom because it did feel a little slick after starting out without any. I prefer shafts like this because it allows you to decide how much grip you want on your shaft.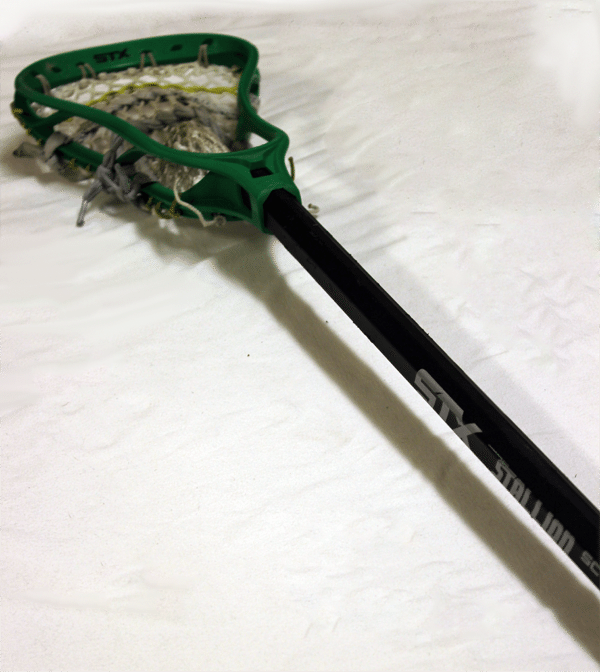 The shaft gets a deduction for grip though because not everyone may like the slick feel of the stick. Without tape, there is a noticeable difference that I could tell once my hands started sweating more and the stick was slipping a little bit.
Weight… +10.0
The Stallion SC-TI is marketed as the stronger shaft between it and the Surgeon. It has a little thicker of sidewalls, which does add to the weight a little bit. The Stallion weighed in at 5.8 ounces (5.7 on its end) which isn't heavy by any stretch. Even when compared to its lighter counterpart the Surgeon SC-TI, it still only weighs in .5 ounces heavier.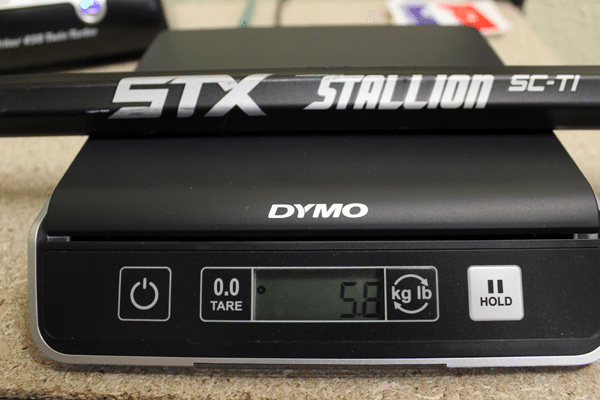 Top of the line shaft, under six ounces, I'd say that is a full score for sure. Granted the difference of an ounce or two is hardly noticeable when you are playing, having a light stick to start out with is always beneficial.
Durability… +10.0
This is obviously its major strength. When a shaft is boasted as having a thicker wall for better durability, it better be durable. As soon as I picked this up, I threw it indoors and even had some of my buddies try it out.
Any damage to the shaft is purely aesthetic. As you can see below, there are a few scratches from other sticks. No dents, no dings, just a couple scuffs for added toughness.
The added thickness of the shaft is really going to help bolster it up throughout each season. I've already seen a few of these in use at the collegiate level, but I foresee this being a go-to for many STX/Nike schools. The Stallion is tough as nails.
Value… +7.5
Before we even talk price, let me remind you that this is STX's top of the line shaft. That said, it rings in at $150 for shorties and $200 for any defensemen looking to pick up some new artillery. $150 is steep, I'm not going to argue that, hence the small deduction, but that is where I'll leave it.
If you are asking for a shaft like this, don't be surprised to shell out a few more dollars for the extra quality. STX even put a nice video together explaining the technology behind the shaft and the differences between the Stallion and Surgeon handles.
Overall… 8.8/10
If you are looking to purchase a shaft that should last you for several seasons without any sign of wear, then I would highly recommend the STX Stallion SC-TI. Personally I'd shell out the extra dollars to a better product. Look at it this way. If this shaft last you two years, it's the same as buying to $85 handles; three years, three $50 handles. That's added value in my book.