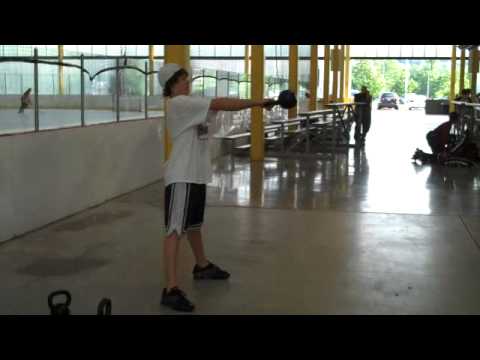 This Week's GET JACKED! – Scott Umberger is back with a workout article perfect for staying in shape over the summer.  If you can't always make it to the gym, you're going to need a simple, effective way to stay in peak condition.  Welcome to Kettleball Workouts 101 with your video professor Scott Umberger.
No Gym? No Problem.

Scott Umberger > GET JACKED!
Quote of the Week:
All life is a chance. So take it!
The person who goes furthest is the one
who is willing to do and dare.
– Dale Carnegie
I haven't posting in a few weeks so I'm going to set you up with something special.. It was suggested that I provide video for you. What can I say, I got a Flip Mino HD and I'm addicted.
Here are some videos on cheap things to do when you don't have a gym to go to. I'll set you up with some more vids and ideas in the weeks to come.
Kettlebells are a bit more expensive at about $2 per lb. So they may cost you between 60-$120. You don't need 5 of them. 1 or 2 will do and you can fit them in your trunk and work out in you bedroom, living room, even your office.
Today will be all about Kettlebells (KB). I don't want to give you too much to watch at once.
Note: Hover on the
symbol to see pop-up video examples of each lift
Kettleball Lift
Olympic Lift Variations
For these lifts I would suggest 3-10 sets and keep reps under 8ish. I typically recommend under 6 reps but with KB's it depends on the weight.
2. KB Clean
rotate the bell around your wrist. Don't allow the KB to flop
4. KB Snatches
This lift is advanced and hard to do correctly. My form isn't perfect.
If you're on the following media platforms, connect with me:
__________________________
Scott Umberger is the owner of Umberger Performance and can be reached through his website or email at scottumberger@gmail.com
Scott Umberger has worked with high school, college (athletes from 20 different NCAA schools), and professional athletes(MLL, NHL-ECL, MLB, CHL, NFL, NBA, World Championship Games, and Arena Football I & II), 3 All-Americans (track, swimming, hockey), a Biletnikoff Trophy Winner (top DI Football Receiver), 2 Hobe Baker Trophy Finalist-top 3 and top 10 (Heisman Trophy of College Hockey), a top 10 NCAA scorer in Men's Hockey, a member of the USA U-22 Woman's Team, FINA Master World Championship Qualifying Swimmer, current Olympic Hopeful Javelin Thrower, ECAC/IC4A qualifying track hurdler.