My first full day in Thailand for the GTG Invitational provided the perfect way to ease into new surroundings: lacrosse practice. There is nothing else that brings people – and cultures – together as quickly. Ten minutes in and everyone was on a first name basis.
The four Americans present (5 more were still on their way) were a bit rusty from the plane ride in, but luckily we had an Aussie in the pack who had arrived in Bangkok a day early (AM, not PM… check).
Team Australia's Glenn Morley coordinated the practice. Glenn had us partner up for a few drills, which made for a good ice breaker with the Thailand lax players, and then we got right into fast-paced drills.
A starting defender for Australia, it was clear that Glenn knew what he was doing. He used our short practice time wisely, kept the lines short, and incorporated shooting right away. This helped us Americans stay focused and forget about the heat and humidity. Seriously.
Here's a quick interview I did with Glenn on the fly. He does a great job answering questions to an unprepared reporter.
Thanks Glenn. What an accent!
During the drills portion, Thailand Lacrosse goalie Alex Watanawekin wore a helmet cam that Glenn smuggled through customs.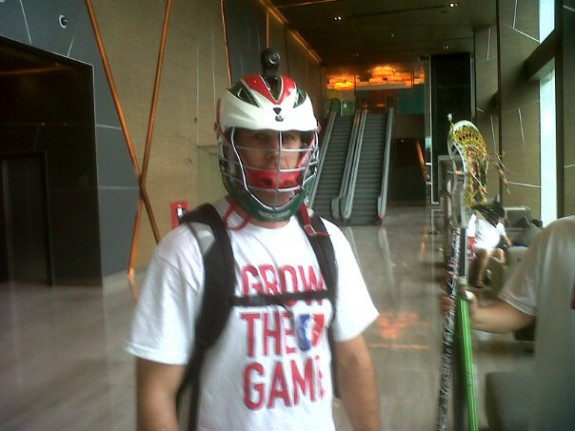 As some of you know, Alex is the starting goalie at University of Utah. Born and raised in Bangkok, Alex is humble, softspoken, and WAY quicker than you. After watching him play this past week, many of us left Thailand away agreeing a player like Alex would be a huge asset for any college team.
Check Alex's helmet cam footage below. Big Willie Style!
P.S. – Watch it in full screen for the full effect!