Welcome to another Hot Pot!  I think this week's post has some chicory in it.  Delicious French Market coffee.   I'll be covering how players can make the most of the winter season, no matter where they live or what level they play at.  It's an important time of year for lacrosse players and it can be a make or break portion of training as it relates to spring performance.  It's grind time, and the winter is what separates the winners from the losers.
While the approach and intensity level can vary greatly between a middle school player and a Division 1 athlete, there are three main points of focus for any laxer getting ready for their spring season: understand the game a little more, keep your skills sharp and become a better athlete.  One obvious way to accomplish all of the above is to join a winter league, at least if they are available in the area, and if the player isn't participating in a winter sport.  But that's not the only answer because there is a lot any lax enthusiast can do on their own.
I'll knock out skill building first.  Hit the wall.  Hit it a lot and hit it consistently.  Wall ball guarantees improvement more than any other single training method.  It builds confidence and real skill that anyone can use in a game.  The wall is a player's best friend during the winter.  It lets a player work on everything and keeps the repetitions high.  The wall gives back what the player puts in.  It's a skill builder through hard work.  Ok, some do live in wood clapboard houses in the country and there isn't a wall nearby, so they can only get wall ball in 1 or 2 times a week… but don't worry.  Just holding a stick  and cradling as a one walks around the house can help.  Don't break stuff in the house, and don't blame me when it happens because I said DON'T break stuff.  Make the pocket in the stick smaller and work on feel and good form.  It may seems silly but it will help.  Can't play inside?  Bundle up and get outdoors.  Dodge snowmen, trees, or parked cars.  Practice off hand ground balls.  Throw 50 around the worlds to yourself on the way to school.  With a little creativity there is no shortage of skills that can be worked on.
When it comes to understanding the game more thoroughly, the internet is your friend.  When I was growing up the internet was nothing like it is now.  NOTHING.  It was slow and really quite useless, at least to me.  I probably looked at every single piece of lacrosse info out there ten times, now I couldn't do that once.  The number of resources out there are truly staggering.  Want to learn how to become better at face offs?  Check out FogoLax.net.  Want to be become a better longpole?  Check out LongStickMiddie.com.  Need someone to explain the recruiting process?  Joe Alberici of Army will explain it on Youtube.  Want to learn the rocker step?  Ned Crotty and Trilogy Lacrosse have a video on that.  There is a wealth of information out there, and if someone is reading this I'm going to assume that they have internet.  No excuse here except for a power outage.  But that's dodging snowmen time anyway.
If a lacrosse-player-in-winter-training happens to live near a really good and experienced lacrosse player, who is willing to share their knowledge (most are), then take advantage of that.  Ask questions, have a weekly game of catch, ask them for tips and pointers.  Talk about the game of lacrosse, listen and learn.  Knowing the history of the sport and other people's perceptions and stories can do a lot to open an improving player's mind.  Learning is good, so get as much of it in as possible!  Watching old games films on tape or DVR is also excellent.  Watch the off-ball players, look for offensive sets, teach yourself to recognize when a team is in zone.  Get more out of each game film each time.  Keep learning and keep looking.
Finally, we get to becoming a better athlete.  I left this for last not because it is the least important, but because it is the simplest: Just DO it.  Nike has it right.  Play a winter sport.  Join a winter team.  Run 5 miles a day.  Lift.  Join the pushup club.  Run in deep snow.  Run on the beach.  Go hiking or climbing.  Just be active and work hard when you're doing so.  People try to over complicate training sometimes when they get into the science of it, and for higher performing athletes, this is totally fine.  But for kids up through high school, and even college, the point is to just be active.  Get out and DO something.  Elevate the old heart rate, compete with someone at something.  Get the mind and body in sync and make it happen.  It doesn't matter where you live or what the weather is like, sitting on the couch is a CHOICE.  Get out and play… something.
As the level of play goes up, specific lifting programs, running, etc will be added on, but the above still holds true.  Build up skills.  Learn the game.  Be an athlete.  Do this and the spring can be yours.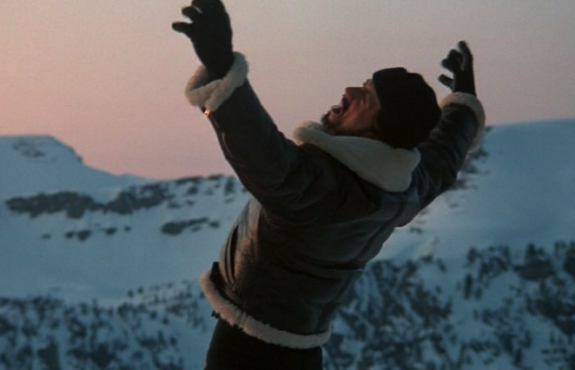 ______________________________________________________________________________________________________
LACROSSE IN OTHER NEWS:
– Maryland won't play Towson in the regular season for the first time since 1990 | Washington Times
– High Point makes moves and is bringing in 18 recruits | HPU Panthers
– Lax coming to Sacramento Country Day School? | The Ooctagon
– Watch the NLL because other sports are filled with bad guys | InLaxWeTrust
_____________________________________________________________________________________________________
LACROSSE VIDEO OF THE WEEK:
I'm still thinking this Crooked Arrows movie looks pretty solid…