Playing lacrosse is a truly special bond that many players in our sport share.  But I think I can speak for the majority of my fellow laxers when I say that we all share in the belief that it is more than just a sport.  Laxallstars.com in particular preaches to the community and corresponding lifestyle aspect that comes along with lacrosse, so it is the perfect place to tell my lacrosse story.
I grew up playing basketball and soccer.  But I never felt the same about those sports as I do Lacrosse.  Maybe it was just timing or random coincidence, but I feel like there is something incredibly special about Lacrosse that sets it apart.  It's almost supernatural… and this got me thinking.  How has lacrosse truly impacted my life?  It didnt take long to come up with the answer: in every single way.
Lacrosse has single handedly become responsible for the life that I am currently living.  The best that life has ever been.  Lacrosse is responsible.  "How?", you may ask…  Let me divulge the details.
Subset Case #1:  Because this case is not as firm, it is going in a subset prior to the definite examples.
Had I never played lacrosse, I would not have been a part of the 2003 "state championship" (parenthesized because it was not officially recognized at the time, even though it definitely was) Bishop Kelly Knights lacrosse team.  Had I not played on this team, I may not have forged some very enduring friendships, and may not have become friends with Jeff Brunelle (Co-Founder Lacrosseallstars.com) and I would definitely not be writing about my passion online for all two of my viewers to read.  In addition, I would not be one of many founding members/players of the  now infamous Woozles Lacrosse Club.  Actually, this is a pretty strong case.
Case #1: My Family.
I met my wife, Stacey (then a T.A. for one of my classes – total cougar), while I was attending Notre Dame de Namur University (NDNU – NCAA D2) in California.  There is no chance that I would have ever heard about this school unless I had been recruited to play lacrosse there.  And the fact that I firmly believe that I was solely recruited because I had a good 1 mile time at camp and had good grades is beside the point.  Nonetheless, I would not have met my wife had I not been recruited there for lacrosse.  I would not have started dating her a mere 7 ½ years ago, she would not have moved to Idaho for me, and we would not have our wonderful 18 month old son, Landon.  Lacrosse changed my life forever.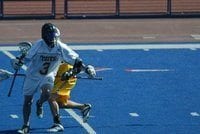 Case #2: Unintended Consequences
Had I not gone to NDNU (due to lacrosse), I would not have ever transferred back to the College of Idaho (because I would have gone to Gonzaga University – a decision that I have always wondered about since first making it – and have dreamt about until this day) where my life changed further.  During this time, I met some of the most amazing people in my life, and many are still in it today.  I reconnected with Matt Gier (1/2 my Big Guys), Blake Gaudet, and a number of other old pals from Boise.  In addition, I met some of my best friends during my junior and senior year at CoI in Jared Smith (Godfather to my son – yea, it's in writing buddy, you aren't getting out of this), Marc Ewins (our Dupree), Bo Bahr (other ½ of my Big Guys) and everyone that was on the College of Idaho's Lacrosse team.
Again, some of the most amazing people that are in my life are there because of Lacrosse.  It was an adjustment to go from flying across the country with NDNU to play lacrosse to traveling throughout the state of Oregon in a 15 passenger van over the weekend with College of Idaho, but somehow it was equally amazing.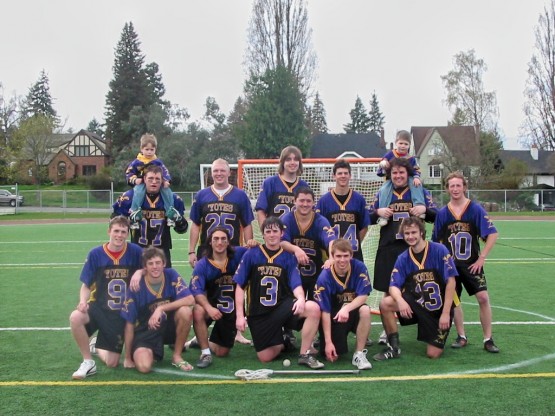 While at the College of Idaho, I decided that I would take on an Education Minor and following graduation, I would go for my Masters of Arts in Teaching.  I dropped out a few months in and at the time moved to Reno, NV which ended up being perfect timing to gain employment with a social work agency and start my newest career.  To this day, I have pledged myself to the field and have started my Masters of Science in Counseling and plan on spending the rest of my life in this field.  Lacrosse again changed my life forever.
Case #3: Playing With The BEST
Had I not moved to Reno, I would have never become a member of the Tahoe Dawgs Lacrosse team, one of the best teams ever created.  Earlier today, I found myself hysterically laughing over a Bookface post that a fellow Tahoe Dawg made on my wall about rehabbing his knee to prepare for an open field check on me.  Without the Tahoe Dawgs, I would never know about the Fresno lacrosse tournament, Laxtoberfest in Squaw Valley, or last but certainly not least, the Tahoe Tournament in Incline Village, Nevada (I'm claiming it – top 3 tournaments in the world).
Through this tournament, I have been able to share the field with such greats as Ned Crotty (Duke Legend – Team USA), Ryan Powell (Legend – Syracuse), Colin Briggs (UVA), and Roy Lang (Cornell), amongst many other top D1 players and professionals from around the world.  It's truly a special experience.  When I tell my friends and co-workers that I literally played lacrosse on the same fields as the Michael Jordans and the Lebron Jameseseseses of the World, it does not seem to sink in with them how amazing that is.  Connor Wilson often speaks of playing lax against Paul Gait (Legend!) and this is truly one way in which our sport is completely different from all others.  When I say Lacrosse has changed my life forever I mean Lacrosse has changed my life forever.
When I say lacrosse is different, I think every fellow laxer out there will agree.  When I first started writing this article, It began as a 1 ½ pages (single spaced) and that only encompassed my life as a lacrosse player up until my freshman year in college.  To trim it down to this much was difficult.  There are numerous other examples of how Lacrosse has changed my life, but I didn't want to ramble in the article.  The fact is, I easily could have pontificated on any of the following: winning a state championship with the Bishop Kelly Knights in 2002.  So many summers filled with my fellow Woozles.  Vail Lacrosse Tournaments.  Coaching such inspiring youth as on Team Idaho and Vallivue High School.  The list goes on and on.
Nonetheless, everyone on here knows Lacrosse is different and it truly changes lives.  So, from here, I issue a challenge to the rest of the staff of Laxallstars.com; I want to hear your stories…  How did Lacrosse change your life?
And you know what?  Let's up open it up to everyone!  Friends, family, and loyal readers.  How did Lacrosse change your life?  I know that I am not the only one.  Lacrosse has changed my life forever.  So, how about yours?  Responses will be selected for publication on Laxallstars.com and can be mailed to info@lacrosseallstars.com!
Shoot us an email, attach a word document, include some photos… go crazy with it!  When you send in your submission, make your to put "HOW LACROSSE CHANGED MY LIFE" in the subject line of the email!