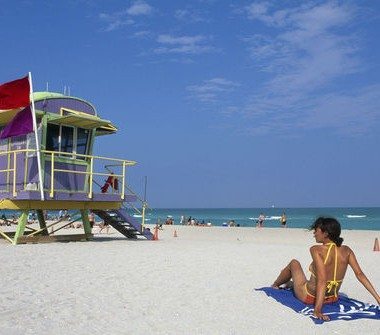 Editor's Note: Welcome Joey Garcia to LaxAllStars.com! Joey will be writing about lacrosse in South Florida for us, and even though he's still just a young gun, we have faith that Joey has a bright future within the sport of lacrosse!
__________________________________________________________________________
Yes, I'm the new guy. Yes, I'm from Miami. My name is Joey Garcia and I'm an attackman for the Miami Stone Crabs and for Belen Jesuit Wolverines. By the way, I'm only a sophomore… in high school. I wanted to join the LAS crew to write about the lacrosse community in South Florida, and more specifically, Miami. Lacrosse here is starting to grow quickly with several clubs that have several age groups from K-2 all the way to U19 teams. But enough of me, let's get to the good stuff.
Like the title says, I'm going to have some fun designing gear, and picking a location, for a hypothetical MLL team. It's going to be called the Miami Vice. I chose the name Vice because I have always been a fan of the idea of singular team names. Obviously the team is also named after the famous TV show, and it just fits and gives the opportunity to have a crazy-colored MLL team.
The reasons why I chose Miami for my team is because I live here, during the MLL season the weather is great (not too hot, never cold), and I'm sure lots of people would come to games due to how unique the sport is, and how many people are playing or putting their kids in lacrosse. The Miami Vice would play at Sun Life Stadium because it's the only decent stadium in the Miami area and it is located (more or less) between Miami-Dade and Broward Counties. Now that I have the location and name covered, let's get to the gear.
As you may – or may not – know, the MLL now allows non-Brine/Warrior equipment, so I chose STX because they have the best color known to man… Pink. You can't have JUST pink, right? Right. I decided to go with mostly pink and carolina blue, but I chose to throw in a little lime green to break up the cotton candiness of the pair. Anyway, I went with the STX Cell II line because the colors fit the best on this line and come out nice and clean. So let's get to the gear, shall we?
The equipment will be all be in this order: home and away.
I'll admit that evreything looks kind of cotton candy-ish, but it definitely looks pretty cool and I could imagine cops on Miami Vice wearing these… with their linen suits.
These gloves look very cool and I'm in love with the neon green numbers because they belong there and don't belong there at the same time. It's Gloveception. They're great all-around gloves; perfect for any position, nice and light.
These are great arm guards for attack and middies who want more protective arm padding. They're not too long or too short; a great medium, indeed.
Now that I've got the gear picked out, the team name is done, and I have a stadium all picked out, all I need are a couple heavy-hitting investors to make it happen. Who's interested?