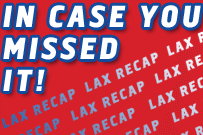 It's been yet another great week of lacrosse content on the good ol' internet!  We'll recap ALL of the week's must-know action by topic so that you, the lacrosse enthusiast, doesn't miss a thing.  One of the best posts of the week had to be Nicole Dyrdahl's A Unique Game: Tradition and History in Lacrosse.  It was inspiring and vitally important to the GTG movement.
And speaking of the Grow The Game movement… we can't forget that this was the week where we announced the first annual Grow The Game Award winner!  This is going to be a yearly award, and it promises to only get better with time!  Congrats to KF for his win, and thanks to KF for all the works he's done to GTG!  Oh, and The State of the Game: Baseball Rebuttal was classic!
College Lacrosse Season Is Already Upon Us:
College Lacrosse Weekend Preview.  Is A Passion for Lacrosse Enough?  Salisbury's first practice.  The Gulls are for real… again!  Colorado is adding D1 Women's Lacrosse.  Furman University may add D1 Lacrosse.  Limestone scrimmages UMBC.  24SevenLax has photos!  Argh, there be young coaches in the GRLC, matey!  2012 College Lacrosse Preview Video by Josh Lane.  News and Video from around the MCLA.  ND picks up Jason Lamb as the Director of Lax Operations.  Speaking of the MCLA, Minn-Duluth announces captains.  Red Hot Buffs – Club Ball.  Idaho coach speaks out about 2012 season.  Indiana has some fun.  Coast Guard announces captains.  A little early season MCLA mash up!  Chapman gets a season preview via video.  Davenport starts out as the #1 team in MCLA D2. The Ivy previews roll on over at lax.com.  The Forum Polls are up on LaxPower.
International Lax News:
Photo of the Week came at us from a land down under. Hot Pot Of Lax: Lacrosse the world!  Thailand teams up with True Vision to increase awareness and create more VIDEO!  Video from Norway.  The US isn't the only place for Old School!  We take a trip to Australia to check out the Bayswater Lacrosse Club's closet.  Italy?  International Lacrosse Rumors.  Some UNREAL international team uniform mock ups by Enigma.
Box Lacrosse – Battling, brawling and Balling:
NLL Week 5 Preview. 2012 has turned the league Upside Down Face.  Iowa Box Lacrosse Finals Preview.  NLL broadcasting games on ESPN3.com.
The Newest of the NEW NEW Gear:
Red Hot Buffs whip out the best black gloves of the year.  Pfeiffer gets gold gloves.  They just keep coming!  Nebraska unleashes a PLETHORA of new gear.  Best JV lax mittens ever?  Braintree High School.  Hopkins gets another set of Nike lacrosse gloves.  They're fabulous.  FREE SHIPPING from Lacrosse Panda for February!  LAS Practice Packs Revealed!  Warrior's Regulator gloves investigated by 24SevenLax.  Alma College enters NCAA DIII with Cell II style.  What if Indiana had helmets like this?  Pitt Johnstown has new uniforms.  ZimaGear will sponsor THESE schools.  Denver's lacrosse cleats are TRULY special.  Maryland should get THESE gloves from STX. Beastion.  Terps DROP Under Armour gloves and heads.  Go back to STX.  These Regulators were cleansed along the shores of Lake Minnetonka. Gait glove explosion.  More Gait. More Gait. 412 GIFs off of Colorado's KILLER gloves.  Wingate gets custom Cell IIs. pretty pretty.  Bama's 2011 Nikes.  412 LOVES ASU's Brine gloves.
Training, Coaching, Knowing:
Paul Carcaterra's Wall Ball Bizzer.   Indiana knows about the Super Bowl, but probably won't go.  Quora your lacrosse question.  We dare you.  The Stick Doctor: Lessons from Stick Stringing.  Kyle Harrison visited Eagle Academy in Brooklyn, NY!  It was super awesome.  Connor was there!  The Idaho Lax Association 2012 Summit!  Coach Tumbas shows up in an InsideLacrosse video.
The final posts we want to call some attention to are from Trevor Tierney and Ben Allison, and they discuss the growth of the game in urban areas, and how it specifically relates to Ben's effort with Denver City Lax.  Their answers were so good, and so in-depth, that we had to split the post into two pieces!
Tier Lacrosse Growth In Cities Part I
Tier Lacrosse Growth In Cities Part II Updated with VIDEO!
Bonus:
Looking for some culture?  Look no further.