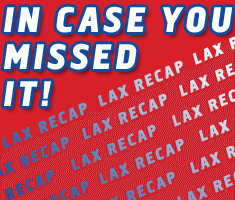 What a fabulous week of lacrosse we just enjoyed!  There was SO much great content on LaxAllStars.com (and on ALL of the blogs!) all week and there's been some solid stuff going on with some of the other sites out there too.  As we do each week, we're putting together ALL the content from the last 7 days, keeping it all in one place, and doing it just for you. And you. And, of course, you.
We'll highlight a couple of our top stories up front, and then provide links to EVERYTHING else!
It was a BIG week as welcomed Lacrosse Beauty to the network, and they reviewed the movie GOON, and somehow managed to turn it into a PRO fighting in sports piece.  These guys are brilliant in their own way, and we're pumped to have them on board!  Oh, Canada!
Brown State Lacrosse takes on UMass this weekend in a big game for both squads.  Brown got a visit from the Iroquois Nationals in the preseason, and then practiced in the snow!  It all made me miss college very much.  The Game of the Week, however, is Cuse at Virginia, at least according to Ryan Connors!  For a full run down of all Lacrosse on TV for 2012, look no further!  For a full college lacrosse Weekend Preview, CW has you covered.
Speaking of college lacrosse… could these two SIMPLE rule changes "fix" the game?  Connor likes this idea better than a shot clock, at least for now!  The shot clock is just too big of a change.  We wonder if the author of Lacrosse: The Ancient Game would agree!  Read it and find out.
College Lacrosse
There is just much going on with college lax right now!  If you want to play lacrosse in college, this post is a MUST READ!  Then, you need to read this post by Richard Roy.  It's VERY informative.  We have killer Syracuse – Army photos by Tommy Gilligan. Tim Desko can score one-handed. Maryland – Georgetown photos? Um, ok!
IU gets ready for their first game of the year.  It's time!  And a player perspective.  We have an SELC D1 Preview. And an SELC D2 Preview.  UMD wants to be the top dog!  Who doesn't? They already won their In-State Game.  Penn – Duke highlights on Lax.com.  Salisbury gave up one goal and lost one face off to McDaniel.
The Idaho Vandals dropped a little photo blog action on us from their Trip to California.  Illinois Head Coach talks Illinois Lacrosse.  We talked about Games to Watch on Wednesday.  The Clemson Tigers blogged about Redemption.  They got it, big time!  Richmond is doing well and rolling along. SELC D1 Power Rankings.  SELC D2 Power Rankings.  We have a little PNCLL video action.  Oregon State takes down Simon Fraser.  Loyola takes down Towson!
Want to go D1?  Try out for the Under Armour All-American games!  Or just go to Salisbury, a team that Should NEVER Go D1 in lacrosse.  Stevenson and Hampden-Sydney combine for penalties galore.
Clemson, GTech and FSU photos and recap.  The Red Hot Buffs went to Colorado Springs to scrimmage DIII Colorado College. What did we learn about the SELC D1 this week?  How about D2?  Texas and Ole Miss both won at the Sugar Bowl in New Orleans.  CW recapped ALL the weekend action from last week!  Coast Guard opened with a win!  Pay attention to the MCLA notes.  Oregon beats Sonoma State – Video Highlights.  CSU beat Chapman.  And SFU.
Ty Xanders breaks down the NCAA D3 Power Rankings over on Inside Lacrosse.  Ty is also participating in the D3 picks contest on Cac to the Cac, run by SwankLax.  Connor needs to step his game up over there.
Grow The Game!
What a week of game growing!  We announced our February Game Grower of the Month, and we featured an inspiring story on how the lacrosse club at Hampton University was started.  We asked if Lacrosse Gear is holding back Our Sport?
We talked about wall ball some more, but this time we said parents should be playing too.  It helps Grow the Game.  See why!  Want to know about Idaho Lax?  TWIL (This Week in Idaho Lax) has you more than covered!  The ArtofLax talks advertising and why it's important.
All For Fun and Fun For All
Our Caption Contest for Woozles shorts by Pro Athletics got a GREAT reception!  The MCLAFan Photo of the Week is really taking off.  Some FANTAStIC submissions so far!
The Thumbspiracy is back in our Photo of the Week!  Quinzani would be proud!  ESPNU needs a new theme song now that Jarted Leto's mohawk is gone.  What you got for us?  Sometimes you just have to have some fun!  Ask Payu does just that on the TLA blog!
Lacrosse Gear
Two Aussies got two dyed and traditionally strung heads from CW.  Homemade dye style!  IU is finally going to have cream in their color scheme in 2013.  Those helmets look gorgeous.  IU got their 2012 Brine Messiah gloves.  Thailand's new T-shirts go to 11.  None more bright.  The Blarney LC gets new uniforms.  SWEET old man lax!  You want Old School?  Jimmy Ciccone opened up a closetand now has you covered!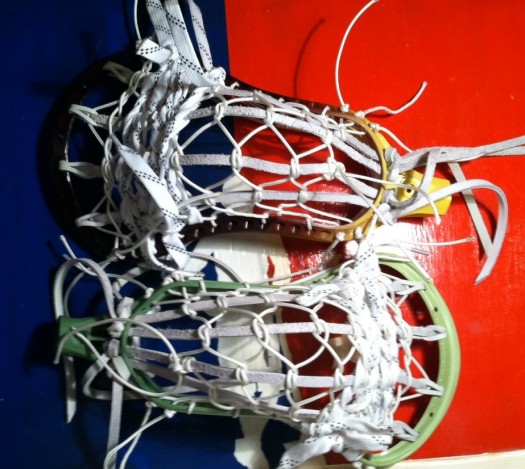 412 does Glove Chatter.  St. Cloud State gets mittens.  Arizona has an online store.  Cooper's LC gets snazzy new head buckets.  That's a lacrosse helmet btw.  These Zima Gear decals are pretty legit too!  You want ties?  412 has ties.  412 also has lots of Nazareth lacrosse gear.  The UMD – GTown game was a well dressed affair!
On a Sadder Note…
LPG posted the story of Joe Cieslak Sr, who died while reefing an NCLL game last week.  He was a longtime member of the lacrosse community, and Joe will be greatly missed.