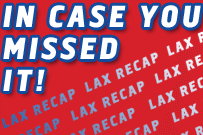 There was a lot going on this week in the lacrosse world, and since you were probably out there playing, coaching, or watching, you may have missed a notable piece of information from the last seven days.  But have no fear, because I'm going to run through all the big time news, video, gear, scores more to make sure you're caught up.  Super service!
I'll run through a couple of the bigger stories we had this week, and then I'll drop the rest on you under different topic headings.  Let's get to it!
I argued Hopkins was holding back, and that the rest of NCAA D1 should be a little scared.  It's a trend.  People are bagging on Ranagan and Greeley's shooting though, which is pretty fair.  Maybe they should follow the UVA method and shoot straight overhand more.  Or maybe Hop should play more takeaway on defense?  Eventually they may have to.  Everybody will be doing it.  Or will they?
On a slightly less hypothetical note, we also have a post on WHY Lacrosse Parents Should Play Wall Ball.  It's the hidden benefits really.  And we also talked about how parents, coaches and players can save money but still play lacrosse!  Guest blogger Richard Roy also added to the helpfulness department with his post on homeschool kids and college lacrosse.
And in preparation for the Thailand – Singapore Friendly Game, Payu has a Game Week Quick Note post worth checking out!
Weekend Action:
Ryan Connors picks UNC – Princeton as his Game of the Week… should be a good one in Baltimore!  Speaking of Bmore, the lax mastermind that is Tom Huppmann breaks down ALL the Maryland area lacrosse worth taking in this weekend over on 24SevenLax.  Well maybe not ALL of it… but most of it.  All would be impossible.  It's Maryland after all.  There's just so much lax.  And back on LAS, I break down ALL the top college lacrosse action this weekend.  It was exhausting work as usual, but worth it.
College Lacrosse:
The guys at 24SevenLax took in a HUGE upset when UMBC beat Maryland.  We had up sweet Princeton – Hopkins photos from Tommy Gilligan this week.  And UCSB heads to California, does good, and beats Cal Poly in OT in a HUGE game.  Then they make an awesome 8 minute video about it.  Gophers Lacrosse experiences the Motel California on their trip West.  IU Practice Photo montage. Colorado gets going.  BYU doing work on the recruiting trail.  IU vs Toledo Photo gallery.
We got some MCLA recap action from a crazy weekend.  These Krieg Shaw posts are always chock-full of excellence! Minn-Duluth isn't done yet!  I previewed all the Wednesday games worth watching.  Most were good!  IU – Illinois State Game Photos.  Tumbas reacts to stuff that happened.  Laxpower gives you ALL the polls in one place!
Penn State Club Lacrosse raises $57,000 as a part of THON to raise money to fight pediatric cancer.
What happened last weekend in college lax?  Don't worry, I've got you covered.  Weekend Recap.  Oregon Lacrosse doubleheader weekend player blog.  Top quality stuff.  SFU beats Florida, regains bite.  Good pun.  Monday on MCLAFan was Highlight Monday.  So many highlights!  And we have FSU – Miami highlights.  Florida college lax!
Random Fun Stuff:
Join the LaxAllStars March Madness Bracket Challenge!  It's fun, free, and you can win swag by knowing your Bball!
Check out the random Fun Friday Photos and Video Post.  Lots of good stuff in there.  Quick hitters.  Boom, Boom.  Dave Shuma treats us to some West Chester Univ Old School!  It's the MCLAFan Photo of the Week!  Always Classic!  The LAS PotW ain't too shabby either!
Only 412 can mock Pittsburgh.  I think yinz guys need thicker skin.  The UNDER face dodge is taking off.  I've been practicing all week.  Look out ULax.  Caption Contest anyone?
Do you like ESPN's new lacrosse anthem?  Yeah, us neither.  At least Warrior got it right with Rabil.
Interviews:
Ryan Powell, Syracuse grad, sits down with John Galloway, Syracuse grad, and a great interview ensues!  Of course, Galloway loves Dinosaur BBQ.  It's THE answer, not 42.
Gear, Gear, Gear… and More Gear:
Wow.  This Thailand Volt Helmet is just a super special lacrosse dome.  I want one.  Badly.  TLA kills it with fashion sense.
Rhode Island also unveils a new helmet and while it's a more traditional take on a lacrosse helmet, but it still looks fantastic.  The Brooklyn Lacrosse Club gets new uniforms for 2012… I only have one thing to say here: BROOKLYN! New Wave Merch.  The NALL still seems to be in flux, but the Boston Rockhoppers are geared out anyway!  A rockhopper is nickname for a penguin.  Men's club team shooters always need to be fresh.
American Revolution uniforms.  Tim Desko wears two different socks. Gasp?  Coast Guard gets new helmets.  Love the stickers!  Easton recalling helmets?  We'll have much more on this soon!
And we'll end with some beautiful traditional work.  BOOM!!!!  Colored Leathers.