Editor's Note: The Salt Shakerz Invitational Lacrosse Tournament is just around the corner (June 25-26th in NYC) and the team previews are still coming in hot and heavy.  This time we've got Scunion Nation, and these guys are looking to take home the 'ship it seems!  Let's get right to it… Take it away Shakerz!
_________________________________________________________________________________________________________________
First of all, what's in a name anyway? What is your team name and how'd you pick it?
Our name is Scunion Nation, which is based off of an after-practice firing (aka shooting) squad that me (Pat Brennan) and Garrett Thul had the opportunity to be inducted into during our plebe year at West Point.  Scunion Commander (aka the man who started the squad), 2nd LT Tyler Oates, brought together the best, and hardest shooters on the team to shoot everyday after practice on a goalie.
Rules and regulations include:
-only shooting upon receiving a pass
-you CAN NOT shoot lower than the goalie's hip
-NO BOUNCE SHOTS
-and finally, all shots must be beyond 13 yards.
The word "scunion" was the creation of Scunion 1st SGT ret. Sean O'Sullivan, who was taken from us by the man, unfortunately.
It is an all-encompassing phraseology, so if you rip top ched, the response is "scunion'.  If it's a dirty shot, the reply from our teammates is, "Scunionnnnnn".   It's very original and will hopefully carry on. SO… based off our respect for our alumni and our patriotic friends from others schools, we picked the name "Scunion Nation" because we will only be shooting top shelf and reppin' the alumni and military people we know, to show our support.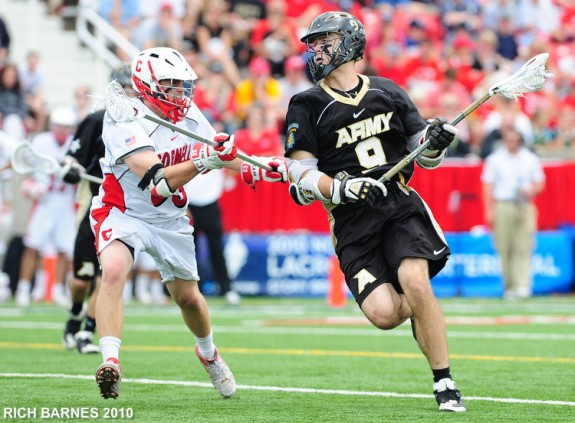 Photo courtesy Lax.com
Our club team got started because I have all summer off to train for lacrosse, and thankfully and I saw this tourney online and thought it would be cool to start a team that could hopefully play in tourneys for years to come.  We are a very patriotic bunch, and have mad respect for our fellow brothers overseas. Not everyone on the team has a direct military affliation, but they all have an appreciation for our soldiers' sacrifices.
Where are you located?
I would say we are located in West Point, because that is where Scunion originated, but we have players from NJ, NY, MD, Philly, Mass, and some other places.
How would you describe the club lacrosse scene where you're located?
I would say there is not a large club scene in NY, but in Southern Maryland, where I am from, there is a very large scene. MD is the motherland of lax so it is to be expected. (Editor's Note: I bet the guys over at 24SevenLax would agree!)
How many people are on your team, or part of your club?
22-23 guys…
Who is behind the team? (founders, captains, sponsors, etc.)
Myself and Garrett will be captains. And our sponsors are no one, but our jerseys and shorts are being made by my boy Jerry Ragonese at Pro Athletics, and they are righteous!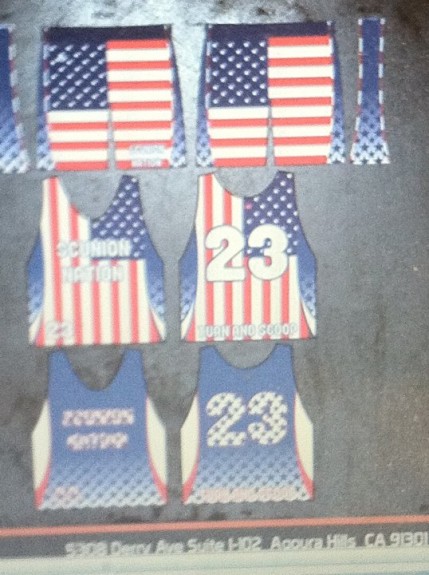 What makes your team different, and/or stand above others?
What makes us different is that our players are all from very different places, and honestly I don't even know all of them yet. we wanted to get a really well-rounded group so we have players playing that I got through my friends that were already on the team. Also, we are going with a patriotic theme. Like I said above, we want to show support for our other military brothers.
What was your 2010 season like?
Well we didn't have a club 2010 season but our season this year at Army was a disappointment. No one likes to lose, especially not myself or Garrett. We expect to win every game, and every loss is killer. Next year we will be better prepared and hungrier, and count on us winning.
What are you guys looking to improve on in 2011 both on the field as a team, and off the field as a team/organization/club?
We just want to have a good time and cut loose a bit, while also winning and reppin' our buddies in the military.
What brought you to the Salt Shakerz Invitational?
Found it online at lacrosseplayground.com
What are your expectations for the tournament? Any idea what the competition will be like? You feel like making a prediction about your chances?
We expect to take the 'ship no doubt. But it is true we have no clue who the competition will be, so our road to the finals is a little murky.
Tell us a bit about your upcoming trip to NY. Will you be staying in and around the city?
We plan on staying in the hotel in NYC that ya'll blocked off rooms, so hopefully its not full up yet. (Still space, but book quickly!!!)
There are quite a few off-the-field opportunities in NYC (including the tournament After Party at Mad River, which is located on  the corner of East 82nd Street and 3rd Avenue), What are you most looking forward to and why?
We are definitely looking forward to the after-party. I made sure that my go to party people were all on the team so it should be a good time.
Anything you'd like to tell the LAS readers?
Just that if you see or know anyone in the military just say thank you because they do a lot for us and its just an easy way to show them you care. And its always Go Army, Beat Navy.
Where can interested Lax players find you and get more information?
My Facebook is John Patrick Brennan or Garretts is Garrett Thul. Just send us a message and let us know you found out about us from the tourney and we will even possibly start us a group so everyone can rep their best scunion shots!