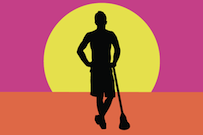 The Lacrosse All Stars Network just keeps growing and improving. Recently, we've added lacrosse blogs for Idaho, Iowa, and Canada. Today, we're excited to announce a brand new one focused on the lax life in LA.
Southland Lax is a lacrosse blog dedicated to growing the game in the greater Los Angeles area, from high school to club to MCLA and beyond. The site is run by Jim Loftus, a passionate lacrosse fan with years of experience in digital sports journalism. Jim has worked at NFL.com and ESPN.com, and he's excited to bring his passion and expertise over to the lax community. You can read his introduction here.
The Los Angeles lacrosse scene has been exploding for years now, and there's no sign of letting up. As the talent level continues to rise, we'll hear of many more great players from California, the State where stars are born. Southland Lax is here to make sure of it.
For a taste of what to expect from Southland, make sure to check out Jim's first post, the Chapman vs. UCSB preview (it was a great game), and recent prep lax matchups of interest.
We're extremely excited to have Jim involved and covering a very important area of the lacrosse world. Here's to Southland Lax, the newest member of the Lacrosse All Stars family!
Follow Southland Lax on Twitter
Like Southland Lax on Facebook
or Subscribe to Southland Lax via email.