Editor's Note: Please welcome Corben Barnett to LaxAllStars! Corben is currently a freshman, and playing lacrosse, at Saint Anselm College in Manchester, NH. He has been has playing lacrosse for 8 years now, and will be covering a litany of topics for LAS including NCAA D2 lacrosse, and how the game is growing.
Below is Corben's first post, which will serve as in intro to his perspective on the game.
________________________________________________________________________________
I started playing lacrosse in Carlsbad, California, a city pretty much equidistant from Los Angeles and San Diego. I was trying to find something that I could do in the football offseason that wasn't baseball. I had officially had enough of baseball after 4 seasons and I never wanted to go back. My brother had started playing lacrosse after he saw an NLL game on TV one day when he and my dad were surfing through the channels.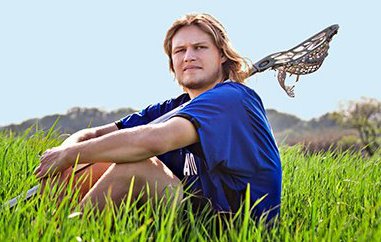 I went to a couple of his games, not really knowing what to expect. I wasn't too impressed with the first game that I saw, simply because he was in a lower age bracket and they were controlling the contact more at that level. Then, one Sunday, I got a chance to see kids my age play after my brother was done.  It was fast-paced, it was tough, and it looked like a hell of a lot of fun. I started by getting a starter pack and went out for an offseason league with a couple of my buddies from football. Ever since that first season, I've never stopped.
I have played lacrosse in the San Diego area, the San Francisco Bay area, and in the Dallas, Texas area as well. I grew up playing lacrosse in non-traditional hotbeds, and now I'm playing Division II lacrosse on the East Coast. When I started to watch lacrosse on TV and play it more seriously, I knew that I had a dream of playing lacrosse in college. Lacrosse has given me so much over the years, and it has been good to me. It's found me schools, friends, experiences, and has taken me places that I never would have gone without it.
Football was a good experience, but football can't give you the things that lacrosse can.  Lacrosse is the fastest growing sport in the nation, but it's also a really close-knit community of people. Wherever I go, I can almost always find someone who I've played against or with.  Kids in the lacrosse community are good to each other.  I still talk to kids that I played lacrosse with and enjoy catching up with them when I can.
The game of lacrosse has shaped who I am today.  The game has been a constant in my life through times that just about everything else was called into question.  I honestly don't know where I would be without the game, and I'm glad that I can consider myself a part of an organization like LaxAllStars that focuses on growing the game more than anything else.
I intend to write about a wide range of topics including life as a lacrosse player in a non-traditional hotbed, D2 lacrosse (in general AND specifically oriented to Saint Anselm College), politics (if I can fit it in and somehow tie it to lacrosse), music, and other sports such as college football.  I also plan on being an advocate against the "lax bro" image that I believe is stifling the growth of the game.
I look forward to writing here in the future. GTG.
Also, follow me on Twitter @MrCorben.