Welcome to the first ever Lacrosse The World Podcast, LaxAllStars.com's newest podcast featuring interviews with lacrosse community leaders from all over the world who are doing their part to grow the game.
First up: Syracuse lacrosse legend Ryan Powell.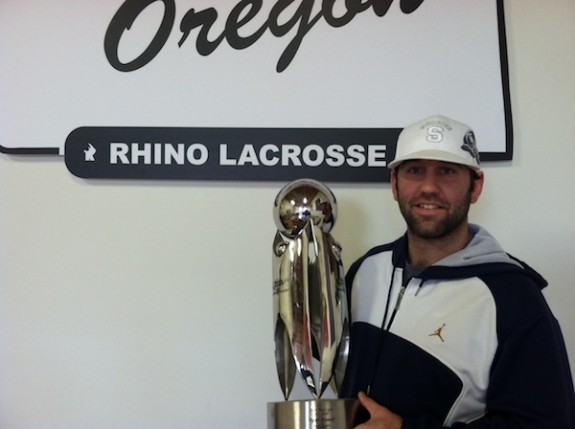 Over the past 6 years, Ryan Powell has played a huge part in growing the game of lacrosse in Portland, Oregon. His instructional company Rhino Lacrosse offers a wide range of off-season playing opportunities for players of all ages and skill levels. Powell's commitment to his local community is undeniable, and we're thrilled to kick this new podcast series of with him.
Check it out!
Download this episode in iTunes or right-click here and save
A few things to listen for in this podcast:
– The intro! Both the intro and exit were actually recorded for us by Ryan Powell himself. Over the course of this interview, we found out RP's childhood dream was to be a sports broadcaster, so we couldn't help but ask him to help us produce this first podcast!
– Love for Portland. Powell and his family love the Portland area, and that's a big part of why Rhino Lacrosse has had such a big impact on the community. Commitment is everything!
– The Rhino offering. Powell has made Rhino Lacrosse the leading instructional company in Oregon by offering a great mix of high quality products to young lacrosse players. It all starts with hard work and a commitment to improving players one-by-one.
– Rhino Bootcamps. This is a concept I've grown to admire. The inclusion of Nike Sparq Training and intense stick work make for great crash-course in lacrosse for beginners and advanced players alike.
– Brett Favre who? I ask Ryan about his playing career and get some solid intel on his status as a professional lacrosse player.
– Woozle talk. Don't miss the part where I ask RP to join the Woozles Lacrosse Club at Lake Tahoe next summer. I think he's afraid to wear pink!
– Dicky V! Ever wondered who the next Dick Vitale might be? I'm putting my money on Ryan Powell after hearing the impression he gives at the end of our podcast.
Know who we should interview for next week's podcast? Drop us a line at info@lacrosseallstars.com using subject line "Lacrosse The World".